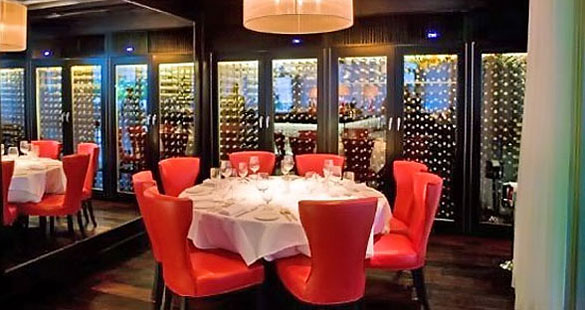 Adding an Italian accent to the sizzling atmosphere of nearby Prime One Twelve is Prime Italian. Portions are oversized and guests may find themselves awed by both the celebrity clientele and the grapefruit sized meatballs (if not the check)! Try not to fill up on the hot buttery garlic loaf presented at the opening of every meal alongside a bowl of delicious marinara sauce. The massive Kobe meatball topped with creamy ricotta cheese sets the stage for updated Italian entrees sized to share unless you've just stepped off the basketball court. All of the sizzling steaks that make a night at Prime One Twelve so satisfying are also available here.
Many locals prefer Prime Italian to the sometimes overwhelming Prime One Twelve crowds, finding many of their favorite menu options travel easily from door to door. Take advantage of the best of both worlds by sharing a perfectly grilled steak paired with an Italian favorite.
The top seats in the house are closest to the windows or out on the patio if weather permits. While a lively dining room can be a plus in a town like South Beach, some may find the noise levels closer to the back of the house unpleasant.
Wherever you sit, expect friendly service, delicious smoked meats & cheeses plus menu standouts like toothsome risotto and tender short ribs with house made gnocchi. Fans of family-friendly Italian restaurants may experience sticker shock at the presentation of the check so be warned that a quiet lunch may be a better time to sample the kitchen's efforts like pizza, sandwiches and that gooey, cheesy bread.
It's tough to find room for dessert even if you've exercised judicious restraint with the menu. The signature sweet at Prime Italian is the deliciously goofy fried Oreo cookie, a lowbrow confection paired with ice cream and sauce that garners plenty of attention. True chocolate lovers should opt instead for the chocolate souffle, an airy masterpiece served with tart black cherries and fresh cream. Best enjoyed with a crowd and easiest to digest if someone else is footing the bill, Prime Italian rolls at the speed of South Beach seven nights a week!
101 Ocean Drive
Miami Beach, FL 33139
(305) 695-8484
Price: $$$$
Attire: Casual Chic