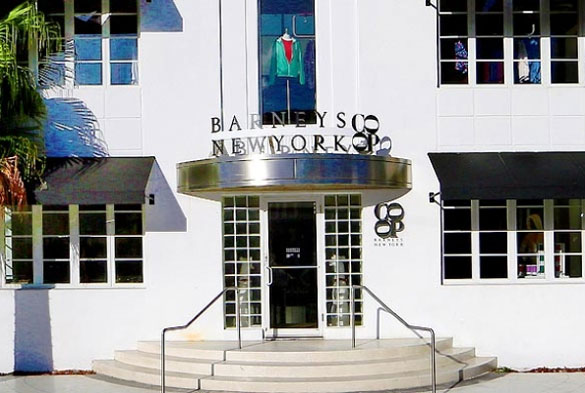 Barneys New York has long been considered the clearing ground for edgy new designers who are given an opportunity to thrive in the company of some of fashion's heaviest hitters. The South Beach branch is a small satellite of the larger organization which provides holiday travelers a glimpse of the unique fashion and lifestyle accessories that stir the hearts of dedicated fashionistas across the globe. A cut-rate men's suiting destination in the early 1920s has morphed into a status brand juggernaut with huge flagship shops in New York, Chicago and Beverly Hills.
Barneys started selling upscale women's clothing in 1976 and eventually expanded it's influence in the contemporary sportswear arena with the advent of the COOP department within the NY flagship store to showcase younger designers targeting a more youthful audience. The notion of a curated designer showcase for wealthy teens and twenty-somethings took flight and the brand expanded to nearly two dozen freestanding regular-priced COOP shops and 14 discount outlets (including one at Sawgrass Mills Mall) all across the United States. The South Beach COOP brings popular name brands and a significant number of up-and-coming labels to an area where there is little competition.
If your holiday budget can expand to include pricey designer jeans, trendy footwear and fabulous accessories, take your credit cards for a stroll through the men's and women's apparel departments on Collins Avenue. Seasonal sales attract an army of dedicated followers of fashion from all over South Florida who regard Barneys sales notices as urgent calls to action! Dubbed "the wayward offspring of Barneys New York," the COOP is a great place to survey up and coming trends before the mainstream market fully embraces them.
832 Collins Avenue, Miami Beach, FL 33139 (305) 421-2010