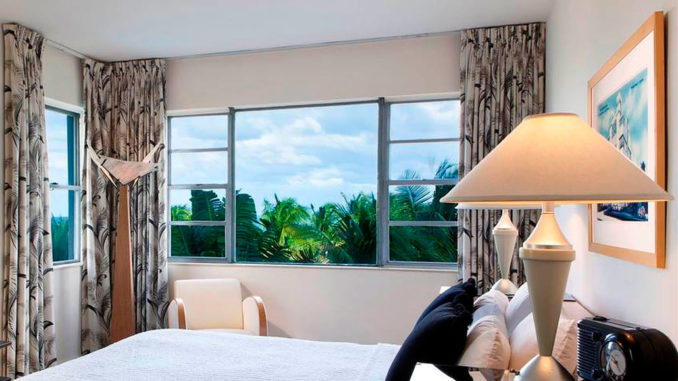 The Richmond Hotel was one of the first hotels to be erected during the 1940s Art Deco boom in Miami Beach. The hotel, which opened in 1941, is surprisingly still operated by its original owning family (the only South Beach hotel of its kind!).
The boutique hotel has 92 rooms and suites, and all come with ocean views. Each of the rooms has been renovated and is furnished with modern amenities (think along the lines of high speed internet service, satellite television and 24-hour room service) as well as more posh South Beach-style touches: chenille bedspreads, plush sofas and a soft 1930s floral design motif.
At the Verandah Terrace guests will enjoy the generous buffet-style breakfast and international cuisine served for both lunch and dinner. If you are looking for more variety many of the beach's best culinary endeavors are mere steps away.
What is particularly enjoyable about this privately-owned hotel is that they do not try to compete with their more grand neighbors (not mentioning any names, Mr. Schrager). The hotel possesses a great location that is easily appreciated.
On the grounds there is a large, lushly tropical pool with intimate white cabanas, a half-moon hot tub and an eye-catching meandering stream. The palm tree-lined sidewalk slices through a wide lawn and over a bridge and opens onto a 400-foot stretch of private beach.
The Richmond falls right under the radar in terms of over-the-top glam, but it more than makes up for it in service and hominess.
1757 Collins Avenue, Miami Beach, FL 33139
• Oceanfront hotel
• 1 block to Lincoln Road
• 4 blocks to Ocean Drive
• 2 blocks to Convention Center