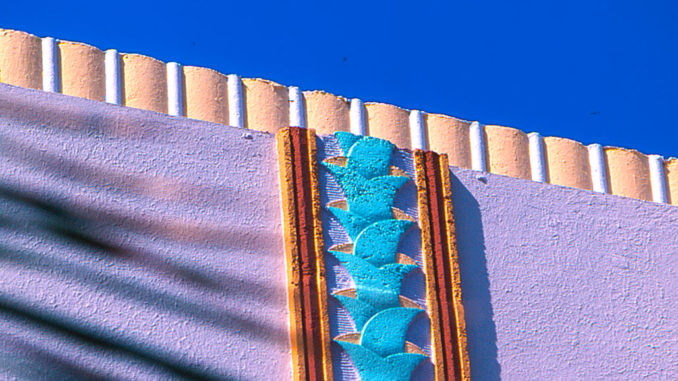 The decor of the Cavalier Hotel is, in a word, unique. Upon entering the lobby visitors will be welcomed by two large wooden medieval-looking room dividers standing guard at either side of the entrance. Sherbet-hued, turret-backed chairs, terrazzo floors, a faux fireplace with candles and a stone Buddha standing watch complete the eclectic look and feel of the room.
But don't let the idiosyncratic furnishings fool you, the hotel and its exterior have been featured in several movies set in South Beach. The Cavalier has 45 rooms and though admittedly they are on the small side they are also full of character and, above all, functional. A typical room has Caribbean-inspired sunset-orange stucco walls, modular wooden antique and reproduction furniture, a mini-bar, queen-size bed, batik fabrics, a charmingly old-fashioned bathroom with checkered tile floor and a stand-alone bowl sink.
Rooms are loaded with modern amenities such as entertainment centers that feature cable TV, VCRs and CD players. Vintage black and white photos that capture the fashionable history of South Beach adorn the walls. If you book a suite you can expect an ocean view and upgraded king-size bed.
As a perk the hotel provides a daily guest newsletter with detailed information about local attractions and current activities in the area. Located in the heart of the Ocean Drive strip, the Cavalier Hotel is adjacent to many tourist and souvenir shops as well as an  array of designer boutique shopping.
The beach's best authentic restaurants and gourmet dining are all within walking distance. Conveniently situated across the street from the Atlantic Ocean guests have full access to Lummus Park where rollerblading, jogging or just taking a leisurely stroll under the shady palms is a favorite pastime of visitors and locals alike.
1320 Ocean Drive, Miami Beach, FL 33139
• On Ocean Drive
• Across street from Ocean
• 4 blocks to Lincoln Road