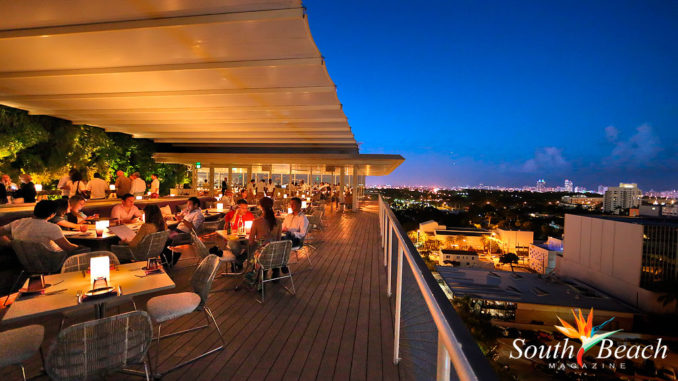 Winner of the 2013 James Beard Award for restaurant design, Juvia Restaurant sits atop the edgy parking structure designed by Swiss architects Herzog & de Meuron at the western edge of Lincoln Road Mall and offers panoramic views of all South Beach. Crafted by restaurateurs Jonas and Alexandra Millan who also operate Bonito in St. Barth, Juvia is a luxurious destination for travelers and locals who want to drink and dine in a one-of-a-kind setting. Perfect for a sunset sip or a scenic supper, the Juvia kitchen is manned by a team of stellar chefs including
Laurent Cantineaux
(who trained under Daniel Boulud),
Sunny Oh
and Kaoru Chang (both former Nobu chefs) and Gregory Gourreau (who learned all about pastry from Francois Payard).
Working in concert, the global influences of this diverse culinary team make Juvia's menu a clever blend of Asian flavors and French techniques inspired by the bountiful produce of sunny South Florida. Start with an ample selection of fresh seafood prepared sushi style or marinated in tangy ceviches, tiraditos and crudos. A sparkling raw bar offers seasonal oysters, crab and lobster paired with a variety of sauces and mignonettes including creamy garlic aji, wasabi cocktail sauce and caramelized onion soy. Popular entrees like Chilean sea bass and aji panka coated lamb chops are served just off the grill in portions perfect for a romantic dinner for two. On starry nights, a unique retractable roof makes alfresco dining possible year round.

Restaurant Information:
Name:
Juvia
Rating:
/ 4.0 stars based on 443 reviews across the Web
Address:
1111 Lincoln Rd, Miami Beach, FL 33139
Phone:
(305) 763-8272
Cuisine:
Pan Asian
Price:
$$$
Attire:
Casual Chic
Payment:
Cash, All Major Credit Cards
Reservations:
Yes
Parking:
Adjacent parking gagage
Chef:
Sunny Oh and Laurent Cantineaux
Website:
www.juviamiami.com
Hours:
Mo-We 12:00pm-3pm, 6pm-12am,
Th-Sa 12:00pm-3pm, 6pm-1am,
Su 12:00pm-3pm, 6pm-12am