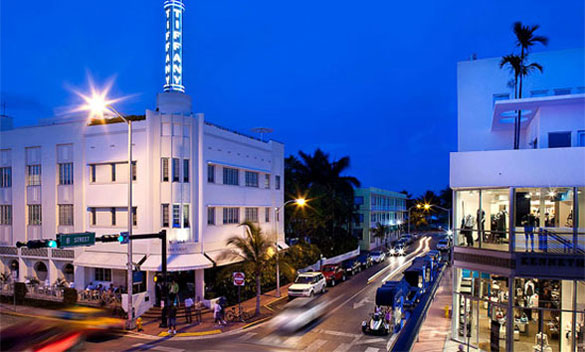 The Hotel was originally constructed in 1939, at the pinnacle of the Art Deco movement, by master architect L. Murray Dix and was known as the as the luxurious Tiffany Hotel – the old neon sign still remains as a beacon of days gone by. In 1998, following a major revitalization by the development company Goldman Properties and renowned fashion designer Todd Oldham, the 52-room, four-story hotel became one of South Beach's most innovative pieces of real estate.
Almost eight years later, the Hotel is still attracting the trendy jet-setting crowd with its hand-airbrushed tiles, terrazzo floors and soundproof rooms. When Oldham agreed to design the hotel it marked the first time in history that an American fashion designer has undertaken the task of creating every aspect of a hotel's interior.
Everything was custom-designed and handmade for the property, and he left no stone unturned. From the porthole windows to the rain-head showers, two-person bathtubs, pale ash desks and mosaic-pattern rugs, everything is set against a palate inspired by the sand and sea.
Other hotel amenities include complimentary beach chairs and umbrellas, twice-daily maid service, outdoor garden cafe, in-room toiletries provided by The White Company of London, wireless Internet access, a fitness studio, poolside bar, cafe and lobby bar and a multi-purpose business center. And one must not neglect the two highlights of the hotel – the breathtaking rooftop pool with panoramic views of the Atlantic Ocean and the four-star restaurant Wish.
Here, amongst the Oldham-designed gem-colored Murano glass lighting fixtures in the tropical garden setting, acclaimed executive chef Michael Bloise has created a superb menu of classic American cuisine expertly infused with haute Asian accents (think Curry BBQ Squid and foie gras ice cream). Recently named a member of the Historic Hotels of America, a division of the National Trust for Historic Preservation, the Hotel is definitely one of South Beach's shining gems.
801 Collins Avenue, Miami Beach, FL 33139
• 7 blocks to Lincoln Road
• 1 block to Ocean Drive
• 10 blocks to Convention Center