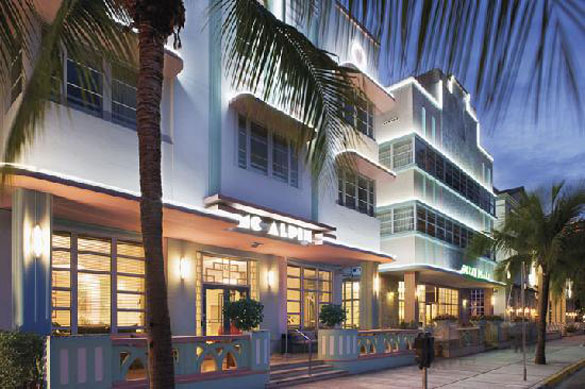 A landmark Art Deco property in the very heart of the historic district, the Hilton Grand Vacations Club offers all the amenities of a hip South Beach apartment for both timeshare and non-timeshare suites available via Hilton.com. Originally crafted by noted architect L.Murray Dixon in 1940, this superb oceanfront boutique property is ideal for guests seeking a little extra room but few resort amenities. The one- or two-bedroom suites are tastefully appointed with vintage-inspired furnishings and modern luxuries like full service kitchens, DVD players and flat screen TVs. One-bedroom suites have a living room with a convertible sofa plus a single bathroom and guests in two-bedroom accommodations enjoy the comforts of two bathrooms.
Families will appreciate the home style suites with adjacent beach access, but the petite hotel has no room for a swimming pool. A rooftop sundeck features a soothing whirpool spa with panoramic views of the main tourist strip and an appealing vista for stargazers who want to be surrounded by the buzzy neon that highlights all of the adjacent Art Deco hotels. Set in a prime vacation location, the Hilton Grand Vacations Club is steps away from great restaurants, busy nightclubs and bars plus many area attractions. A rental car is not really necessary in this bustling beachfront neighborhood.
Travelers utilize on-site fitness and business facilities or work in their rooms with complimentary high speed internet access. Parents can keep kids happy with a fully outfitted kitchen in each guest suite including a full-sized fridge, stove, microwave and dishwasher. The hotel offers a complimentary beverage area and free laundry facilities plus a limited room service menu from an adjacent restaurant. Stylish, sophisticated and simple, the Hilton Grand Vacations Club makes travel to South Beach a breeze.
Hilton Grand Vacations Club
1430 Ocean Drive, Miami Beach, FL 33139