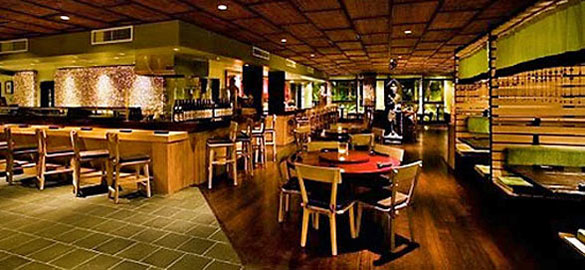 Designed by New York architect Chris Smith, Doraku reflects a modern aesthetic with futuristic design elements. Colorful accent lighting highlights artifacts from Rocky Aoki's (Benihana's founder) private Japanese and Asian art collection, in addition to the Japanese anime embellishing the bar. A wood carved sculpture of a walking villager extends a greeting to all who enter the world of Doraku.
Doraku offers a menu that has something for everyone whether they enjoy sushi or not. A well-rounded menu also provides wide selection for those who frequent Doraku on a regular basis.
The most ordinary piece of sushi (Nigiri) and rolls taste fresher than most at Doraku. Superb attention to detail (not too much rice and more ingredients) and a dedication to creating unusually delicious specialty rolls with seasonal fish, shell fish and local ingredients including avocado and mango are Doraku's high points. The California rolls are made with real crab, unlike most other sushi restaurants.
1104 Lincoln Road
Miami Beach, FL 33139
(305) 695-8383
Price: $$
Attire: Casual