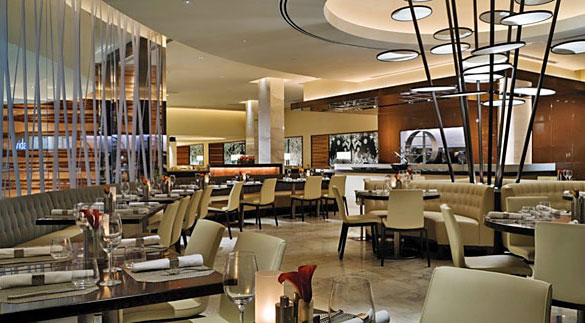 With a dazzling variety of 5-star restaurants on site, Miami Beach's Fontainebleau Resort & Spa also features a traditional American Brasserie that serves a sophisticated yet casual menu perfect for all day dining, Vida. Opening at daybreak and serving an exceptional Sunday brunch, Vida's extraordinary exhibition kitchen provides a glimpse into the efforts of the entire restaurant staff who work to create the continental comfort food that is the essence of the resort's glamorous culinary past.
Early risers can stop in for a quick pick-me-up continental breakfast before hitting the beach or indulge in a full buffet of freshly baked treats, cereals, eggs and pancakes. A la carte options include traditional eggs benedict as well as local favorites like grilled churrasco steak & eggs or fresh Florida shrimp scrambled into a fluffy omelet. On Sundays, the breakfast buffet expands to include made-to-order malt waffles, carved meats and fresh fish, pastas, sushi and wood stone oven-baked pizzas. Served from 11am-3pm, brunch at Vida is the most popular destination in the hotel.
Evenings at the Fontainebleau get pretty busy with Gotham Steak, Hakkasan, and Scarpetta each offering gourmet fare, but Vida holds it's own with a tempting variety of Mediterranean inspired options including rich lobster bisque, tangy sofrito mussels, crispy seared Florida snapper with roast garlic sopresatta and a tender veal chop topped with cipollini onions in a mushroom ragout. Carnivores can feast on rotisserie grilled leg of lamb, mojo glazed chicken and churrasco steak topped with a spicy chimichurri sauce. Before guests drift off for cocktails at Bleau Bar or a night of dancing at LIV, a gooey chocolate fondue with fresh fruit, marshmallows and chunks of just-baked brownies offers the perfect ending to a truly memorable meal!
Vida at the Fontainebleau is located in the Chateau lobby level. Open seven days a week from 7am to 10 pm weeknights and 11pm Saturday and Sunday.
4441 Collins Avenue
Miami Beach, FL 33140
(305) 674-4730
Price: $$$$
Attire: Casual