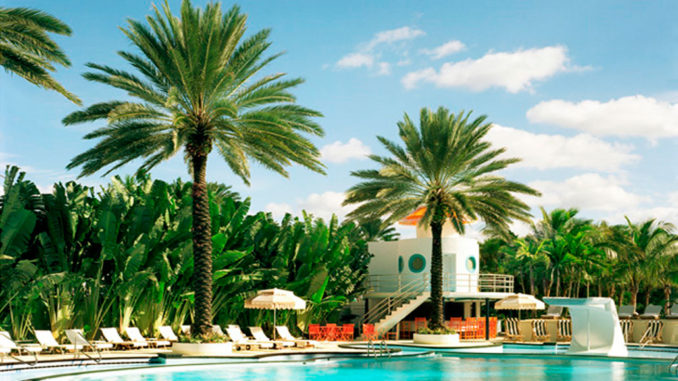 One of the crown jewels of Art Deco era architecture, the Raleigh Hotel has a storied past and an impressive future thanks to fashion mogul Tommy Hilfiger who invested more than $56 million dollars to acquire it in April 2014. "The 1940's design of The Raleigh and its rich history are central to our plans to rejuvenate the property," he said after sealing the deal with Las Vegas entrepreneur Sam Nazarian of the SBE Group which owns and operates the SLS Hotel nearby. Dating back to 1940, the building was thoughtfully updated over the years with classic furnishings and a reverence for its landmark status on South Beach.
Sharing pride of place alongside such local treasures as the Ritz Plaza, the Tides and the Victor Hotels, the Raleigh remains one of the best examples of F. Murray Dixon's Art Deco designs. The unique swirling lines of the swimming pool were crafted to showcase the talents of screen goddess Esther Williams which led Life Magazine to proclaim it The Most Beautiful Pool in America in 1947. Each July, the Raleigh hosts the Mercedes Benz Swim Week so that the top models and designers can reveal their collections alongside this legendary pool.
Adjacent to the terrace, James Beard Award-winning Chef Michael Schwartz crafts elegant dinners at his eponymous restaurant and lends his expertise to the classic cocktail menu at the elegant Martini Bar. Guests can plan events and meetings at over 30,000 square feet of dedicated space overlooking the pool, the Oasis beach club and within the luxurious penthouse apartment. Located just steps away from the ocean, a short walk to Lincoln Mall and all the excitement of South Beach's top nightclubs, the Raleigh remains one of the most popular places to stay on Miami Beach.
Before, or after, dinner you can relax at the Oasis Lounge or grab a sunset drink at legendary Martini Bar. But forget about trendy restaurants and lounges, the pool is the Raleigh's hottest spot. The scallop-shaped pool was once graced by Esther Williams and still draws video producers, party-goers and fashion photographers, as evidenced by Lindsay Lohan's recent rooftop photo shoot.
The hotel itself has quite the Deco allure with polished wood, original terrazzo floors and the deliberate Victorian accents (hallway chandeliers and in-room oil paintings).
The rooms are effortlessly chic and come standard with stereos, DVD players, twice daily maid service, linen duvets, 400 thread count sheets, complimentary wireless Internet connection and newspaper as well as Kiehl's toiletries. We definitely recommend requesting a room overlooking the stunning pool area (with ocean views!) – you won't be disappointed.
If you want to splurge the 6,000-square-foot, three-bedroom penthouse with a nearly 2,000-square-foot terrace is the ticket. One look at the Raleigh and there will be no doubt as to how this hotel made its way onto the Conde Nast Hot List for 2005.
1775 Collins Avenue, Miami Beach, FL 33139
• Oceanfront hotel
• 1 block to Lincoln Road
• 3 blocks to Ocean Drive
• 2 blocks to Convention Center