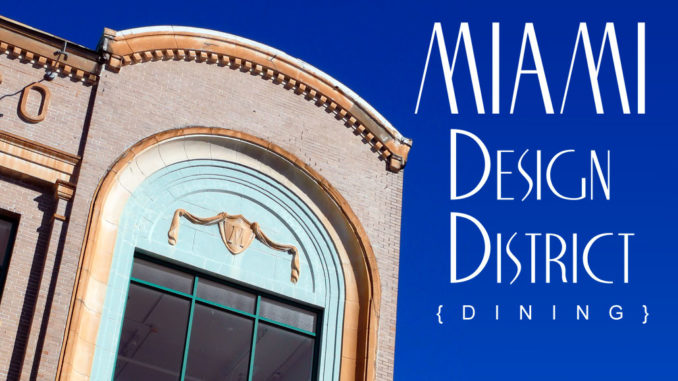 The Miami Design District has evolved from a sleepy neighborhood of showrooms restricted "to the trade," into a creative night time destination for trend-driven diners who've grown weary of South Beach. While the area is still a work-in-progress, the buzz on the street is attracting celebrities, star chefs and more than a few prominent socialites to the area.
An active street scene in Wynwood might still attract young hipsters, but the Design District is definitely ready for prime-time. With swank eateries like Michael's Genuine Food and Drink, a meal in the District requires an advanced reservation.
Venturing north past the 1-95 highway overpass that defines the border between Wynwood and the Design District, visitors will note the preponderance of pricey showrooms and expensive cars. While the District is a hive of activity during business hours, the late night scene is quiet. Because there is strength in numbers, both Wynwood and the District host "Art Walks" to promote larger group gatherings that make night visits less intimidating. The effect is striking. On a random Tuesday at dusk, it might just be you and a man pushing a rusted shopping cart. On Gallery Nights, you're more likely to push past the designer-clad Mercedes crowd.
Some might say that the Miami Design District is like a sexy secretary – all business by day and ready to party after hours. The area teems with top-tier restaurants offering fine dining, breezy Sunday brunches and an extremely vibrant happy hour scene. If you are visiting Miami Beach and want to taste Miami's new food culture, taxi over to 40th Street and follow our lead to the best restaurants in the area.
Michael's Genuine Food & Drink / 130 NE 40 Street, Miami, FL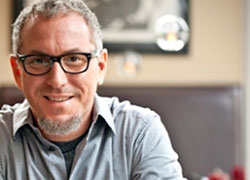 Perhaps the most influential person in the evolution of Design District dining is Chef Michael Schwartz, proprietor of Michael's Genuine Food and Drink – the red-hot center of this new culinary Mecca. Serving lunch and dinner to a well-heeled clientele, the restaurant divides into two worlds; the outdoor patio and the cozy dining room.
Guests inside the arty space enjoy watching the presentation of dishes in small, medium, large and extra large portions breezing through the open-hearth kitchen. Devoted foodies vie for a seat at the kitchen counter bar so they can chat with the chef while he works his magic.
The patio and 14-seat lounge area are home to a far more social scene. Guests enjoy gourmet-inspired snacks, small plates and heartier entrees from the wood-burning oven including whole chickens and fish served family-style and a pork shoulder and cheese grits entree that is Michael's signature dish. Pastry Chef Hedy Goldsmith adds a sweet ending to every meal so be sure to leave a little room for her innovative desserts. Reservations are strongly suggested and Sunday brunch is always delicious.
MC Kitchen / 4141 NE Second Avenue, Miami, FL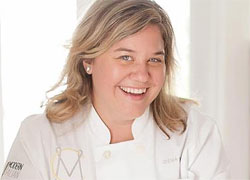 Miami's Design District welcomes the modern Italian menu of MC Kitchen, the collective effort of "M & C " – Chef Dena Marino and her business partner Brandy Coletta. Marino honed her skills in tony Aspen Colorado and went on to master modern Italian cookery alongside Chef Michael Chiarello whose Tra Vigne in Napa California sets a high bar in seasonal, market-driven cuisine. Fusing her family's rustic Italian recipes with Chiarello's haute standards of service, Marino brings a fresh wave of updated traditional fare to MidTown Miami.
Renovating the former Fratelli Lyon dining space, MC Kitchen's open cook space features a wood burning hearth used to prepare crisp pizzas and piadini, highlights of the lunch menu. Busy with fashionably-dressed guests by day, the chef offers a brief roster of antipasti, salads and pastas to start and a popular half pound angus beef burger topped with a freshly fried egg for heartier appetites. Marino's line caught fish of the day is served gently seared as is the pristine sushi grade tuna topping tart baby greens and a lemony vinaigrette.
Sunset creates a more romantic atmosphere in the sleek dining room and Marino's menu expands to include hearth baked pasta dishes like silky spinach lasagna topped with bechamel sauce and a pumpkin-filled tortellini in a braised rabbit ragu. Grilled pork chops, a tender rack of Colorado lamb and a massive bone-in porterhouse steak are ideal entrees to share along with the bucatini alla carbonara or cheesy gnudi topped with Reggiano Parmigiano.
Harry's Pizzeria / 3918 North Miami Avenue, Miami, FL
There are few Miami chefs as popular as Michael Schwartz and indeed many would thrill to have a taste of the success and acclaim he enjoys at Michael's Genuine Food & Drink in Miami's Design District. Adding to the luster of his appeal, he opened Harry's Pizzeria at a small storefront just a few streets away from his busy urban bistro. Named for his son, Harry's has just 40 seats and a menu limited to gourmet pies topped with interesting stuff like rock shrimp and pulled pork, caramelized onions and artisanal cheeses. With no pastas and entrees to get in the way of the pies, Schwartz and Co-Chef de Cuisine Manny Sulbaran feel free to innovate and modify the menu like Jazz musicians searching for that perfect groove. Ingredients are fresh, locally sourced and so are the craft beers which Schwartz brings in from cool Florida breweries. Service is friendly but the wait can be long because Harry's – like Schwartz – seems to have a lot of friends in Miami who have no reservations.
Mandolin Aegean Bistro / 4312 NE 2 Avenue, Miami, FL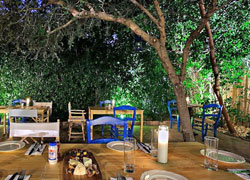 There is a sweet spot in the Mediterranean where the Greek Islands reach out to meet the Turkish Coast and that picturesque region is the inspiration for the delightful dishes prepared at Mandolin Aegean Bistro which sits at the gateway between the Design District and historic Buena Vista in a uniquely modified 1940′s house.
The action centers on the open air patio where the dedicated restaurateurs have crafted a romantic setting that's the perfect oasis for dining alfresco on a breezy Miami night. Ideal for vegetarians and the carnivores who love them, the menu includes a roster of small plate starters like olive oil poached leeks, crispy calamari, and trios of piquant Greek or Turkish dips made with fresh tomatoes, eggplant and fava beans pureed to a velvety texture and ready to slather on house baked pide bread.
Simple and rustic, entrees include a whole sea bass, a tender pulled lamb sandwich with crispy fries and a traditional Moussaka casserole with layers of meat and eggplant baked beneath a blanket of rich Bechamel sauce. Popular at both lunch and dinnertime, guests should call in advance to reserve a table outside or in the tiny 17-seat dining room. With each dish prepared to order, plan to linger over your meal, to savor the distinct flavors and reconnect with friends and family.
If you want to plan a nighttime visit to the Design District, attend Art + Design Nights on the 2nd Saturday of each month. For more information, call (305) 573-8116