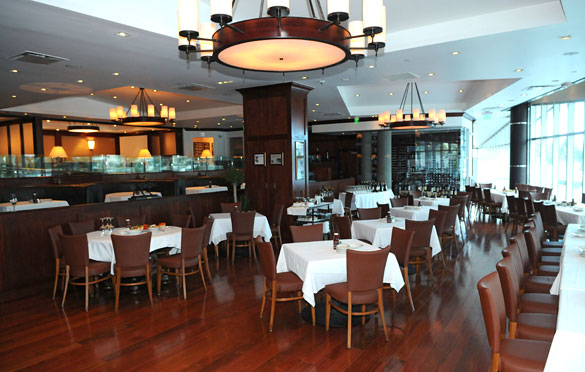 The classic New York steakhouse has long been a businessman's enclave where big deals get celebrated with big cuts of prime beef. Miami's Brickell Financial District definitely provides the perfect clientele for Wolfgang's Steakhouse where well-dressed titans of industry enjoy USDA Black Angus sirloins, rib-eyes and filets or the restaurant's signature porterhouse for two which tickles the expense account at nearly $100. Hearty appetites kick off a statesman's supper with jumbo shrimp cocktail or freshly shucked oysters and big wigs will thrill to a massive three pound lobster.
Executives dip in for the lunchtime beef burger and Wolfgang's classic steak sandwich paired with fries and golden onion rings. The 270-seat dining room sports hardwood floors, a sparkling wine locker with over 250 labels and an impressive mahogany bar where classic cocktails and flat screen TVs compete with the dazzling Miami River view. Guests who are willing to tear themselves away from sports or the financial news can escape to a breezy dining terrace overlooking the city and the scene. Host Wolfgang Zwiener spent 40 years at New York's Peter Luger steakhouse so he knows exactly how to craft the perfect evening from the first chilled martini to the last piece of Junior's cheesecake.
Open Monday through Thursday from 12:00 p.m. to 11:30 p.m., Friday from 12:00 p.m. to midnight, Saturday from 5:00 p.m. to midnight and Sunday from 5:00 p.m. to 10:30 p.m.
315 S Biscayne Blvd
Miami, FL 33131
(305) 487-7130
Price: $$$$
Attire: Casual Chic