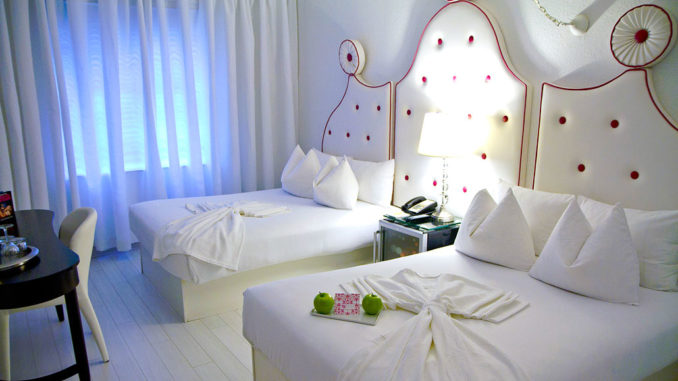 With a slogan that reads "Clean sheets, hot water, stiff drinks" you can bet the Whitelaw Hotel serves up a ferocious sense of humor and some serious attitude – just what one would expect in South Beach. Black shag carpets, white vinyl sofas and groovy music are what the owners like to call "Bond meets Barbarella."
However, this may be the only place on South Beach where a fabulous sense of style doesn't necessarily translate into dollar signs. The hotel is inundated by hipsters from around the globe who want to enjoy the homey, not antiseptic, white-on-white atmosphere.
The Whitelaw has beds that are borderline sinful (fully decked out in Belgian sheets), marble bathrooms that are large and well-stocked and a complimentary happy hour in the lobby every night from 7 to 8pm.
Once you step inside, you will realize that white isn't just a part of the hotel's name, it's also the color scheme for all of the hotel's 49 rooms – and not just for the walls, robes and towels, either. The monochromatic theme permeates the TV, VCR, stereo, minibar, and even the in-room safe. And while the rooms are meant to evoke a feeling of simplicity, it's clear that most of the amenities are about the vibe and the scene outside of the rooms – mainly at the on-premise 808 vodka bar.
While there is no on-site pool or trendy restaurant, there is clearly no shortage of great eateries and hip lounges in this very central stretch of the beach. And if a after a long of night of partying you are looking to relax in the beautiful South Florida sunshine, have no fear – the relaxing sands of South Beach are but a block away.
808 Collins Avenue, Miami Beach, FL 33139
• Close to Collins Shopping district
• One block from Ocean
• 8 blocks to Lincoln Road