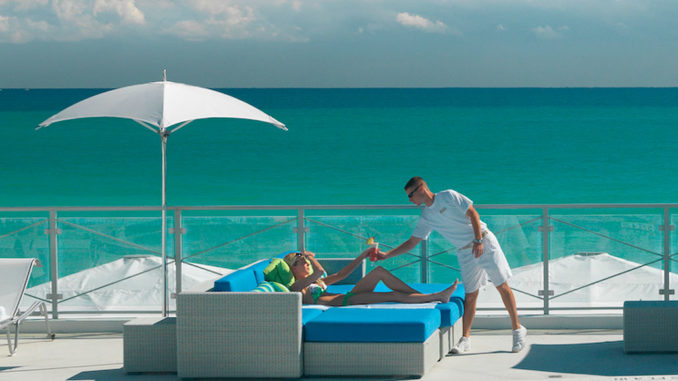 A classic Miami Beach landmark just completing a $200 million dollar renovation, the Eden Roc hotel truly lives up to its storied history. A flagship properties in the heart of the city's prime beachfront real estate, the luxuries of space and breathtaking design have a new and contemporary spirit. Guests will marvel at the triple height main lobby, the grandeur of a bygone era updated with sleek new furnishings and a view to the Infinity Pool. The hotel now boasts a new marina, a Starbucks Cafe, 46,000 square feet of indoor meeting space and over 25,000 square feet of beachfront terrace to explore and enjoy.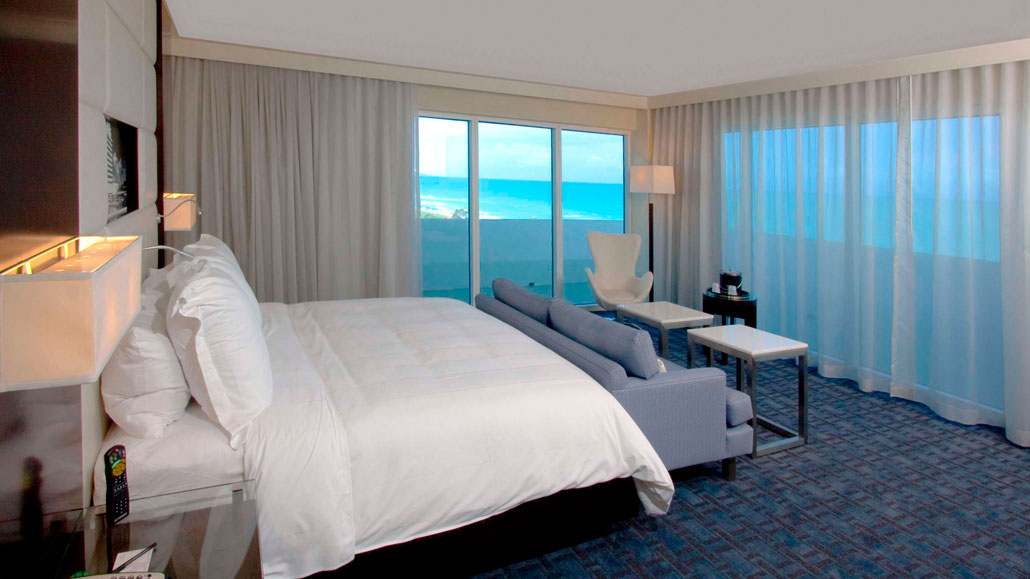 One of South Florida's premier resorts, the Eden Roc joins the nearby Fontainebleau at the top tier of full service Miami Beach hotels. Offering 535 rooms and nearly 100 suites, the scale of the Eden Roc is more desirable for some travelers who find the mega-resorts too imposing and impersonal. With a brand new swimming pool, a fully updated fitness center and spa and a lively cabana beach club offering lunch and dinner overlooking the sea, the Eden Roc is the perfect oasis for a family holiday.
South Beach's smaller Art Deco hotels – located south of 23rd Street – often lack the space and scale of newer properties like the Eden Roc which is self-contained so guests can check in and simply relax; enjoying amenities like 24-hour room service, a fully appointed spa, wired and wireless internet access, and en suite jacuzzis. The resort offers critically acclaimed dining at Gia Italian Kitchen & Wine Bar and easy access to all of the Fontainebleau's 5 star restaurants right next door. For night time fun, all of South Beach is a quick taxi away.
Guest rooms feature flat panel HDTVs, iPod docking stations, spa style bathrooms and oceanfront balconies. The hotel is 100% smoke free and offers generous 432 – 600 square foot single rooms and luxurious suites with separate living rooms and whirlpool balconies that are over 750 square feet. Families can enjoy the main and children's pool areas and there is also a separate adults only pool to provide guests with a bit more quiet time in the sun. The ELLE spa and private guest suites are available for massages, facials and beauty treatments guaranteed to leave you relaxed and renewed in no time! For family vacations, romantic getaways or pampering escapes, check in, chill out and enjoy the best of Miami Beach.
Eden Roc Miami Beach
4525 Collins Avenue
Miami Beach, FL