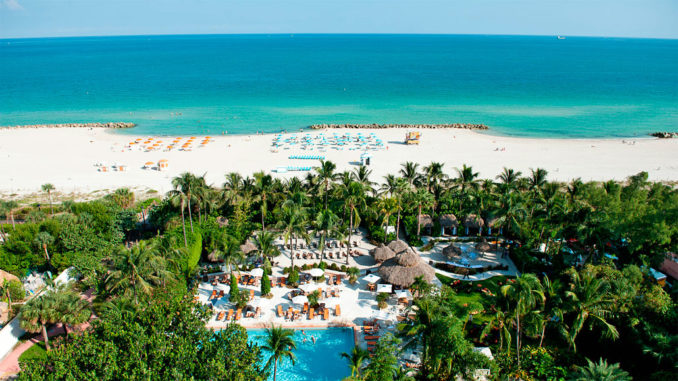 Upon arriving at The Palms, guests are welcomed with the hotel's signature drink, the O'Mango Infusion – and this is only the beginning of your immersion into this tropical oasis.
A multi-million dollar renovation has turned this oceanfront property into the nexus of East Coast cool meets elegant southern charm. Located in the heart of Miami Beach (a short distance from South Beach), this hotel is equipped with modern amenities and all the charm of a lush Caribbean hideaway – a welcome respite from the hustle and bustle on congested Collins Avenue.
All 242 guestrooms and suites come fully equipped with a stocked private bar and Spa Collections toiletries. Furnishings are custom designed with a color scheme that evokes the soft hues of the sand and sea. Thatched-roof huts, inviting hammocks, lush tropical gardens, a poolside bar and exotic birds set the scene at the outdoor pool. The large fresh water pool faces a busy boardwalk for runners and strollers as well as a large beach where water sports equipment is readily available.
Another great thing about the location of this hotel is that it features the only cove inlet along Miami Beach. Inside the small rock jetty, the water is calmer and shallower and more often less populated than the rest of the beach.
If you aren't yet fully relaxed, try one of the Yoga Under the Palms classes (complimentary Yoga sessions taking place in and around the hotel's garden) offered Thursday through Saturday. The hotel also offers a couple of different dining options.
The Dining Room, with both outside and inside dining, serves Mediterranean-style cuisine along with an abundance of fresh seafood. On Sundays, The Dining Room offers a Blues Brunch with live entertainment and full buffet sure to satisfy even the pickiest of appetites. Inside, the décor of The Veranda Bar is pure chic, serving light snacks and happy hour specials with live entertainment from Brian Gonzalez & Grupo Milenio on Thursday nights.
3025 Collins Avenue, Miami Beach, FL 33139
• Oceanfront hotel
• 12 blocks to Convention Center