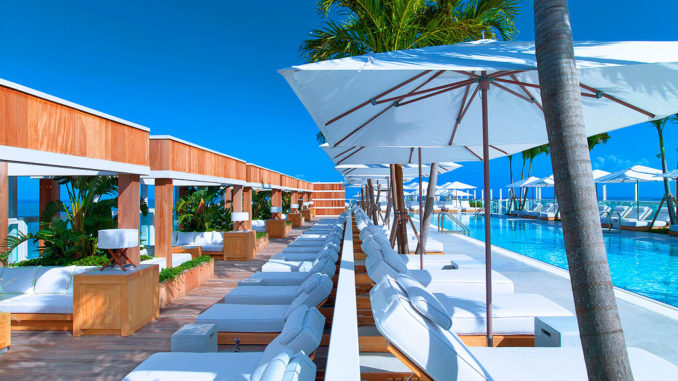 Surrounded by water and endless blue sky, Miami's Best Rooftop Bars combine great spirits and awesome views. We've gathered a Top Ten List of our favorite elevated drink spots from the elegant to the casual and everything in between. Whether you're after a romantic date night or a barefoot pool bar, our guide offers something for everyone who thirsts for tropical cocktails and dazzling vistas.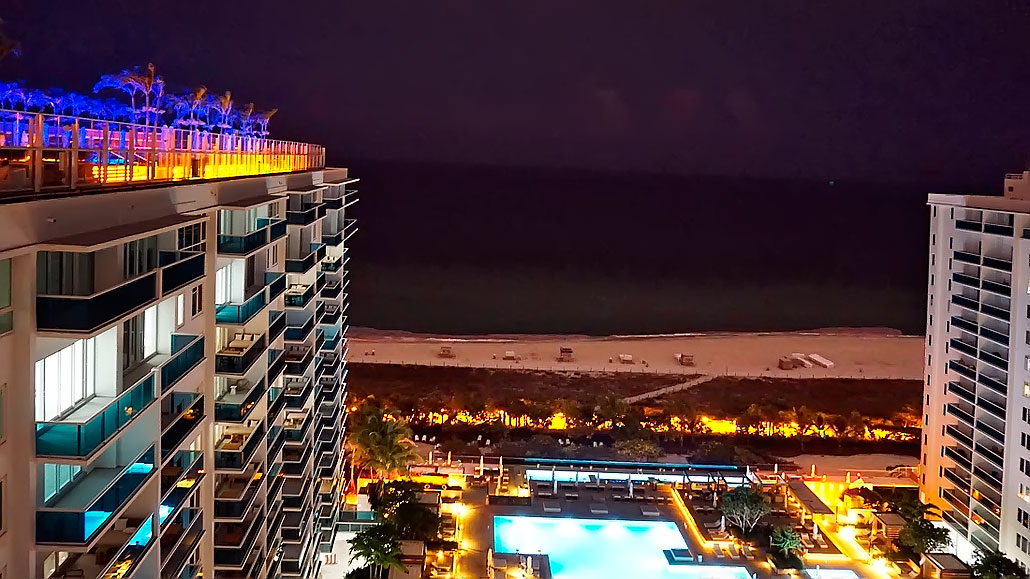 Watr at the 1 Rooftop at the 1 Hotel South Beach
2341 Collins Avenue, South Beach
Vibe: Lofty & Lovely
An adults-only enclave high atop the 1 Hotel South Beach, Watr at the 1 Rooftop encompasses a unique dining and lounge experience serving Japanese and Polynesian delicacies fresh from the sea. Enjoy healthy salads, creative snacks, poke and sushi plus cocktail pairings including the "Rinse Off" with vodka, green grapes, shisho and lime or the "Whiskey a Go Go" flavored with lemon, honey and coconut syrup. Serving lunch poolside starting at 11am and lounge hours until 1am weeknights and 2am weekends.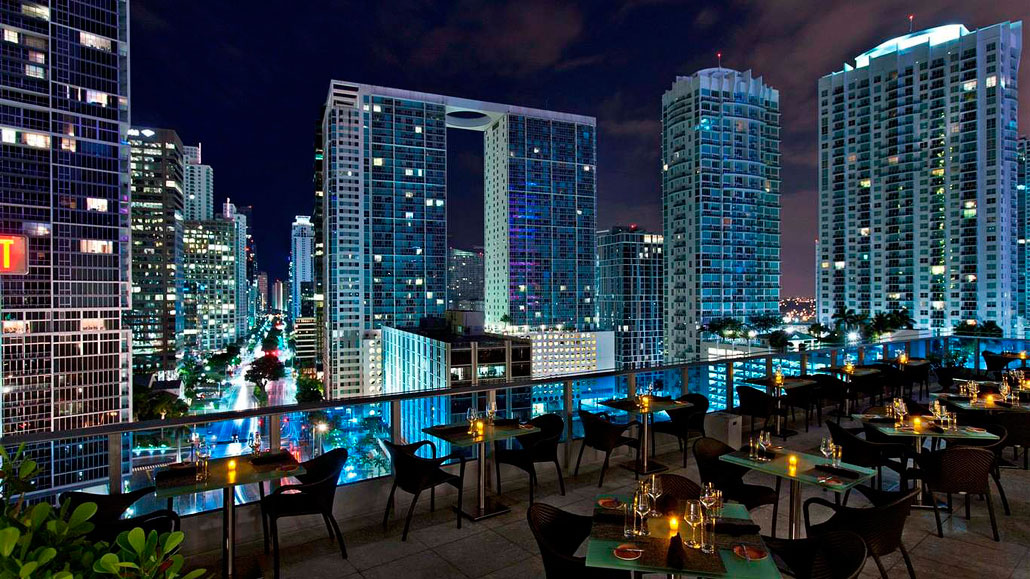 Area 31 at the Epic Hotel
270 Biscayne Boulevard Way, Miami
Vibe: Downtown Chic
The perfect spot for a downtown Happy Hour, Area 31 at the Epic Hotel is a popular gathering spot for well-dressed professionals Monday through Thursday nights from 5pm – 8pm when drinks and snacks cost $7. Thursday and Friday nights feature a Beat the Clock Happy Hour deal with prices elevating by the hour starting at $5 at 5pm, $6 at 6pm plus classic tunes and rum and cigar pairings as well. Full bottles of Tattinger Champagne start at $50 at 5pm, $60 at 6pm on Thursday nights.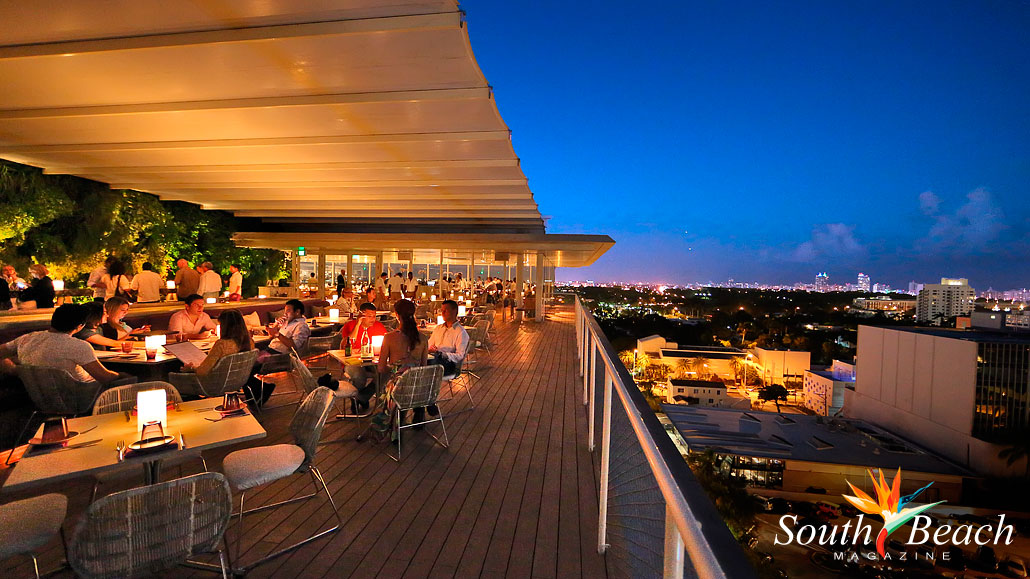 Juvia
1111 Lincoln Road, South Beach
Vibe: Modern Mecca
A 10,000 square foot open air restaurant and lounge high atop the city's first designer parking garage, Juvia is the perfect spot to toast the sunset before a glorious night on South Beach. Start with a specialty cocktail like a Jalisco Flower, a Perfect Yuzu or a Hurricane Juvia and enjoy a few snacks from the kitchen where French, Japanese and Peruvian specialties inspire the menu. The dazzling space opens for lunch on weekends and serves as a late night destination weeknights until midnight and weekends until 1am. Dress to impress.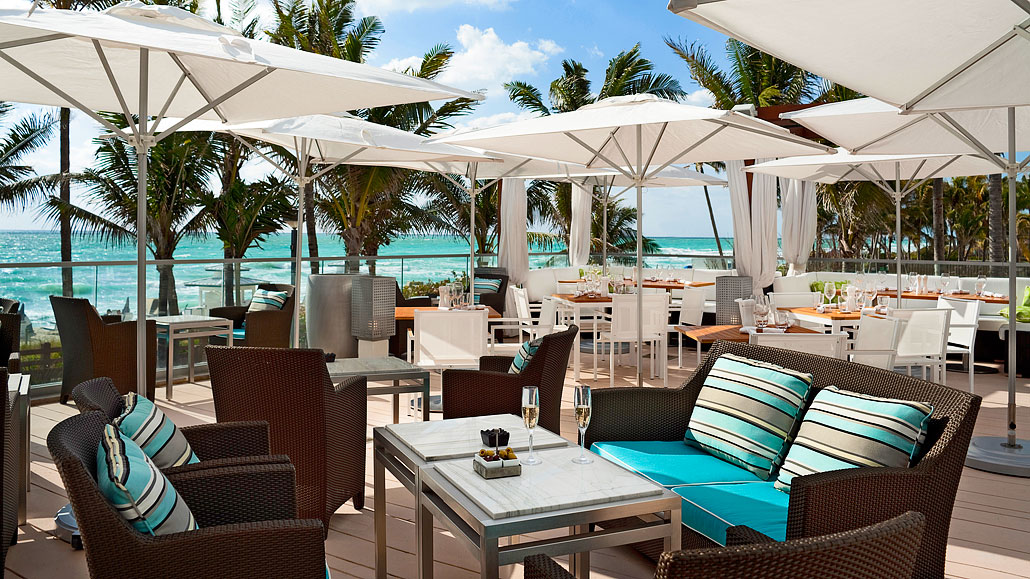 La Cote @ The Fontainebleau Resort
4441 Collins Avenue, Miami Beach
Vibe: Oceanfront Elegance
You don't have to be registered at the Fontainebleau Resort to enjoy the breathtaking oceanside restaurant La Cote, an elevated dining terrace and lounge designed to inspire thoughts of the South of France.  Sip a Ginger Mint cocktail or a tart Raspberry Collins and watch the world go by at the opulent resort pool deck or order something from Chef Michael Hawk's French-meets-Mediterranean menu.  For a truly romantic escape, check out the once monthly full moon dining experience that captures all the magic of Miami Beach.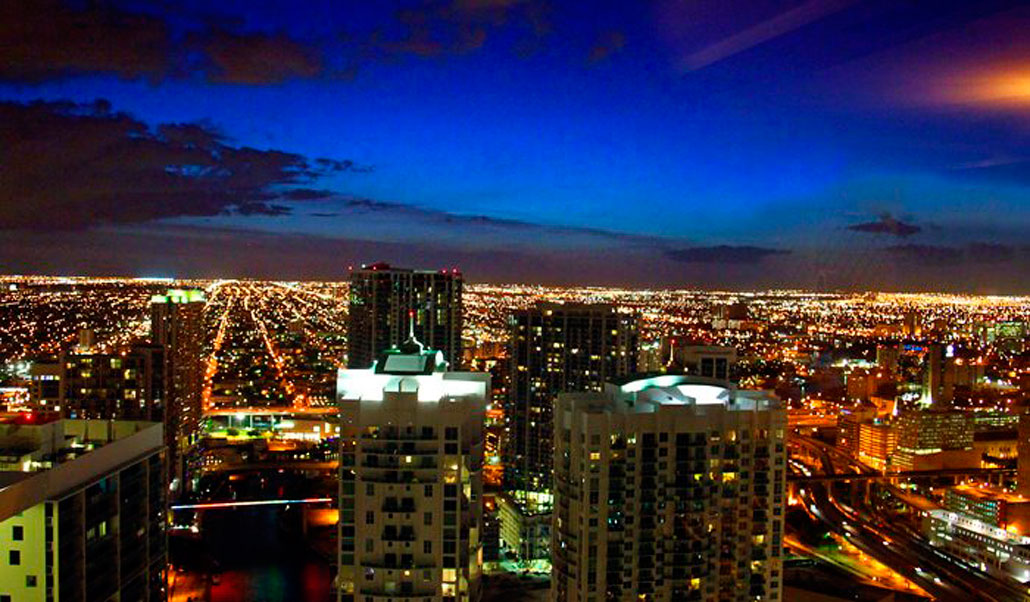 FIFTY Ultra Lounge at the W Miami
485 Brickell Avenue, Miami
Vibe: High Altitude
A chic nighclub high atop the stunning W Hotel, FIFTY offers breathtaking views, an alfresco reflecting pool and DJs spinning nightly for your dancing pleasure. Located in the Brickell Financial District, the bar attracts a well-dressed and somewhat older crowd who enjoy the air of exclusivity one gets when whisked up 50 floors in an express elevator to an intimate club-style lounge space. Layered in opulent marble and sparkling glass, FIFTY is a perfect date night option before or after dinner in the heart of Downtown Miami.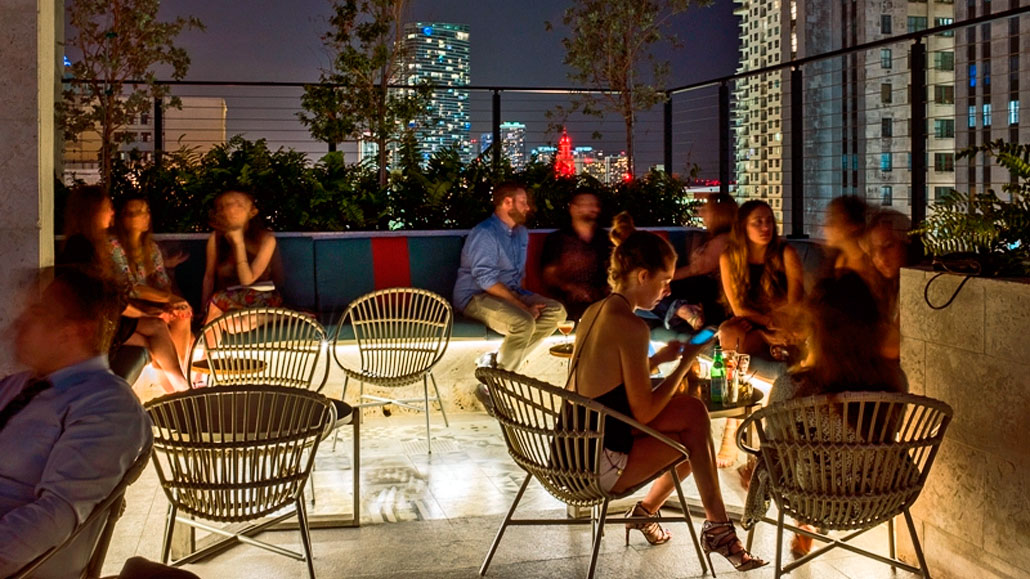 Pawn Broker at the Langford Hotel
121 SE First Street, Miami
Vibe: Downtown Aerie
One of Miami's hip new drink spots, Pawn Broker at the Langford Hotel attracts a who's-who of Miami's movers and shakers who gather for happy hour weeknights from 5pm – 7pm to enjoy strong cocktails and Ivano Bellini's soothing soundtrack. Very much a trending presence on Instagram, Pawn Broker is open until midnight weeknights and 2am weekends when a brand new boozy brunch service starts Sundays from noon until 4pm featuring the Pubbelly boys tasty sweets like French Toast sticks in chocolate dipping sauce, seasonally flavored doughnuts and all-you-can-drink cocktails for $25 per guest.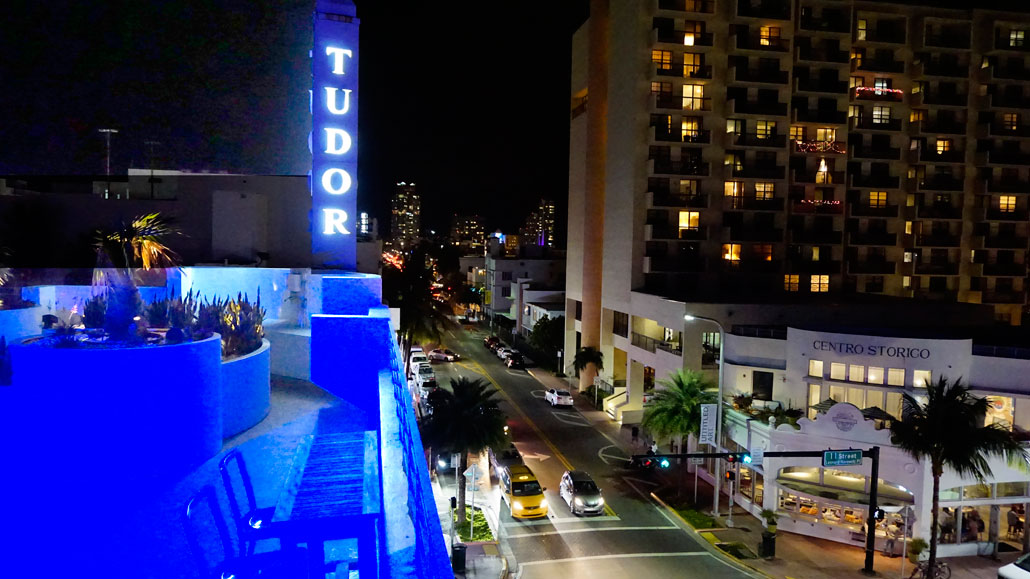 HIGHBAR @ Dream Hotel
1111 Collins Avenue, South Beach
Vibe: Retro A GoGo
While most Art Deco Hotels barely qualify as high-rises, the Dream does its best to create an exclusive beach party vibe at HIGHBAR, the rooftop pool deck that's all about high style and low dress code. Enjoy the swank and sophisticated disco atmosphere Mondays through Thursdays from 9am – 11pm and weekends until midnight. Savvy travelers nip up to the rooftop daily from 5pm – 8pm to take advantage of happy hour pricing and snacks provided by the hotel's Mexican eatery where signature margaritas and mojitos flow freely in strawberry, watermelon, passionfruit and pineapple.
Gale South Beach
1690 Collins Avenue, South Beach
Vibe: Clever Clubhouse
(Available to hotel guests only.) An enclave of classic cocktails, throwback tunes and friendly patrons, the Gale South Beach offers a choice of watering holes from lobby to rooftop including the Rec Room, the Regent Cocktail Club and the Rooftop Pool Bar. Start at Rec Room, the hotspot inspired by a New York nightclub where DJs spin selections from the club's massive vinyl library or take a mixology class at the Regent Cocktail Club where the fine art of "Shaken, Not Stirred" rises to an art form. With sweeping views of South Beach, the rooftop pool deck features 5,000 square feet of party space for sunning, star gazing and enjoying a tropical drink from the Rooftop Pool Bar.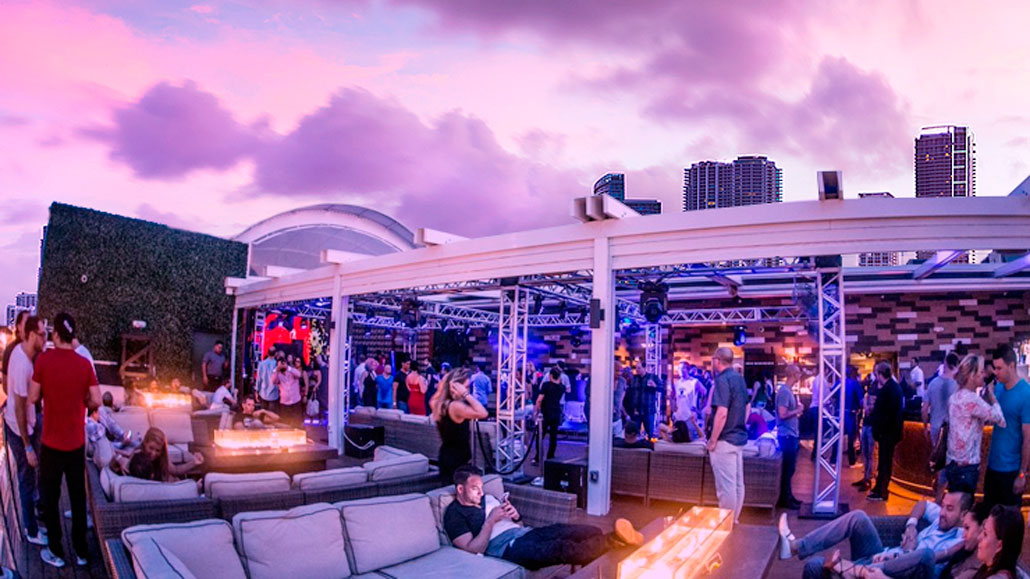 Rooftop at E11EVEN
15 NE 11 Street, Downtown Miami
Vibe: Urban Enclave
Eat, Drink and Dance the night away at E11even Miami, the city's exclusive ultralounge where the party keeps rolling 24 hours a day! Inside, you'll discover top DJs spinning for a bevy of sexy burlesque dancers and acrobats suspended from the ceiling on a flying trapeze. Outside, the vibe is sophisticated and seductive as the Rooftop lounge offers nearly 5,000 square feet of romantic loungers and firepit tables plus a menu filled with American comfort food, tapas and small plates perfect for sharing. Sample specialty cocktail menu options like a Cool Cucumber Martini, a tart Raspberry Lemon Drop or an eye-opening Fire Bull. The rooftop is open Wednesday through Sunday 7pm – 1am.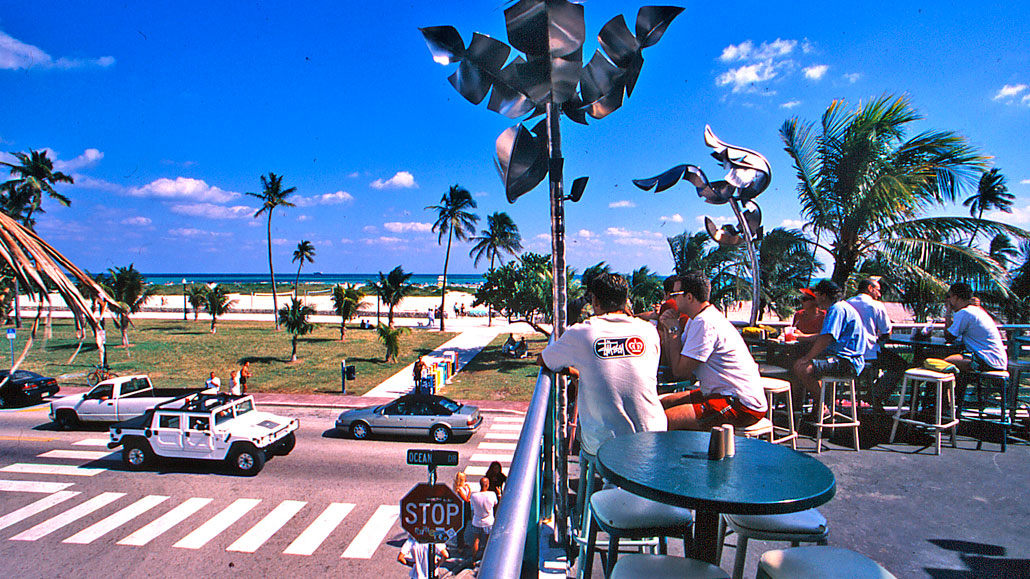 Wet Willie's
760 Ocean Drive, South Beach
Vibe: Sloshy Slushies
More sundeck than rooftop, the bar at Wet Willie's is a popular gathering spot on Ocean Drive for particularly potent frozen cocktails spun to frosty goodness inside a line up of dedicated Slurpee machines. Sample plenty of colorful rum-infused slushies like the Attitude Improvement (grain alcohol, rum and orange juice), the Monkey Shine (a banana daiquiri on steroids) or everyone's favorite – the Call a Cab (cherry and strawberry mixed with lots of rum). Be aware that these sugary delights pack a significant punch, so leave your car keys at home and let a taxi driver take you wherever you plan to go afterward.