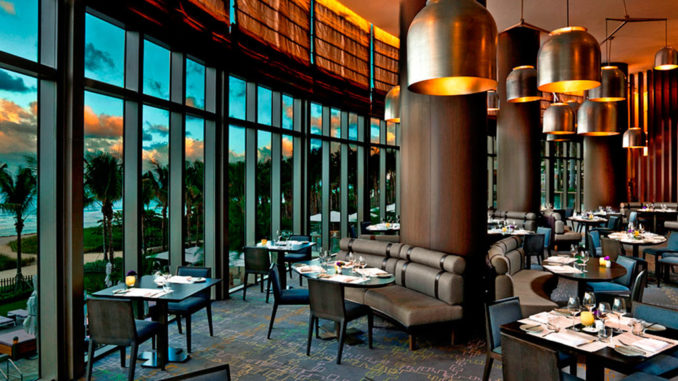 John-Georges Vongerichten is an award-winning chef with a storied past and a bright new Bal Harbour restaurant — J&G Grill — the crowning glory of the St. Regis Bal Harbour Resort. Set above the hotel's elegant pool deck, each table enjoys a panoramic view of the Atlantic surf from the alfresco terrace and the sun-soaked, oak paneled dining room as well. Designed with double height ceilings to maximize the airy seaside locale, the restaurant and bar feel warm and inviting by day and cozy and romantic after dark. Sundeck diners are surrounded by a fragrant spice garden landscaped to feel like a lush private estate.
The resort's Atlantico Restaurant handles early risers and J&G Grill picks up at Sunday Brunch and daily lunch service just before noon. Executive Chef Jordi Valles oversees all food and beverage operations including a full roster of Jean Georges' most popular appetizers, sides and accompaniments served alongside freshly grilled seafood and meat at J&G seven nights a week. Valles will also dedicate his attention to Fresco, a poolside grill with tables along the lushly landscaped veranda.
Chef Valles hales from Barcelona Spain and learned to cook in his family's kitchen where his mother and grandmother stirred his passion for the culinary arts. He went on to study at the Escola D'Hostaleria and worked with the holy trinity of Spain's acclaimed chefs – Pedro Subijana, Juan Mari Arzak, and Ferrán Adrià. He credits these culinary icons for inspiring his passion and dedication to his craft. He served for a year at Chef Subijana's Akelare Restaurant, learned Basque techniques and flavors under Arzak and was asked to be Chef de Cuisine at the elBulli fish station.
Bringing more than 20 years experience to the tables at the St. Regis Resort, Valles has lived and worked around the world in Mexico, China and Spain which imparts a broad range of culinary influences to his menus. J&G Grill will feature Asian and French inspired cuisine, Atlantico will showcase his expertise with seafood and the casual Fresco Oceanfront Grill will highlight the flavors of South America. The St. Regis Bar & Wine Vault, located in the hotel's lobby, serves as an intimate gathering spot where guests can sample over 2,500 bottles from 450 vineyards in 14 different countries. Chef Valles offers a tapas menu designed to pair agreeably with every pour.
Harmonizing global menus with the thoughtfully-designed restaurants throughout the St. Regis Bal Harbour promises every diner a truly memorable culinary experience. Whether stopping in the lobby for a cocktail with friends or joining guests for a dinner inspired by celebrated Chef John-Georges Vongerichten, every meal enhances the luster of a South Florida holiday at one of the brightest new resorts in town!
9703 Collins Avenue
Bal Harbour, FL 33154
(305) 993-3300
Price: $$$$
Attire: Casual