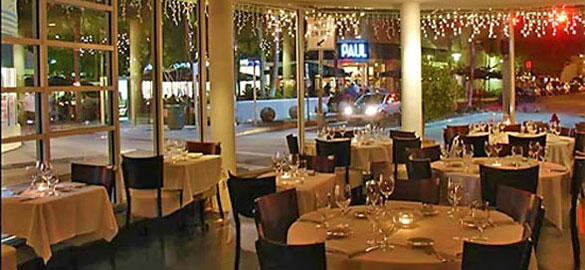 Nuevo Latino culture and cuisine have swept the nation in the last year, and we can attest to the fact that, at least in the case of the food, it all started here. In the case of music too, Yuca may have had a thing or two to do with the boom. The place where star chef Douglas Rodriguez, the grandfather of Nuevo Latino fare, honed his skills (before moving on to a string of successes in Manhattan), Yuca on Lincoln Road is a hangout for Latin American movers and shakers.
MTV Latino corporate offices are within earshot of the place. The original Yuca in Coral Gables celebrated a trend of "Young Urban Cuban Americans," hence the name moving into the forefront of upscale entrepreneurialism and politics in this city fifteen years ago.
Lincoln Road's Yuca is a sign of the changing times, as the Latin entertainment industry takes its place as a major economic force internationally. High powered execs and proud Latin American transplants have made Yuca their corporate dining room, the most important place to see and be seen, and one of the hottest spots for local live salsa.
Insider tip: Friday & Sunday nights at 8.15pm, the girls of SalsaMia.com welcome visitors to Yuca's second floor lounge to spend a friendly hour or two learning the basic steps of Salsa Dancing. Come alone or bring a partner; there are plenty of people ready to share their enthusiasm for the music and rhythm of Latin America. Enjoy drinks and appetizers prepared by the Yuca chefs while meeting fun new people at this truly international gathering. After the class, guests are welcome to stay and dance the night away (Fridays 'til 2am, Sundays 'til midnight).
501 Lincoln Road
Miami Beach, FL 33139
(305) 532-9822
Price: $$$
Attire: Casual