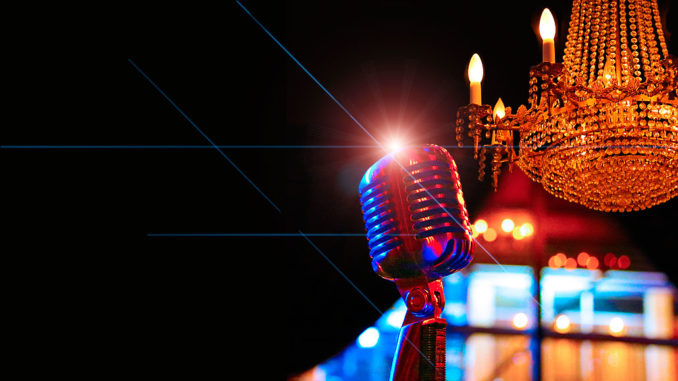 If you've ever seen the clip of Judy Garland singing "The Man That Got Away" in her 1954 film "A Star is Born," then you know exactly what the ambiance at The Cabaret South Beach is like.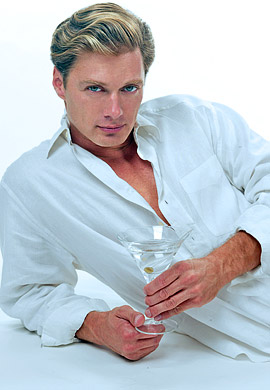 For over a decade Edison Farrow was the preeminent party maven for the gay set on South Beach with his Traveling Martini Tuesday party which met each week at Miami Beach's most urbane loctaions from chic hotels such as the Setai, to the Fontainebleau's LIV nightclub.
But, even with all that, Farrow felt something was missing from the party scene. As he describes it "Growing up in New York, I loved piano bars and live music venues from a very young age. Whenever I travel back home from Miami I wonder why we didn't have such places in South Florida…that's how the idea of The Cabaret South Beach was born."
Now, nightlife impresario Farrow and partner Ed DeCaso whose background is in banking, have come together to bring the piano bar theme back to Miami at The Cabaret South Beach, a cozy live performance club decked out in gold leaf and red velvet where waiters and bartenders provide the entertainment — and entertain they do. At regular intervals, staff members step into the spotlight to croon away everything from sultry ballads to smoking showtunes in front of The Cabaret's white Baby Grand Piano.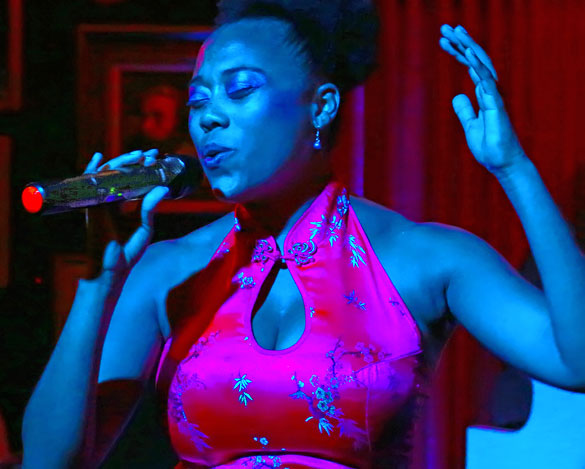 Says Farrow, "The Cabaret is a place for all music lovers from all demographics. There is such a wide variety of music genres being covered by our live performers that anyone can identify with The Cabaret. We want The Cabaret to become a can't-miss evening out for cocktails, conversation and great music."
The Cabaret's desire to present a wide spectrum of music was certainly evident on the nights we visited the club…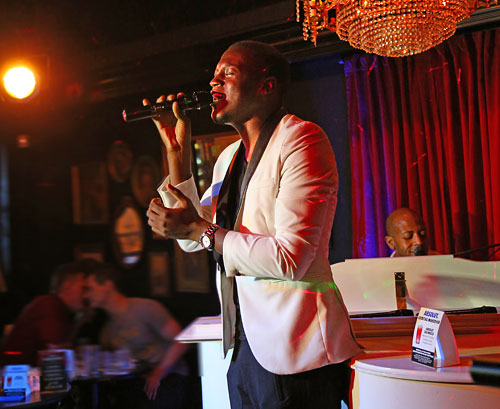 Michael Wordly delivered a soulful by-request rendition of "My Funny Valentine" which immediately surpassed our previous favorite by Chet Baker.
California-to-Miami transplant Susy Ortiz belted out a sultry version of the Doors' "Roadhouse Blues."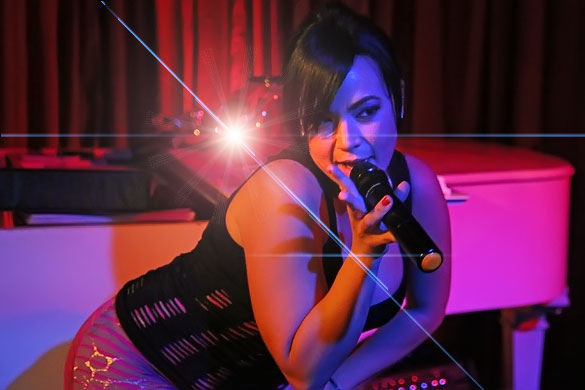 New York's Vermex Van Croix put on a touching performance seated by the piano that soared up into the high range and was accompanied by Susan Ortiz who sang harmony while standing across the room behind the bar.
Antionne Barnes' affinity for soulful Pop, Gospel and Broadway was evident in his beautifully emotional performance.
Erica Sommer who began singing at age four and studied musical theater at University of Miami, let loose with a beautiful ballad.
Singer/songwriter/guitarist Fabian Alexander bases his music on real life experiences, and contains elements of flamenco, dance, and hip-hop.
Other singers we missed, but will be sure to catch during The Cabaret's Grand Opening this week are Rach Larralde, Steph Michaels, Daniel Bourgoin, Envee, Carolina Pozo and Janae Catt.
And of course, the entire show is held together by the piano man, Larry Klass who sings, plays, pokes fun, and entertains the crowd with everything from his beautiful by-request version of "On a Clear Day," to all things Elton John.
According to Farrow, assembling a talented theatrical staff in Miami was relatively easy. "We held auditions and about 60 singers sang for us. The only problem we had was having to turn down lots of talented people during the auditions."
The club serves signature cocktails named for famous singers such as the Liza, the Bette, and the turbo-charged Chita Margarita.
The Cabaret South Beach is open every night of the week at 9pm with performers commencing the show at 10pm until 2am. Happy Hour runs 5pm-9pm. The Cabaret South Beach's Grand Opening is this Thursday, Friday and Saturday December 12-14.
The Cabaret South Beach
1801 Collins Avenue at The Shelborne Hotel
Miami Beach, FL 33139