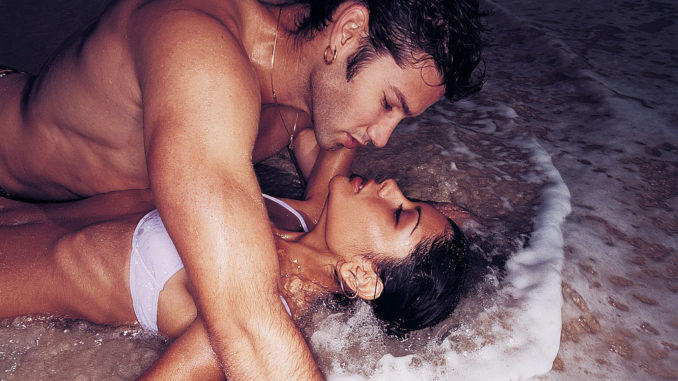 If we could offer one word of advice to all you lovers and hopeless romantics, it would be to never miss an opportunity for a weekend rendezvous with that special someone in your life. You know you both deserve it, so why not venture out of that everyday grind and pursue the pleasures of amour in sultry Miami.
Most people would agree that Miami has to be the world's sweet-spot for indulging in life's little passions. Maybe it's the steamy sensuality or laid back prospective on life we've inherited from our neighbors to the south. Or maybe it's the balmy winter weather that keeps all those hard bodies golden tanned. But, whatever the reason, Miami's the perfect place to escape with the one you love. So ring-up one of these fabulous Miami hotels and make a little love of your own.
The Tides / 1220 Ocean Drive / Miami Beach, FL
The Tides has been called the best address on Ocean Drive and that's a hefty claim keeping in mind that Gianni Versace's former mansion is only a block away. But don't take my word for it, the Tides has recently been recognized as one of the best small hotels in the world. Other establishments that have been honored with this award are The Savoy in Prague, Hotel Bel-Air in Los Angeles and The Oberoi in Bali to name a few. So what makes this little hotel so great? Well, the extra large rooms and suites to name one of the many things.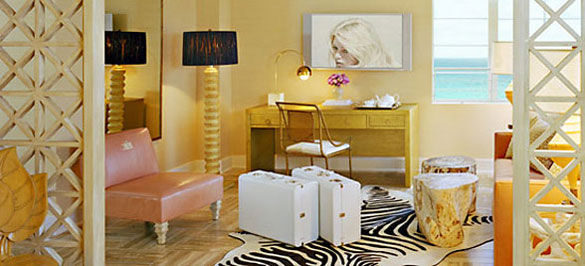 Each of the guest rooms is decorated in soft tones and features an expansive ocean view. Rooms welcome guests with plush bathrobes, slippers and only the best Aveda bath products. Insulated double-paned windows ensure a peaceful night's rest-that is, if you choose to sleep. The Tides also offers a heated freshwater pool and an outdoor exercise area. For the ultimate relaxation experience complimentary fresh fruit popsicles, cold moist towels and Fiji water are supplied by pool staff. On the beach, guests enjoy free lounge chairs, lotion, sunscreen, umbrellas, towels, magazines and board games. If you get tired of relaxing, use the free daily pass to Crunch Fitness or Bikram's Yoga or if you are smart, you'll head back to your room for a little workout of your own.
Dining at the Tides is a treat also with two award winning restaurants. Formal dining is provided at 1220 and the Terrace restaurant, which overlooks Ocean Drive, offers al fresco dining for breakfast, lunch and dinner. Alternatively, the poolside bar has snacks and drinks any time of day. From the moment you walk into the lobby you will know that your experience at this hotel will be one to remember. The Tides is the perfect choice for couples that value luxury, premium service, sensuality and elegance.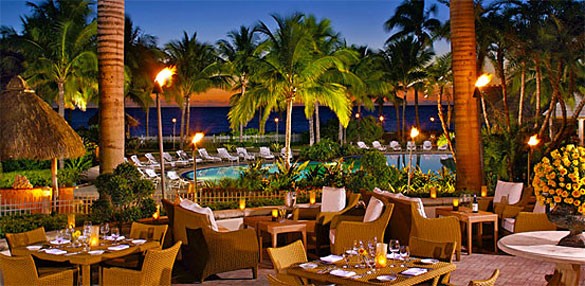 Ritz-Carlton Key Biscayne Hotel/ 415 Grand Bay Drive / Key Biscayne, FL
The Ritz Carlton Key Biscayne is one of my personal favorites on the list. Besides being set upon a dazzling stretch of golden sandy beach overlooking the Atlantic Ocean, this plush twelve-acre resort boasts a 20,000 square foot spa and an 11-court Tennis Garden. The suites offer views overlooking the beach and ocean, hotel gardens or the tropical paradise island of Key Biscayne. Here's a piece of trivia for you…did you know that Key Biscayne is the southernmost Barrier Island in the United States? Just five miles from downtown Miami and Miami Beach this hideaway is perfect for those of you who need to get away-but not too far away.
If you are able to tear yourselves from the lavish guestrooms you will definitely want to spend some quality time with your honey enjoying the tropical gardens surrounding the resort. Be sure and look for the romantic oceanfront wedding gazebo. And speaking of being in love, what could be more romantic than a proposal under the stars-waves crashing in the background and a string quartet playing in the wing? Many lavish weddings have been celebrated in the resort's 10,000 square foot ballroom, not to mention all of the intimate moonlight ceremonies performed directly on the beach.
If marriage is as far from the picture as snow is from Miami Beach, don't despair there are plenty of activities to keep you busy. Relax with morning Tai Chi or yoga classes together on the beach. Water aerobics, snorkeling and windsurfing are great choices too. And let's not forget that the 72-par Crandon Golf Course is just five minutes away. Take a nature stroll through the historic Cape Florida Lighthouse and enjoy one of South Florida's famous sunsets. It may have been hundreds of years since early explorer Ponce de Leon sailed off the Florida coast and discovered the area now known as Key Biscayne, but The Fountain of Youth is still in abundance on this barrier island-and that's good news for any pair of lovers.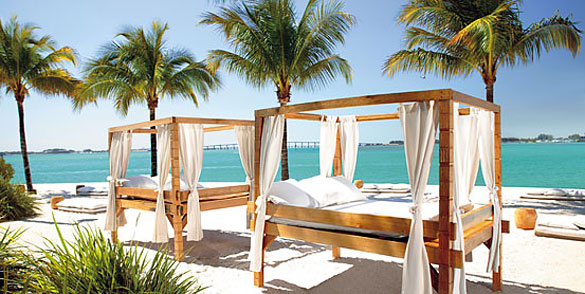 Mandarin Oriental / 500 Brickell Key Drive / Miami, FL
The Mandarin Oriental, one of Miami's newest luxury hotels, cost over $100 million to construct and has attracted many esteemed guests including Spain's monarch Juan Carlos and his wife. The hotel is conveniently located on Brickell Key just minutes from everything-Miami's financial district, Miami International airport, South Beach, Bayside and Coconut Grove. However, once you take a look at this breathtaking hotel you may not want to leave at all. The guest rooms and suites combine the beauty of South Florida with contemporary Asian elements in the ideal senses-pleasing combination. The perfect example is the cascading infinity pool that overlooks serene Key Biscayne.
Okay, so the hotel is beautiful-how does this factor into your romantic weekend getaway with your significant other? Well, luckily, the Mandarin Oriental offers much more than just the South Florida sun to keep you entertained. In addition to Cafe Sambal and Azul (the hotel's award winning signature restaurant), you and your sweetie can enjoy a cocktail at M-Bar or take in the magnificent Miami skyline through the floor to ceiling lobby windows.
Oh, and let's not forget the hotel's spa-the Spa at the Mandarin Oriental is the real reason this hotel made the list. This tri-level sanctuary has a glass elevator that transports guests to what feels like another world. The clever combination of East and West makes the tranquil setting a sensual paradise. But if you want a real treat, schedule a couple's massage in one of the spa's seven private suites overlooking Key Biscayne. Each of the spa treatments is inspired by ancient traditions of the Chinese, Ayurvedic, European, Balinese and Thai. You can lie side by side as the two of you are pampered into ecstasy, and then what you do once you get back to your own room is you business. Make this one a must.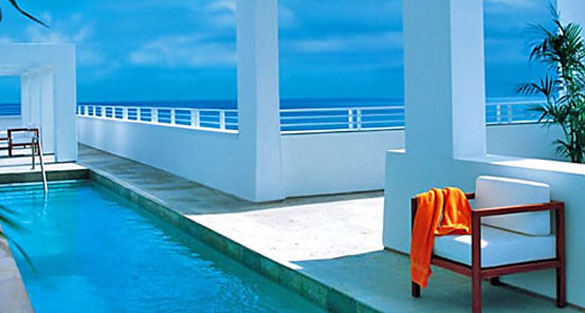 Shore Club / 1901 Collins Avenue / Miami Beach, FL
Robert DeNiro and Christy Turlington are among the A-listers entering the Miami Beach scene with their involvement in the Ian Schrager-managed hotel, the Shore Club. Designed by David Chipperfield, this dream hotel promises to provide a unique experience that oozes luxury and caters to your every need. Signature services include 24-hour butler service and beach pampering (think beach-side dining and massages in the sand). Word on the street is that Jennifer Lopez and Mick Jagger have both reserved the Penthouse, it's no average beachside flat either. The suite is the hotel's 6,000-square-foot, $15,000-a-night three story penthouse. The room is complete with two spiral staircases, a private pool with butler (of course!) and 360-degree views of the Atlantic and all of Miami Beach. Okay, so maybe you can't shell out $15,000 a night, but no worries, the other rooms in the hotel are also quite beautiful (remember, you're on a romantic getaway, so close encounters are a good thing).
Besides the sheer lavishness of the Shore Club, another perk is that it's located in the heart of South Beach, so you can be sure there's always plenty to do. Stroll with your honey down the moonlit beach or enjoy a romantic dinner and movie on Lincoln Road. And if you are still wondering exactly how DeNiro and Turlington are involved, you should know the famed sushi restaurant Nobu is partly owned by DeNiro and an Ayurvedic Spa is owned by model Christy Turlington—two more ideal spots for testifying your love.
Since opening 2000, the Shore Club has been showered with praise from critics and travelers alike. So, stop in and see why the tropical gardens with their lush foliage, reflecting pools and courtyards make an ideal place for a romantic rendezvous.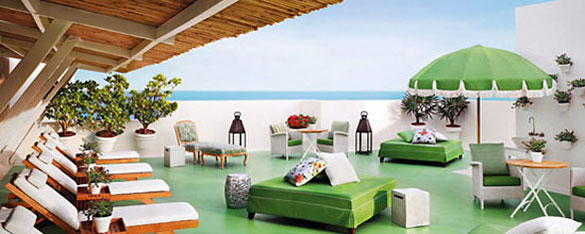 The Delano / 1685 Collins Avenue / Miami Beach, FL
If you can only squander one precious weekend on sheer indulgence, spend it at the Delano. In a city where fashion changes at a moments notice, the Delano is still counted as the hippest and most sought after place to stay. Designed by Ian Schrager and French designer Philippe Starck, the yin and yang of the hotel world, this hotel is best described as eccentrically minimalist-the very definition of sexy.
From the moment you enter the all white lobby with its strategically placed sheer billowing curtains, a billiards table and bright eat-in kitchen (located just inside the entrance) you will feel like you have just wandered into a scene from the children's book Alice in Wonderland. Perhaps the most alluring part about the Delano is that Schrager and Stark leave no opportunity for coolness to chance. At first, the uniquely shaped furniture and lack of color may feel a bit awkward, but once adjusted the effect is quite soothing…might I even say sensual? The genius of this hotel is the minimalism, as it gives the two of you permission to concentrate on each other.
The 15-story Art Deco masterpiece boasts lavishly appointed rooms featuring either a breathtaking view of the Miami Skyline or the thundering waters of the Atlantic Ocean, the ideal setting for a romantic escapade. For that extra special weekend, try one of the $700 a night bungalows, which are separate two-story apartments that flank the "water salon," Starck's extra-shallow swimming pool that incorporates furniture in the pool and broadcasts classical music underwater. Be sure and check out the private outdoor bungalows, perfect for a little late night friskiness.
When you and your sweetie are ready to be pampered by the hotel's amazing amenities, you will find Agua Spa, a full service rooftop Spa and Solarium are just what the doctor ordered. Undoubtedly, the Delano has something for everyone, even the impossible to please couple.

Sagamore / 1671 Collins Avenue / Miami Beach, FL
Built in 1948, the historic Sagamore hotel is an ideal choice for the urban art-loving couple. Or, perhaps its most alluring to couples looking to expand their cultural horizons. Featuring a prestigious art collection (displayed in the lobby, gallery, and various nooks and corners) this seaside boutique-style hotel hosts monthly art openings and intends to become a major cultural destination, as well as an utterly hip place to stay.
After extensive renovations, the hotel reopened in February 2002 with 93 striking suites, including 8 penthouses and 16 two-story bungalows. All suites feature very modern décor, unique artwork, mini kitchenettes and large bathrooms with oversized whirlpool tubs (there's just enough room for two…wink, wink). And let's not forget important amenities like stellar room service and those plush cotton bathrobes, essential factors for you and yours to be pampered to the max.
The Sagamore has a much cozier feel than most of the other hotels on this list, but that's what makes it most attractive. With fewer distractions there will be plenty of quality time to be had together. After you cross the threshold and experience eye-catching surprises like the pink marble reception desk with angled mahogany details, or the cool terrazzo floors you'll agree the feel is definitely more 1930s Europe than the sometimes intimidating, modern-day South Beach. Since the hotel is located right on the beach I highly recommend getting up a little earlier than usual (or staying awake a little longer, as the case may be) and experiencing the magnificence of one of South Florida's breathtaking sunrises. Tell me, is there anything more romantic than that?
Whether you're perusing the vast art collection (expect to see contemporary art by Udo Neoger and David Stoltz) or basking poolside amongst the palms and bougainvillea, your pent-up stress will melt away and you'll be able to get back to what's really important…each other.