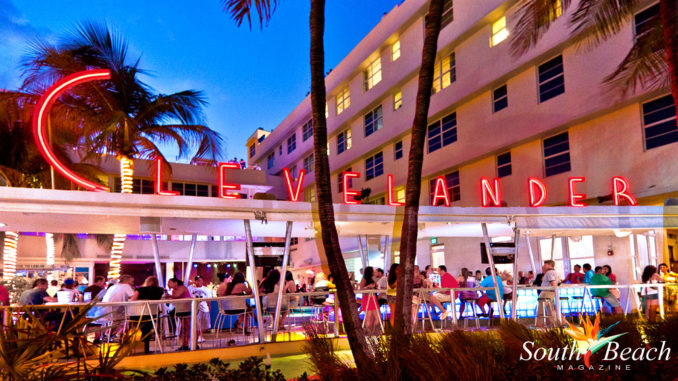 To help you craft the perfect Miami Beach getaway, we have compiled an overview of the top party hotels in South Beach. Consider this a power ranking of the most desirable places to experience the South Beach party scene. Making the cut is not so much a factor of a hotel's fine linens and designer bath products as it is the ability to deliver the buzz you feel at the hippest clubs, trendiest restaurants and friendliest bars.
Our top party hotels capture the essence of the South Beach experience by combining unique surroundings, attractive company, attentive service and effortless fun – all under one roof. Whether you want to strut in stilettos or be bare-as-you-dare, the vacation of your dreams is just a few clicks away. Find yourself poolside sipping a perfectly chilled cocktail and know that all those months of hard work and planning lead to an intersection of sun, skin and sweet surrender …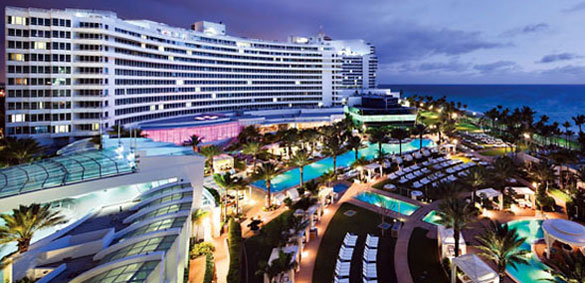 Fontainebleau Hotel / 4441 Collins Avenue / Miami Beach, FL 33139
Bigger, brighter and bouncier than ever, the Fontainebleau Resort & Spa enjoys a totally South Beach buzz. This landmark property was designed by architect Morris Lapidus to make guests feel like celebrities cavorting on a grand stage. A billion dollar expansion – launched with an international telecast of Victoria's Secret super models – brought the formidable property up to 1,500 newly appointed guest rooms and suites spanning 22 acres of golden oceanfront.
Patterned after the top resorts in Las Vegas, the hotel has 11 restaurants and the top-rated LIV nightclub, 3 big name celebrity chefs and a 40,000 square foot spa. The six pools and beach club include a sexy French Riviera-style grill called La Côte where the dress code is tan skin, long legs and very little inhibition. Guests party in luxurious cabanas appointed with 32 inch flat panel TVs, butler service, and security safes, all surrounded by privacy curtains that are usually left open to see and be seen.

W South Beach Hotel / 2201 Collins Avenue / Miami Beach, FL 33139
Few hotels on South Beach were designed from the ground up to deliver wall-to-wall luxury quite like the brand new W South Beach Hotel in Collins Park. With a prime beach front location, a totally modern aesthetic, balconies engineered to maximize sea views and an impressive roster of dining and nightlife options, the W Hotel has Game. Rooms are engineered with plenty of party space after leaving the hotel's Wall Lounge. Hotel staff are determined to provide Whatever you desire Whenever you choose. With big name gourmet dining, a celebrity-centric nightclub called Wall at the W South Beach Hotel, and 3-story poolside bungalows straight out of HBO's hit series "Entourage," it's no wonder the next generation of South Beach scenesters find themselves drawn to the W Hotel.
Delano Hotel / 1685 Collins Avenue / Miami Beach, FL 33139
One essential thing to keep in mind about the Delano Hotel before you arrive: The guy sipping cocktails at the Rose Bar or the Sunday pool party who looks just like George Clooney – is George Clooney. So chill out, act like its no big deal and move on. The Delano is a jaw-dropping and name-dropping paradise.Located in the heart of the South Beach Scene – perhaps at the very epicenter – this world class hipster hotel has one of the most dazzling lobby lounge spaces in the city. Surprisingly understated from the street, the curtained porte cochére opens onto a dazzling series of environments leading out to the Bianca Restaurant terrace and the sexiest pool in town.
As you travel through each unique space towards the sea, the hideaways crafted by French Design Guru Philippe Starck contain unique objects from Antonio Gaudi, Charles and Ray Eames, Man Ray, Salvador Dali and Mark Newson. Lenny Kravitz collaborated on the cool speakeasy that is FDR Lounge downstairs which jumps with action especially on Monday nights. With so much sheer firepower behind every aspect of your stay, it's no wonder the Delano is still so hot.
Standard Miami Hotel & Spa / 40 Island Avenue / Miami Beach, FL 33139
South Beach locals have access to all of the best stuff that you only get to enjoy during your vacation. They can pop into Prime 112 and sit right next to Dwayne Wade or score a prime table at Joe's Stone Crab without much of a wait. Locals know the best bars, the hottest clubs, the bouncer's first name and they move – for the most part – through the glitz and glam of South Beach with an enviable ease. That's why it's important to note that of all the party hotels on South Beach, all the hot spots and off-the-radar clubs that pop up at a moment's notice, locals actually PAY to hang out at The Standard Hotel.Restricted to guests over 14, the hotel promotes health and wellness at its low key DIY spa but courts a fun crowd around the huge 24 hour pool, at the waterfall hot tub, at the sexy co-ed sauna and at weekly drunken bingo matches where a raucous crowd vies for bar tabs and hotel stays with a fervor that would frighten Grandma. Hip, barefoot, toned and tan, the atmosphere at the Standard Spa is a welcome antidote to the glitzy South Beach stiletto scene.
Clevelander Hotel / 1020 Ocean Drive / Miami Beach, FL 33139
Anyone who has ever enjoyed a few too many Rum Runners during a Spring Break on South Beach has a story that features the Clevelander Hotel. From the moment the Art Deco District started welcoming visitors to it's Miami Vice-colored shoreline, "The Cleve" has served as the de facto party spot for an international array of sun worshippers from all walks of life who are drawn to the pool bar by the music, the drink specials and the anything goes atmosphere.With bar service opening directly onto Ocean Drive and the busy greenspace that is Lummus Park, the Clevelander sits at the end of the rainbow for sandy beach goers, sweaty in-line skaters, thirsty Swedish bikini models and sunburned Midwesterners busily snapping cell phone photos to inspire the envy of their snowbound relatives back home.
With no cover, no minimum, no shoes nor shirt required, this popular patio remains one of the "Must See" spots for any South Beach holiday. Following a recent multi-million dollar renovation, the much-improved public spaces now have equally promising private guestrooms where it is possible for folks who no longer carry student ID cards to enjoy a few nights of partying like it's 1999.