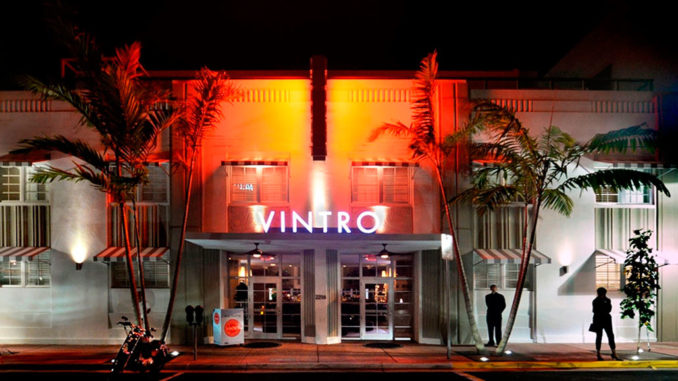 Vintro Hotel is a charming boutique property with a vintage vibe in the heart of the Collins Park District of South Beach. On the main level, restaurateur Giorgios Nikolas Bakatsias helms an eclectic eatery with 30-foot ceilings, Cuban tile floors and retro chandeliers that cast a warm glow on an oversized, modernist portrait of the Mona Lisa. Decked out in funky green shutters, the narrow 60-seat space runs straight back toward the inland waterway called Collins Canal where diners can nip out to a cozy outdoor terrace to have supper under the stars.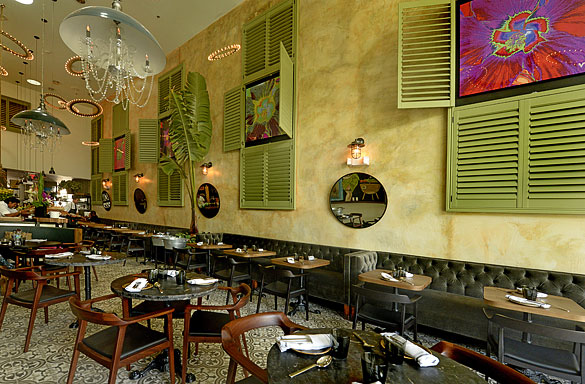 Serving a contemporary interpretation of Mediterranean cuisine, the kitchen specializes in seafood and a tasty variety of "bocadito" small plates meant to be sampled and shared. Highlights on the menu include grilled octopus, goat cheese croquettes, locally-sourced burrata cheese with heirloom tomatoes and plenty of tangy marinated olives. In addition to nightly blackboard specials, a 26-foot cold bar features fresh hamachi crudo (a marinated yellowtail dish), plus a variety of seasonal salads. Guests are encouraged to order 2 or 3 tasting plates per person to enjoy a distinctive selection of tapas or one of the larger entrees like a whole salt-crusted fish or perfectly-seasoned lamb chops.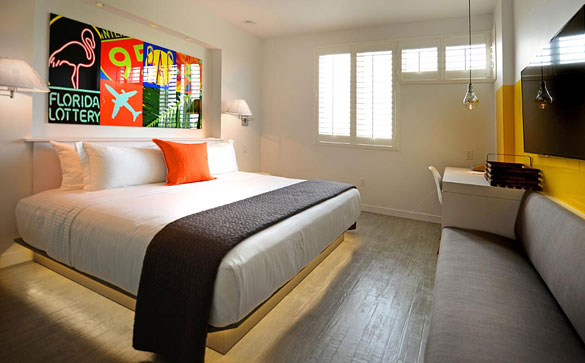 The 50-room hotel has a popular lobby bar, a scenic rooftop terrace, a waterfront dining patio and an entirely romantic vibe. Wednesday nights are all about the "Sunset Chill," an evening of food, drinks and music with a local DJ creating a festive mood. Sunday brunches are a specialty of Chef Keith Suarino who crafts a rustic Mediterranean feast that includes bottomless sangrias and mimosas. The buffet service features a chilled soup, plenty of salads, a fresh seafood raw bar, grilled lamb, pork and beef tenderloin and a savory seafood paella. Guest can also customize omelettes made to order or sample the heavenly nutella banana stuffed French toast. Showcasing bold graphics, the work of local artists and a kitschy selection of old Floridiana, Vintro's "vintage + retro" styling creates the perfect oasis for a unique South Beach escape.
Vintro Hotel & Kitchen is located at 2216 Park Avenue on South Beach. 305.704.3680. Breakfast 7am-11am, Lunch 11am-7pm, Dinner Sunday – Wednesday 7pm-11pm & Thursday – Saturday 7pm until midnight.