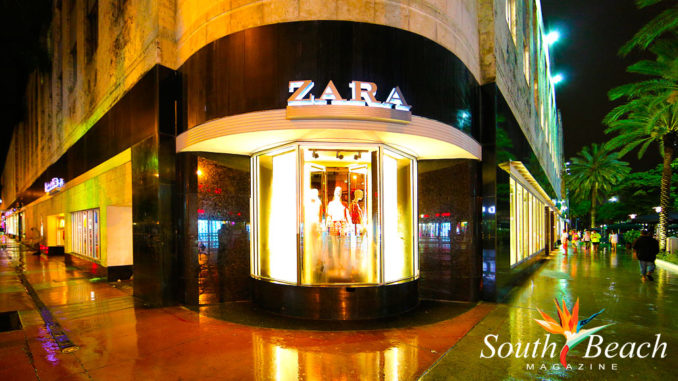 The introduction of global fast fashion brand ZARA to the Miami market brought high styles and low prices to a hungry consumer base. Part of a worldwide chain that comprises over 5000 stores in 78 countries, the Spanish retailer surveys the best of the season's looks and reproduces them quickly, creatively and efficiently so they can deftly move on to the next trend.
ZARA South Beach is located in the prime Collins Avenue shopping district just north of Fifth Street and adjoins MNG by Mango, a slightly more expensive global fashion retailer with roots in nearby Barcelona that spread to the US in 2006. While Mango categorizes their fashions into casual, evening and sportswear collections, the ZARA brand seems more focused upon turnover – moving the looks in and out to keep customers interested in the next collection.
The South Beach branch joins the Dadeland and Aventura Mall locations offering men's and women's clothing in collections for both work and weekend. In addition to contemporary sportswear, denim, outerwear and knits, the range of handbags, shoes and accessories are designed with an eye on the runway but a healthy respect for the budget conscious fashionista.
While the women's clothing appeals to a range of ages and lifestyles, too often the menswear is cut to a youthful, lean silhouette which may prove too slim fitting for an athletic build. With guys skinny jeans, logo tees and fine gauge knitwear, the overall image is geared more toward a young men's market than an older shopper. Two Locations: 420 Lincoln Road and 590 Collins Avenue, Miami Beach, FL 33139 (305) 532-8002