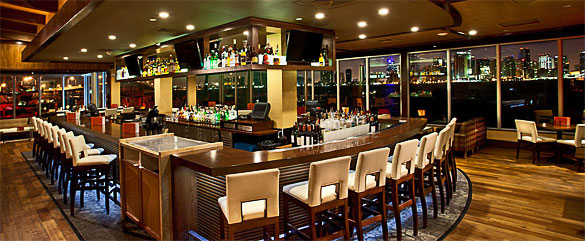 A Miami landmark with million dollar views, the Rusty Pelican Restaurant recently completed an extensive five month renovation that transformed the old-school seafood spot into a dramatic dining destination. Key Biscayne is just a short drive from Downtown Miami via the scenic Rickenbacker Causeway where this waterfront restaurant offers an ideal photo opportunity of the majestic Miami skyline.
Popular with locals and their out of town guests, the restaurant recently hired innovative Irish Executive Chef Michael Gilligan (Atrio, Solea) to revamp the menu from traditional seafood favorites to more contemporary American fare. Bidding a fond farewell to the fried fisherman's platters, the chef's innovative starters include sushi & sashimi, scallop tiradito and sea bass ceviche plus an ahi tuna taco that packs a spicy punch. Landlubbers can sample Gilligans' duck, foie gras and goat cheese empanadas, beef sliders with a side of fries and an ample and interesting charcuterie plate.
Popular entrees range from simple pastas to a few choice seafood dishes with the standout being a locally-sourced whole fried red snapper. Choose from shrimp, Maine and Florida lobster (in season), sea bass and salmon. Steak selections run the traditional gamut; 8-ounce filet mignon, 12-ounce NY strip and a 16 -ounce bone-in ribeye you may choose to share. Desserts for locals seldom veer far from the Key Lime Pie though the goat cheese cake and baked Alaska are also tempting rivals. Key Biscayne's Rusty Pelican is all dressed up once again and definitely a scenic place to go.
3201 Rickenbacker Causeway
Key Biscayne, FL 33149
(305) 361-3818
Price: $$$
Attire: Casual