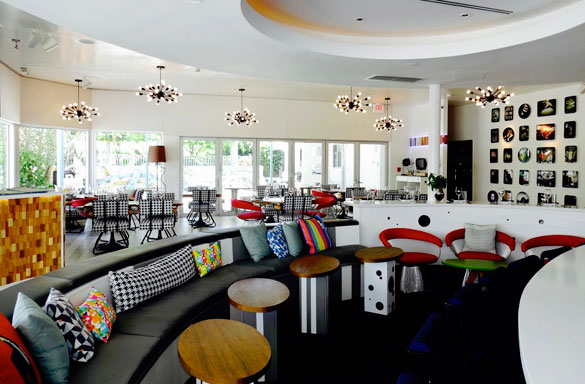 With the abrupt closing of celebrity Chef Michelle Bernstein's Cena by Michy on the Biscayne Corridor in May 2016, area foodies started to wonder if the once trendy MiMo District was somehow losing its luster. Then Chef Alex Chang parted ways with his critically acclaimed Vagabond Restaurant team and partners Julien Geliot and Fabien Chalard took over operations at the charming 1950s motel during the course of the long Fourth of July weekend; rebranding the restaurant in record time. They brought aboard Chef Roberto Dubois and tasked him with the creation of a menu that reflects the casual style of the Upper East Side neighborhood, a place where hipsters and families bring new life to the former red light district.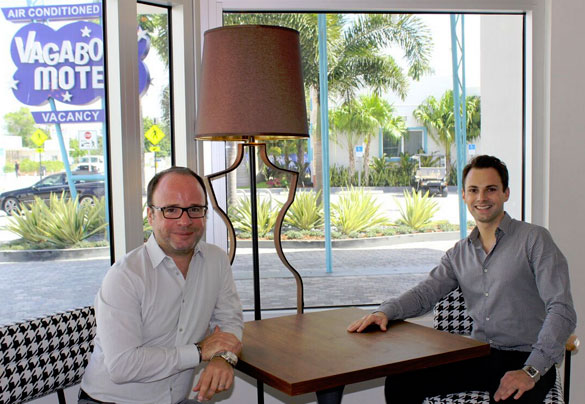 Owner Fabien Chalard got his start in Paris, working as a consultant at KPMG before returning home to Lyon to open restaurants Pléthore and Balthazar and launch a consulting group that trains catering professionals in the myriad tasks of running a successful culinary operation. He first brought his brand to South Beach's Hilton Bentley Hotel before taking on the transformation of the Vagabond earlier this month. Chef Roberto Dubois raced to complete a soulful and affordable menu of bar bites and family style entrees that can satisfy late night tipplers and enchant area residents. Changing the name to Vagabond Kitchen and Bar is a deliberate effort to let guests know the eatery offers both approachable daily dining and an attractive cocktail scene. Prices are thoughtfully skewed to the Miami market, not to inspire the shock and awe of a South Beach lounge.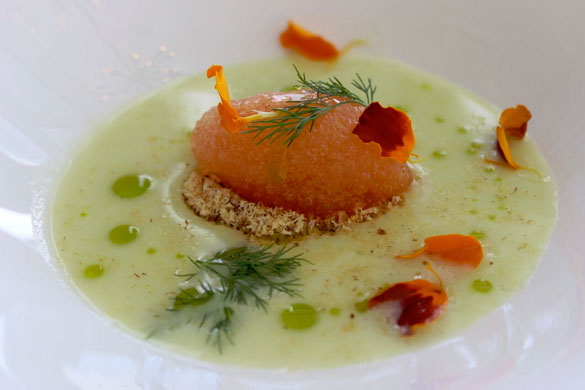 "We want to create a menu that isn't complicated," says Chef Dubois. "We're not trying to confuse people with our food. We're creating dishes that immediately connect with our customers." The attractive space is built in the round with banks of windows providing a panoramic view of the delightfully appointed retro property adjoining busy Biscayne Boulevard. The chef and his team are in full view, going through their paces in the airy open kitchen. A sweeping open bar area offers signature cocktails and wine by the glass plus Dubois' small plates and sharable bites. As the hour grows late, a well-dressed crowd gathers at cozy banquettes to sample tropical drinks like the Floradora, the Lychee Mojito and the Vagabond Club.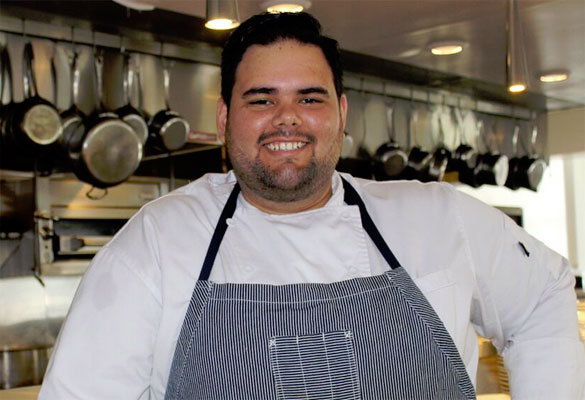 Chalard is cultivating an atmosphere that appeals to Miami's sophisticated cocktail crowd with a jazzy lounge soundtrack and a welcoming vibe. "There are plenty of places catering to 20 year olds in Miami," he explains. "I'm in my 40s and I want the Vagabond to attract guests who have outgrown the EDM scene." At the bar, Chef Dubois' serves fresh Tuna Poke on house made sesame crisps and supremely tender Grilled Octopus that is braised and then placed in a sous-vide immersion cooker to give it a supple texture. His addictive Croque Monsieur sandwich bites blend honey ham, truffle gouda and creamy bechamel sauce to great effect. Vagabond Bar hosts a daily happy hour from 6pm to 8pm.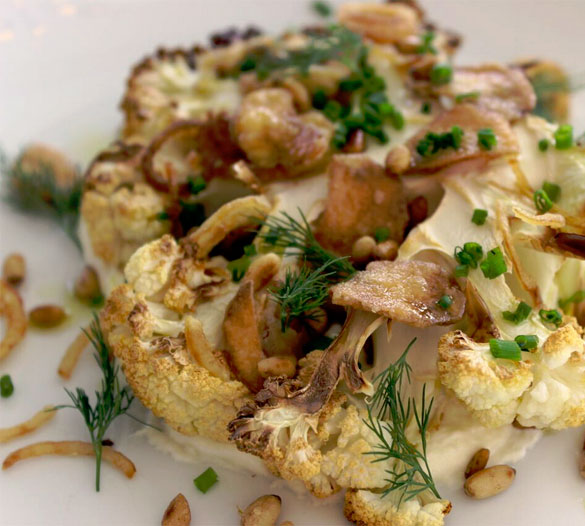 The young chef started out at his father's restaurant and after culinary school, traveled the world to help develop his palate. Settling in South Florida, he worked at upscale eateries like Juvia, Makoto, Klima and Azul at the Mandarin Oriental Hotel. As he builds his new menu, Dubois admits that he labors over the same dish for days on end until he finally reaches a point where he's satisfied with the flavor. His new Cauliflower Steak arrives at the table with a deep golden finish, resting on a bed of whipped feta cheese puree topped with crispy garlic chips. A small ramekin of Creamy Polenta envelops a slow poached egg that adds a silky contrast to crispy Parmesan mushrooms.
Bringing a home style element to the menu, large plate entrees of whole roast organic chicken crisp from the rotisserie and a whole red snapper with seasonal veggies are served family style. Unlike many Miami eateries offering a whole fish, the chef deftly bones his snapper and presents it intact, making it much easier to enjoy. At meal's end, Dubois updates his grandmother's recipe for warm Bread Pudding with a bracing splash of cognac to add an extra kick to a family classic. While the transformation of Vagabond Kitchen & Bar is just getting underway, the energy and focus of this new culinary team shows great promise.
Vagabond Kitchen & Bar 7301 Biscayne Boulevard, Miami
Serving Tuesday through Thursday 6pm to midnight, Fridays and Saturdays until 2am and Sunday 11am until midnight. A Sunday brunch service includes a $29 buffet plus $18 unlimited mimosas from 11am – 4pm. Happy Hour 6pm – 8pm daily.