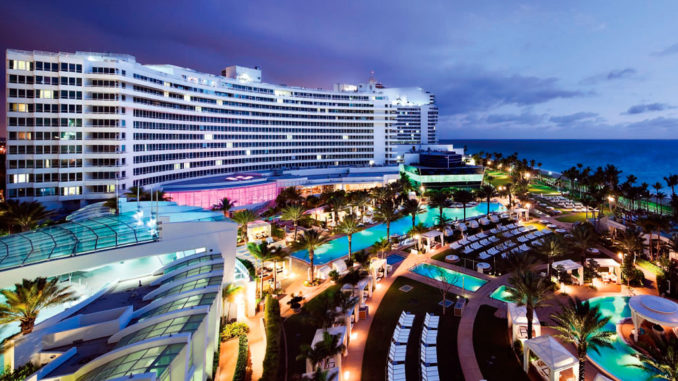 The Fontainebleau Miami Beach hotel has become South Florida's most renowned and iconic landmark hotel since its opening in 1954. Designed by the late and legendary Morris Lapidus, the impressive architectural design asserts the rich history of this memorable property.
Long before the chic street cafes and hot nightlife scene erupted on what is now the famed South Beach, the Fontainebleau hosted entertainers such as Frank Sinatra and the Rat Pack, Bob Hope and Elvis Presley, and served as the location for many films, including James Bond's "Goldfinger," "The Bodyguard" and "Scarface."
Situated on 20 lush, tropical oceanfront acres the Fontainebleau has over 1,200 rooms and 60 suites with many offering views of the Atlantic Ocean or the Intracoastal Waterway. With so much to do though, it's doubtful you will spend much time holed up in your room!
The resort has a half-acre lagoon-style pool with grotto and waterfalls, a second outdoor pool, a spa tub, poolside cabanas and a 7,000-square-foot children's water park with an impressive 100-foot slide, sweetly called Cookie's World. Coconut Willies, the covered poolside bar, serves cocktails throughout the day. The shopping arcade, located on the lower level of the hotel, is home to a beauty salon, video arcade, clothing stores and a modern fitness center.
The Fontainebleau is the perfect place to have a night out on the town – without ever leaving your hotel. The 150-seat Bleu View Mediterranean restaurant and cocktail lounge recently underwent a $10 million food and beverage renovation so make your reservations early and request a window seat – the sunset the breathtaking.
Frankie, Sammy and Dino may be long gone but not forgotten thanks to Club LIV featuring the hottest DJs in the land, making these is two nightclubs not to be missed.
4441 Collins Avenue, Miami Beach, FL 33140
• Oceanfront hotel
• 5-minute taxi to South Beach
• LIV nightclub & 4 top restaurants on-site