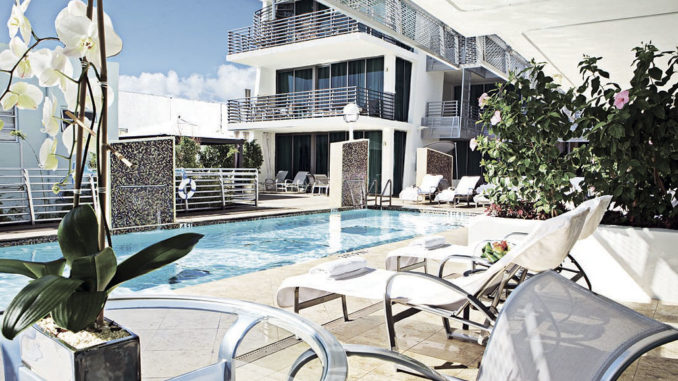 A brand new property that intersects the quiet end of the Ocean Drive strip l and busy Collins Avenue, the Z Ocean Hotel South Beach offers sleek, spacious suites overlooking the city and the sea. An innovative architectural design, the property was crafted as an upscale boutique hotel where guests can enjoy uniquely personalized service in one- and two-story luxury accommodations.
Each guest suite features soundproofed windows, two flat screen surround sound TVs, luxe featherbeds, spacious marble spa bathrooms, a fully stocked coffee bar, three telephones and fully furnished balconies. Guests can choose a private romantic hideaway or a more social poolside party suite to craft the holiday of their dreams.
For a girl's shopping escape, a friendly bachelor's weekend or fun family retreat, the Z Ocean offers ten suites that open directly onto the elevated pool deck so guests can host their own pool party on oversized cabana-style terraces facing South Beach's only glass-bottomed pool. Couples who want to create a perfectly romantic seaside escape can opt for one of nine spa suites that offer a little extra space for an in-room massage or a cozy soak in a private hot tub on the extended outdoor terrace. At the roof level, the Z Ocean Hotel offers city and sea views in suites that feature an oversized balcony with a spiral staircase that leads to a private 600 square foot rooftop terrace. Lushly landscaped, this elevated oasis is a perfect spot to enjoy views of South Beach and the sea from a private hot tub or a cozy sun bed. A rooftop wet bar makes it easy to enjoy a cool cocktail as the sun sets over the city.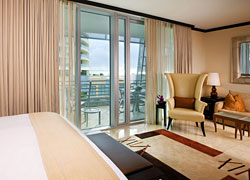 The Z Ocean Hotel is just steps away from the sexy sands of South Beach so a full time beach concierge stands at the ready for guests wishing to take advantage of two padded loungers tucked beneath an adjustable sun shade. The hotel offers en suite dining, a lavish terraced dining room overlooking Ocean Drive and stands in the heart of South Beach's exciting nightclub district. The breezeway entrance to the hotel bar enjoys a unique view up through the bottom of the glass bottom pool which bubbles with excitement by day and offers a tranquil backlit water feature by night. Steps away from nightclubs, fine dining and the shops of Lincoln Mall, the Z Ocean Hotel is a luxe getaway at the top of the Ocean Drive strip.
Z Ocean Hotel South Beach
1437 Collins Avenue
Miami Beach, FL 33139