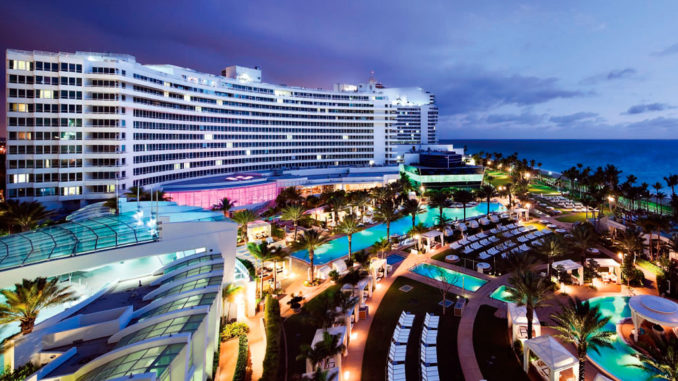 Now that the glitz and glitter of the Victoria's Secret Fashion Show has been swept away, people are taking a serious look at the ever-spectacular Fontainebleau Miami Beach hotel and savoring the true essence of this fabled resort. It turns out the hotel brought in some pretty big guns to run their dining offerings, so we thought we'd take a look at what's on the Fontainebleau's menu so far this season.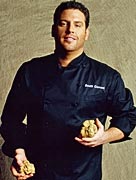 While hotel dining world-wide is notorious for its under-performance and is often plagued by a complacency spawned from the steady receipts of a captive audience, the big name restaurants at the Fontainebleau Miami Beach are managing to attract loyal local diners with innovative cuisine and professional service in a gorgeous setting that's second to none. As with other pricey hot spots in this decidedly fickle town, only time will tell if this allure remains in place.
A renovation the size and scope of this billion-dollar baby required a great deal of patience on the part of management and patrons who weathered the transition from work-in-progress to firing-on-all-cylinders, but now hotel guests and curious Miamians will discover eleven dining and lounge options at the Fontainebleau including marquee names like Alfred Portale's Gotham Steak, Scott Conant's Scarpetta and Alan Yau's Hakkasan. With a stable of thoroughbreds like this, the Mid-Beach section of Miami Beach is starting to regain its 1960s Las Vegas feel.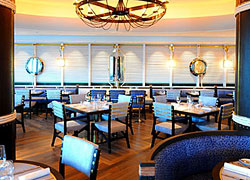 The hotel employed no less than eight international architects, designers and project managers to complete the 22-acre project. When they say size matters, we just know they're talking about the 30,000 square foot LIV nightclub and the 40,000 square foot poolside Lapis Spa with it's 30 amazing treatment rooms. The two new all-suite guest towers Trésor and Sorrento join the refurbished Château and Versailles towers to form a complex of lavish accommodations that seem to go on forever. As you wander through the vast reaches of marble and glass, the restaurants unfold before you offering every taste from rustic Tuscan to sparkling sushi. Vida features a Pan-American menu.
Poolside, La Côte is designed to resemble La Palmier in Saint Tropez. Blade flows indoors from the terrace to offer sashimi, nigiri and omakase for Japanese purists and then Solo is the hotel's hearth; a cozy bakery and cafe.
What most Miamians and food-enthusiastic visitors are talking about these days are the twin titans of the culinary scene who have expanded their hold on Manhattan wallets to take pride of place at the Fontainebleau Hotel – Gotham Steak and Scarpetta. We have high hopes for both ballyhooed bistros but clearly only one has hit it's stride so far. While the staff at Gotham Steak are still finding their rhythm, the menu deftly fuses Italian, French and Asian influences to showcase pricey cuts of prime beef and plenty of seafood as well.
Credit the restaurant's design team for avoiding classic steakhouse cliches of dark wood and that man's-man clubhouse vibe for a sexier tan and airy space with an open kitchen on the first level and a lively second-tier bar and alfresco dining area. The atmosphere is as light and delicious as the popovers which are presented with truffle butter and disappeared from our table in a Pop! With Miami Beach's most famous hotel as a backdrop, it's a pleasure to see palm trees outside the floor-to-ceiling windows and a cascading glass chandelier that draws the eye up to the pass through that is the focal point of the two story dining room.
What matters most to steakhouse patrons is the beef and at Gotham the salt-crusted beef is hardwood-grilled and finished in a 1,200F broiler. Each pedigreed cut is branded by region; NY strips (prime Black Angus or 50-day aged prime Niman Ranch), filets (Black Angus or Brandt Farms), grass-fed rib eye (Painted Hills Farm), porterhouse (Niman Ranch), and super-marbled Wagyu from Strube Ranch, Sher Farms, or Japan. Pairing your particular steak with one of the 13,000 bottles of wine in the glass wine tower will propel the check skyward but that should come as no surprise to Alfred Portale's cosseted coterie of loyal Gothamites.
The Gotham Bar and Grill in Manhattan sets the benchmark for sophisticated presentation and innovative plating. With time we're confident Gotham Steak will master the delicate balance that propels Alfred Portale's reputation to skyscraper heights. In the meantime, we're loving the more down-to-earth flavors at Scarpetta…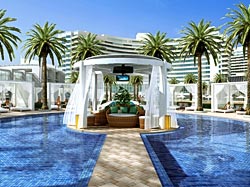 Big name chefs and restaurateurs hate to admit they live and die by the sword of New York Times restaurant critic Frank Bruni. Pity Jeffrey Chodorow who spent a fortune on his New York Kobe Club steakhouse only to have the most famous critic chop it to chuck steak in a zero star review. Desperate and determined, Chodorow spent $40,000 on a full page "open letter" ad in the Times dining section to refute the negative rating and fuel a feud more famous than the Hatfields and the McCoys. By contrast, Bruni recently wrote a three star sonnet to Scott Conant's New York Scarpetta Restaurant, rhapsodizing that no other chef coaxes better flavors from the humble tomato "getting roundness of flavor and nuance of sweetness that amount to pure Mediterranean bliss."
When the Fontainebleau announced that Scott Conant would bring his pricey Italian restaurant to the shores of Miami Beach, local foodies stood up and took notice. While offshoots of successful restaurants bear the weight of the "chain" classification and can be dismissed as minor league ball clubs to the New York majors, the players at Miami Beach's Scarpetta are swinging for the bleachers and scoring some gastronomic hits.
Scarpetta maintains an air of poise and grace while serving perfect house made pasta to Michael Jordan or our table of blue jean wearing nobodies. The staff is calm, professional and perfectly suited to the sophisticated dining room that enjoys pride of place above the hotel's spectacular pool. "Scarpetta" is an Italian word for small shoe, a slang term for the crust of bread used to sop up the last of the sauce on a plate of pasta and a well-earned moniker at a restaurant where the pomidoro really is good to the last drop. What's more, the variety of breads stuffed into our basket were so far above and beyond the offerings at any restaurant in recent memory, we unapologetically passed the empty vessel back to our waiter more than twice to have it refilled.
Another visit took place at the request of out of town guests who treated us to a brunch we can only describe as transcendent. Sundays in bed with the Times are not going to be the same now that Scarpetta beckons us to get up and taste the bellinis. Next time you find yourself in the mood for a meal to remember, remember we told you to check out what's cooking at the Fontainebleau.
A billion dollars just isn't what it used to be in these days of economic bailouts and trillion dollar budgeting. It takes a great deal of bravado to spend years of effort and piles of money creating a Fantasy Island as ambitious as the Fontainebleau Hotel.  Your personal sense of finance will determine just how much you're willing to spend on an oceanfront suite, a deep tissue massage, a perfectly marbled steak or a pristine plate of pasta in the months to come.
With all the changes afoot in the world today, we're happy to report that the changes at the Fontainebleau Miami Beach are truly impressive for this state-of-the-art ocean-front resort.
The Fontainebleau Miami Beach Resort is located at 4441 Collins Avenue in Mid-Beach, just a few minutes north of the South Beach Scene.