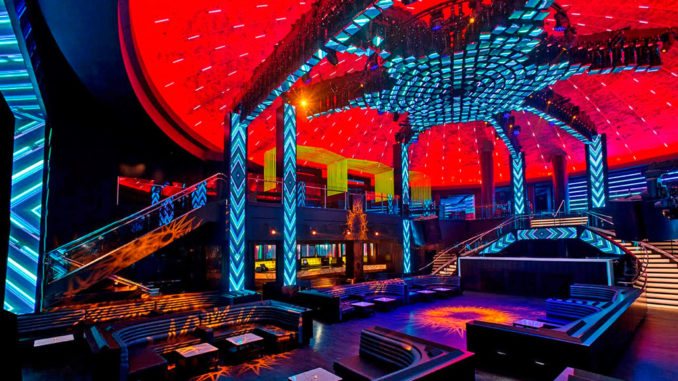 Competition among Miami Beach's top nightclubs is both fierce and fabulous now that LIV at the Fontainbleau Resort unveiled the astounding results of a $10 million makeover during an all-star celebrity sneak preview weekend featuring Travis Scott and DJ Skrillex. While the club's official reopening is scheduled for October 5, Miami Beach's cutting edge Vegas-style nightspot was filled to capacity in late September as the state of the art lighting system mesmerized crowds with its massive, motor-driven spider descending from the ceiling while confetti filled the air.
The pulsating $3 million spider serves as the centerpiece of LIV's new look, something Steve Lieberman of SJ Lighting took to heart as he crafted the enormous installation that encompasses the entire dance club dome. With over 400 individual motors controlling every movement, the digital beast virtually radiates across the walls into sparkling LED columns that undulate to the beat of the music or appear to burst into flashes and flames. Individual projection screens throughout the space – crafted by design firm Icrave – add impact to the light show, highlighting the DJ booth, twin staircases and layers of VIP seating.
Formed in 2008, MMG Nightlife currently operates three of South Florida's most successful entertainment venues including LIV at the Fontainebleau Resort and at Hard Rock Stadium plus the popular SoFi hotspot, STORY Lounge. Mo Garcia, Vice President of Operations for MMG, takes extra pride in LIV's nine week renovation process, a calculated risk he determined would pay off in rich rewards as the South Beach season moves into high gear. After nine successful years at the top of the nightlife scene, MMG decided it was time to find new ways to make the 18,000 square foot club a 360 degree sensory experience. With clubgoers posting every encounter live on social media, Garcia wanted to be sure every angle of the space makes a lasting impression.
MMG Kingpin David Grutman and his wife welcomed baby daughter Kaia the same week his flagship nightclub roared back to life. With an eye on the future of the nightlife industry, he was determined to craft the kind of entertainment experience that would appeal to the next generation. LIV's relaunch gains momentum in the coming weeks with appearances by recording artists Sunnery James and Ryan Marciano, Gucci Mane and DJ Khaled, plus Prince Royce and Erick Morillo. Halloweekend events include DJs Politik and Hardwell who will appear October 27 & 28.
LIV at the Fontainebleau Resort, 4441 Collins Avenue opens Thursday through Sunday 11pm – 5am. For reservations, call 305-674-4680 or email VIP@LIVnightclub.com