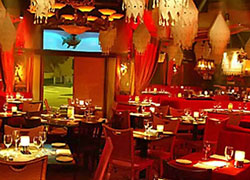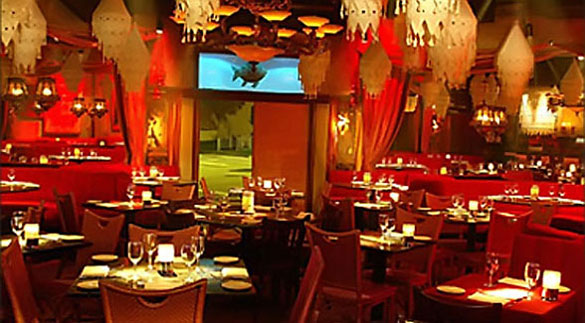 In South Beach, no place is sexier than Tantra, a stylish restaurant-lounge based on the ancient Tantric principles of self-awareness and spiritual realization through invocation of the senses. At Tantra, a true South Beach landmark, the senses are stimulated in every possible way, from the superb food to the stunning décor, to the pulsating music and erotic art.
The restaurant's soothing, romantic ambiance has been lovingly created from the elements of earth (a grass floor in the VIP lounge), fire (candles), sky (a fiber optic-lit ceiling featuring a shooting star) and water (a dramatic water wall in the entrance foyer).
Other nice flourishes include the movie screening in the main dining room, giant Hookah pipes for after-dinner enjoyment of fine Middle Eastern tobacco, and a spacious, comfortable hammock that hangs from the ceiling of a private dining room.
But, all those soothing elements depart around 11pm when the line forms at the front door and Tantra becomes one of the hottest places to be in South Beach. Monday nights at Tantra are legendary.
Tantra
1445 Pennsylvania Avenue
Miami Beach, FL 33139
(305) 672-4765