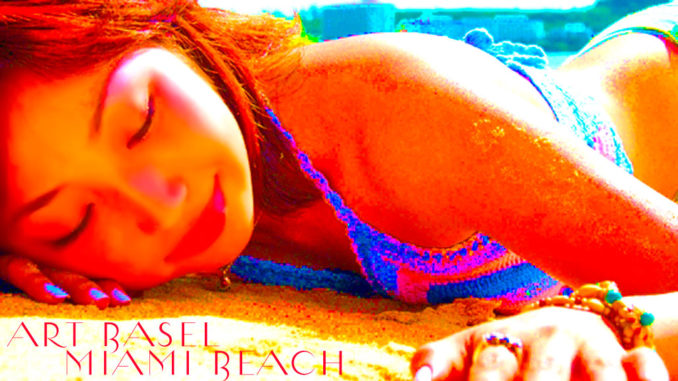 On December 1-4, 2016, the eyes of the world—and the paparazzi—focus upon Art Basel Miami, a citywide art festival where international art collectors and the biggest celebrities in film, sport and fashion attend a week of dazzling exhibitions and swank social gatherings. Behind the scenes, millions of dollars quietly change hands as clever investors discretely buy and sell Picasso, Warhol and a unique variety of cutting edge contemporary works that frequently shatter every notion of fine art. Most important for the local economy, every hotel room in town sells out.
Art Basel Frequently Asked Questions
At last year's myriad Art Fairs, thousands of patrons politely lined up to gaze at enormous inflatable sculptures, weeping taxidermy sheep, clear lucite handbags filled with gleaming gold plated handguns and dusty bits of twisted twine. Art Basel attracts more than 250 world-renowned Art Galleries representing over 2,000 artists who paint, sculpt, draw, weld and compose digital sound and video installations. Some exhibits fill the Miami Beach Convention Center and others take over local parks, galleries and enormous industrial shipping containers lining the sands of South Beach.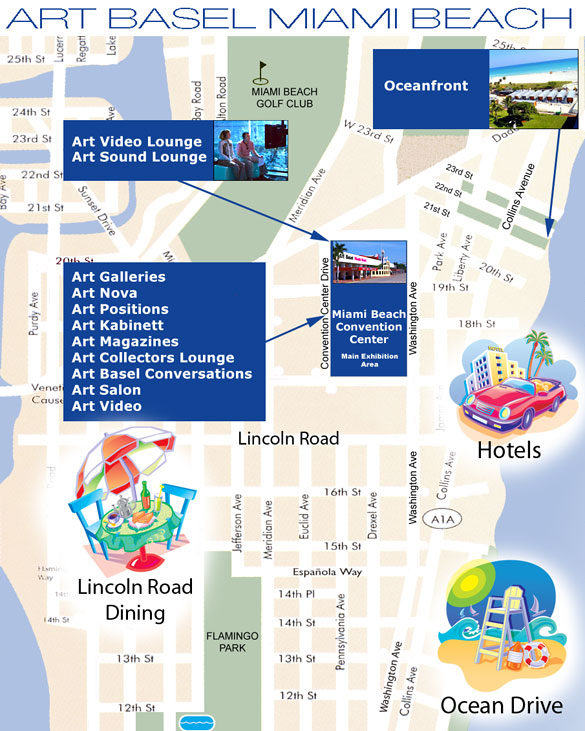 Art Basel divides the Miami Beach Convention Center—and much of the City, for that matter—into particular categories of art including the Nova, Positions, and Kabinett described below.
Dining in Style
With days of art tours and nights of industry parties, every guest visiting South Beach may struggle to find the right place to dine. Fine dining restaurants around the Convention Hall are frequently booked well in advance for private art collector's dinners, so making reservations (via opentable.com) should be a top priority. Some of the most popular tables on the beach are at Katsuya and The Bazaar by José Andrés at the SLS Hotel, Matador Room at the Edition and Bianca at the Delano. For glamorous Italian eateries try Casa Tua or Cecconi's at the Soho Beach House. Ideally, dinner plans in close proximity to the art events are vitally important when every minute of the day offers so many entertaining options. If you find yourself shut out of the best restaurants and sidewalk cafes, it may be necessary to travel farther away to find good food.
Popular steakhouses Prime 112, Red, BLT Steak and Meat Market will all be in great demand during December. Joe's Stone Crab does not take reservations, but a carefully loaded handshake can do wonders in moving your party up the maître d's list. Close enough to walk is Quattro Gastronomie Italiana, Juvia, and Haven on Lincoln Road Mall.
With collector's brunches, late night concerts and miles of exhibit spaces to explore, finding time to check out South Beach nightclubs seems highly unlikely, but there will certainly be exclusive events at the FDR Lounge at the Delano, Hyde Beach Pool Party and Day Club at the SLS Hotel and Rec Room at the Gale. The DiLido Beach Club at the Ritz Carlton, the Lido Grill at the Standard Hotel & Spa and the Raleigh Martini Bar provide welcome refuge at sunset and the Library Bar at the Wyndham Grand is as cozy a lounge as you're likely to find on South Beach.
Exhibition Sectors
Art Nova comprises galleries representing emerging artists, Art Positions provide a platform for a single major project by one significant artist and Art Kabinett focuses upon smaller groups, singular works and unique installations. The Oceanfront show transforms all of Collins Park at 21st Street Beach where modern art presentations move to a DJ's beat each night and art patrons get a chance to mix and mingle at alfresco concerts by edgy media darlings like Iggy Pop and Peaches.
Art Basel Conversations and the Art Salon are unique, in-depth seminars that introduce the public to the notion of connoisseurship by connecting the would-be collector to some of the most important personalities in the art world. Guests can learn a great deal about both collecting and exhibiting art through direct encounters with important art collectors, museum directors, gallery icons, artists and architects. Together they review bold new projects, share the experiences they have had in the industry and provide an insider's view of the upcoming trends. Most of these groundbreaking experiences happen at the Convention Center Auditorium in Hall D. Transcripts and videos of past events are available online at the Art Basel website.
Art Public comprises site-specific installations that appear in and around Miami Beach to help immerse city residents and members of the art community in the Basel experience. Last year's exhibits included a diverse offering of works at Collins Park, at Sagamore The Art Hotel, the Convention Center and the public library.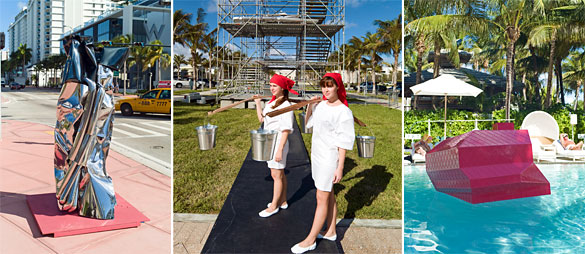 Once the daily art show comes to a close, visitors to Miami and Miami Beach host dozens of elaborate parties at resort hotels, at the homes of millionaire art collectors and in the gallery spaces of Wynwood and the Design District. Champagne flows freely, while conversations include tales of savvy art purchases and wistful recollections of "the one that got away."
One of the primary attractions of Art Basel and its related art fairs is the gambler's chance of purchasing an artist's work before fame is bestowed, which sends the price of an artist's signature through the roof.
A rather elegant game of cat and mouse ensues with gallery owners and artists promoting their collections and trying to suss out the real buyers from the well-dressed party hoppers. Fashionable guests like Calvin Klein, Alber Elbaz, Naomi Campbell and Donna Karan mingle with super dealers like Larry Gagosian or Jeffrey Deitch and the crowds include a diverse who's who of famous faces such as Keanu Reeves, Nicky Hilton, Yoko Ono, Gerard Butler and Pamela Anderson. Giddy party updates appear in Women's Wear Daily, the New York Times and all the right blogs.
Attending Art Basel Miami Beach
While many vacationers might underestimate the impact of an international art fair on the Greater Miami area, it is important to note that by the time you read this article, MOST hotel rooms will already be fully booked for the first week in December. Occupancy rates for many rooms in South Florida start to climb in late November and continue well past New Year's Eve. South Florida is also a transit point for thousands of cruise passengers from across the world and Miami Airport serves as a gateway to the international airports of Central and South America. By December when Art Basel rolls around, the annual pilgrimage of art fans, plus an impressive roster of wealthy VIPS (and the international media who follow them) creates a whirlwind of activity at every hotel, restaurant and lounge in Miami and Miami Beach.
This year's Art Basel promises to be record breaking not only for attendance but for the sheer number of related activities in and around the primary installations. If you're new to the art fair experience, know that the Miami and Miami Beach fairs are an endurance exercise comprising more interesting offerings than anyone could reasonably hope to take in during the week-long run. In addition to the main event, satellite fairs like Scope, Bridge, NADA, Photo Miami, Aqua, Art Asia, and the booming Design Miami compete with unofficial side projects and pop-up events under highway bridges and remote public parks. In summary: Pack your most comfortable shoes.
Hotels Great & Small
Art Basel at the Miami Beach Convention Center is a short walk from dozens of hotels, both posh and modest. On the top tier, consider the Setai, Ritz-Carlton South Beach, and the W South Beach. Suites at the Delano and Raleigh hotels are always much in demand.
Many of the glamorous South Beach resorts also host exhibitions and art industry parties in their nightclubs and lounges—more info on that aspect of Art Basel as announcements come through. Art Basel celebrity guests frequently choose the Delano where Susan Sarandon hosted an all-star ping pong tournament played on a custom crafted table as part of a full roster of nightly Art Basel soirees. Rumors of midnight skinny dipping keep these exclusive beachfront properties in high demand.
Nearby and equally popular, the all-suite Sagamore bills itself as "the Art Hotel" thanks to its extensive collection of contemporary art curated by hotel owners Cricket and Marty Tapin. The site of Spencer Tunick's infamous nude photo shoot, the Sagamore balconies and pool were used as a backdrop for hundreds of "real" men and women who volunteered to pose at an all day naked art happening in October 2007. Images of the models frolicking on neon pink rafts in the hotel pool enjoy pride of place in the lobby lounge. If you stay at this hotel, the concierge can coordinate VIP tours of the nearby Wolfsonian or Bass Museum, the Lowe Art Museum, the Miami Art Museum, the Museum of Contemporary Art and important private collections owned by Martin Margulies, the Rubell Family and Rosa and Carlos de la Cruz. Steps away find the Raleigh and the National Hotels, two landmark oceanfront properties which host some of the hottest poolside cocktail events at Basel.
Also considered party hotels, the modern simplicity of Townhouse and the Shoreclub attract the beautiful "gallerina" gadflies who gravitate to the glow of the 21st Street Oceanfront Basel exhibits and late night after parties like moths to the flame. Smaller boutique low-rises like the Cadet, the Catalina Beach Club, the Dorchester and the Albion provide a more intimate setting for an Art Basel getaway. Close enough to walk to all Art Basel events, these petite properties are tucked between the beachfront and the shops and cafes of Lincoln Road Mall. If the larger hotels are already booked, smart travelers should keep these hidden gems in their BlackBerries purely as a back-up plan. Insiders with more dash than cash can also reserve rooms at the Greenview, the Sadigo Court and the Crest to be close to everything yet decidedly off the radar. And don't over look Miami's environmentally conscious green hotels certified for their sustainability efforts.
Make Plans now
To best experience all of the sights, sounds and tastes of Art Basel, do as much advance research, reservations and planning as you can—and then be ready to drop everything when exciting last minute events and parties scramble your schedule. Reserve ArtNexus guided tours of the show for just $20 through artnexus.com or do-it-yourself by printing out show information in advance and hopping on one of the free air-conditioned shuttle buses serving the remote fairs from stops located just across the street from the Miami Beach Convention Center Hall D.
For more information, log onto ArtBaselMiamiBeach.com
Art Basel Miami Beach runs from noon to 8pm, December 2-6, 2015 at the Miami Beach Convention Center located at 1901 Convention Center Drive, South Beach.
A dynamic 3D Showguide app is available for free download to your smartphone, Blackberry, iPhone or iPad from the website.
Art Public images courtesy MCH Swiss Exhibition (Basel) Ltd.