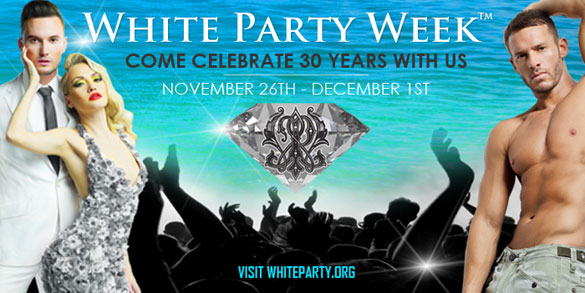 White Party Week™, the crown jewel of circuit parties, from Nov 26th – Dec 1, is again returning to Miami over the long Thanksgiving weekend. Care Resource is pulling out all the stops, bringing in crowds from all over the world and raising this dance party to a whole other level.
We have the most amazing venues and superstar talent lined up beginning on Thursday, Nov. 27 at 10 p.m. with White Journey's PAPA PARTY, the signature kick-off dance event at Cameo nightclub presented by Eliad Cohen, Luis Morera, Jerry Torres and Jared Needle; and featuring superstar DJ Joe Gauthreaux and the sexiest crowd from around the world. On Friday, Nov. 28 at 10 p.m., witness a stellar night in sight and sound at White Dreams, presented in association with Hilton Wolman's Salvation at Club Space with DJs Ivan Gomez and Alain Jackinsky. On Saturday, White Splash Pool Party kicks off at the National Hotel at 11 a.m. with DJ Grind, presented by Stereo Productions; Cirque Blanc, the Women's White Party, presented by Pandora Events, begins at 10 p.m. at Nikki Beach Club with DJ Affect at this legendary open-air club with the night hosted by Whitney Mixter from VH1 and The Real L Word.
One should make sure to mark November 29th from 7pm – 12pm on their White Party Week schedule for the White Party™! It will be a chic night of fashion, global cuisine, unlimited cocktails, casinos, special performances and so much more. In fact, DJ David Knapp and conductor Sam Hyken are adding a whole new level of sophistication and excitement by combining electronic music with a full orchestra. The fierce new venue at the Perez Art Museum of Miami overlooks Biscayne Bay, cruise ships and downtown Miami. It was also designed by international landscape designers in an innovative way that resembles the hanging gardens of Babylon. Round Trip shuttle service is available from the National Hotel on Miami Beach. Valet Parking will also be available for $25 at the event. Self-parking will be available for $15 at the Hyatt Regency, with complimentary shuttles to the museum throughout the night. Tickets can be purchased at www.whiteparty.org. Admission to the White Party is $215. It is $250 the day of event.
After the White Party™, White Starz, begins at 10 p.m. and has been extended to 7 a.m. at Score nightclub with DJs Isaac Escalante and Paulo taking our guests into the wee hours. On Sunday, Nov. 30 at 1 p.m., it's Muscle Beach, the sexiest dance party on the sand, which will feature an opening set by DJ Tristan Jaxx followed by DJ Micky Friedmann, direct from Berlin. Noche Blanca, a dance party extravaganza, produced in association with URGE Miami, begins at 10 p.m. at Mansion nightclub with the legendary DJ Abel spinning until dawn. The parties continue on Monday with Swan Song at TWIST and White Horizons, the legendary morning party at Mekka, with DJ Morabito.
Both tickets and passes are available for our guests to select from. Prices vary each month. Our most coveted pass "the Diamond Pass ($315)" is already sold out. It gained admission to the White Party (where everyone is a VIP) and Muscle Beach Party VIP. We also offer a Summer Saver Pass ($278) that gains admission to the White Party (where everyone is a VIP) and Muscle Beach general admission. The Pearl Pass ($202) is a three-event pass that gains admission to White Dreams on Friday night, White Starz on Saturday night and Muscle Beach Party on Sunday. Finally, there is the Ultimate Party Pass ($260), which gains admission to White Dreams on Friday night, White Starz on Saturday night, Muscle Beach Party on Sunday afternoon and Noche Blanca on Sunday night. As always, our passes are limited in availability and, like tickets, will increase in price each month until they are sold out.
Through the White Party, for over 30 years, Care Resource has been able to raise millions of dollars for HIV/AIDS research, prevention, care and treatment services to individuals in Miami-Dade and Broward Counties. Indeed, our not-for-profit agency has spent years building the infrastructure needed to benefit our HIV positive community. The last six years have ushered in a real maturing for us. We took our model of excellence and expanded it to include not only those with HIV, but all of South Florida's diverse LGBT and less privileged communities. Today, we are a full-fledged federally qualified community health center (FQHC) – a medical home for all those in need. Every visitor that joins us for White Party Week™ is a dollar more we will have to care for those who need us.
White Party which has always been, since its conception by Frank Wager, not a corporate venture, but a way to save lives. It is about our community, which has year after year come together to help raise money to care for its own. White Party is not about business enterprise, it is about people, friends, those we care for, and those whose memories we will continue to honor, by helping those we still can.