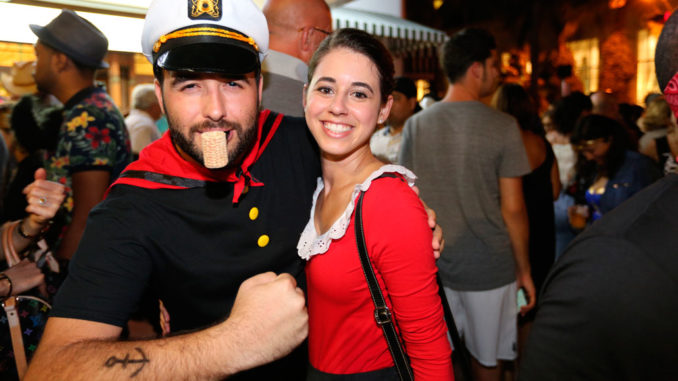 Update 11: Halloween weekend on South Beach means some of the wildest parties of the year and this year's line up kicks off on Wednesday night and carries on throughout what promises to be a wild round of devilish events! Be certain you have a full wardrobe of sexy costumes including something retro from the 60s and perhaps a naughty pair of PJs. With themes like Super Heroes and Playboy, this season's masquerade parties will bring the best dressed crowds to South Beach's Top Nightclubs.
Tuesday, October 27
WALL Lounge @ the W Hotel / 2201 Collins Avenue, South Beach
Starting the week long festivities is WALL's electric dance party "Hallogloween," featuring DJ Ruen, Reid Waters & Bobby French on decks
Wednesday, October 28
Bâoli Miami / 1906 Collins Avenue, South Beach
Get a head start on Halloween at Bâoli Miami with a party straight out of a classic Alfred Hitchcock movie. Dress in something sexy and 1960s in celebration of vintage Hollywood glamour for this very special edition of the My Boyfriend is Out of Town Party called Hitchcocked!
Thursday, October 29
STORY / 136 Collins Avenue, South Beach
Halloweekend starts at STORY in the SoFi District with your host Mario and sounds by DJs Stevie & A Fly Guy.
Treehouse Miami /323 23 Street, South Beach
Enjoy an evening of beats and mixes compiled by DJ & Producer Agoria with special guests Jeremy Ismael and DJ Ohashi.
Hyde Beach at the SLS Hotel / 1701 Collins Avenue, South Beach
DJ Chris Valencia gets the party started at Hyde Beach tonight with a Halloween Weekend Celebration the regulars like to call Your Move Thursdays!
Villa Azur / 309 23 Street, South Beach
A very special Thursday Night Dinner Party features Halloween Costumes and an evening of prizes and surprises as Villa Azur hosts a Haunted Villa Party tonight.
WALL Lounge @ the W Hotel / 2201 Collins Avenue, South Beach
Get your freak on Thursday night at WALL Lounge where the Halloweekend features a Pimps & Hoes Party with sounds by DJ EFeezy and DJ Don Hot
LIV @ the Fontainebleau / 4441 Collins Avenue, Miami Beach
Kick off Halloween Weekend at LIV at the Fontainbleau Resort with Special Guests Disciples
Friday, October 30
Trade / 1439 Washington Avenue, South Beach
Link and the Miami Rebels start the party at Trade with guests H.O.S.H and Rodriguez Jr. with additional support by Resident DJs Bakke and Ricardo.
WALL Lounge @ the W Hotel / 2201 Collins Avenue, South Beach
On the Eve of Halloween, WALLers will dress in school outfits and nerd attire for WALL's  party "Nerds and School Girls."
LIV @ the Fontainebleau / 4441 Collins Avenue, Miami Beach
Make sure your costume is as devilish as possible when Krewella takes over the decks at LIV at the Fontainebleau Resort.
STORY / 136 Collins Avenue, Miami Beach
DJ Hardwell takes over the decks at STORY tonight in celebration of Halloween on South Beach!
Saturday, October 31
Tantalize Miami / 330 Lincoln Road, Miami Beach
Experience "Theater of the Vampires," a spooky three-course feast crafted by Tantalize Miami's Executive Chef Horacio Rivadero and served to guests enjoying a breathtaking vampire-themed live performance. Party the night away to the tunes of DJ Element who spins until 2am. Dinner service is just $45 per person and prizes will be awarded for the best costumes. Reservations suggested, (305) 695-1401.
Seaspice Miami / 422 NW North River Dr, Miami
Seaspice gears up to celebrate Halloween with a two-day event series around the theme "Dia de los Muertos." On Saturday 31st, the Miami hotspot will conjure the dead with its Day of the Dead Halloween Ball. Seaspice will completely transform into a ghoulish haven with Modern Garden serving as an offering altar filled with flowers to honor those who have passed. Guests will indulge in champagne, specialty cocktails and delicious bites throughout the night.
On Sunday, November 1, Seaspice's famed brunch will continue its Halloween festivities as the event, sponsored by Veuve Clicquot, features live music, photo booths, makeup artists, models, champagne, giveaways and more.
WALL Lounge @ the W Hotel / 2201 Collins Avenue, South Beach
WALL's festivities will come to a close on the biggest night of the month with a spooktacular party which will take guests to visit the "Dark Side of Circus" during  WALL's 7th Annual Walloween Party
Other events…
Bagatelle Miami Beach / 220 21st St, Miami Beach
Bagatelle Miami Beach will be celebrating Halloween with three days of events and with launch of their Saturday brunch. Bagatelle will have a Halloween themed dinner party Friday night. The restaurant will debut their Saturday brunch with a Halloween themed party, as well as a big Halloween party at night. On Sunday, Bagatelle will keep the party going during their Sunday brunch which will feature a day-after Halloween celebration.
SeaSpice / 422 NW North River Dr, Miami
Seaspice's Halloween Ball is a play on Hotel Transylvania. The restaurant will be entirely converted into a magnificent haunted house for the occasion.
Shots Miami / 311 NW 23rd St, Miami
Shots Miami will be throwing the SHOTS HOP Halloween party where the theme is the 1950's meet zombies complete with a haunted house. The event is free.
Better Days / 75 SE 6th St, Miami
Better Days will be celebrating Halloween with two days of events. Starting on Friday, October 30th, the retro bar will feature pumpkin carving activities for guests (providing pumpkins and materials while supplies last) and its new delicious house made cocktails "Pumpkin Moonshine." On Saturday, October 31, Better Days will host a costume contests where guests will have the opportunity to win cash and other prizes. Attendees are encouraged to dress up both days.