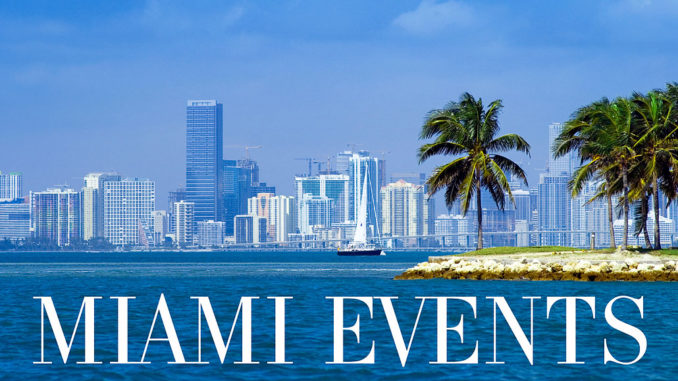 For a few magically tipsy days and nights, the Miami Beach Convention Center fills with all things grape-related as the MIAMI INTERNATIONAL WINE FAIR rolls into town, bringing along more than 5,000 trade professionals and 300 wineries, all sipping and sampling 1,200 pours from 16 different countries. If you know little more than "red or white" – this trade show just might change your life! Designed to create a forum for exhibitors and buyers to conduct business in the world's foremost wine market, show attendance doubled year after year which makes for vastly improved relationships in the marketplace.
One focus of the Wine Fair brings importers, distributors and retailers into a dedicated buyers program which exposes them to wineries from France, Spain, Italy and Latin America. Expanding the perceptions about wine resources, wineries from New Zealand, Australia, Portugal and even Canada share space on the 70,000 square foot trade floor. To augment the tasting experience, exhibitors also host seminars including detailed talks on the legal and logistical aspects of wine distribution, a guide to setting wine prices, and an overview of the types of wine that sell in the United States.
One of the highlights of the wine weekend is the Florida International Wine Challenge which pits top producers in a tasting match to see which can earn a coveted medal from the Florida International Wine Fair board. Honors such as this one help maximize wine sales when industry professionals with discerning palates proclaim certain vintages the best in class. If you wish to be a part of the Wine Fair, you must be in the company of an industry professional or limit your attendance to the seminars but not the Grand Tasting. Industry professional include retailers, restaurants, caterers, cruise ships airlines or wine clubs. Perhaps the best option for a non-professional is to join a wine club in advance to attend the Grand Tasting with your fellow members. Otherwise, a wine tasting after party is available by separate ticket on the Saturday night after the trade show closes. See the official website for details.
Miami International Wine Fair, 8101 Biscayne Boulevard, Miami, FL.