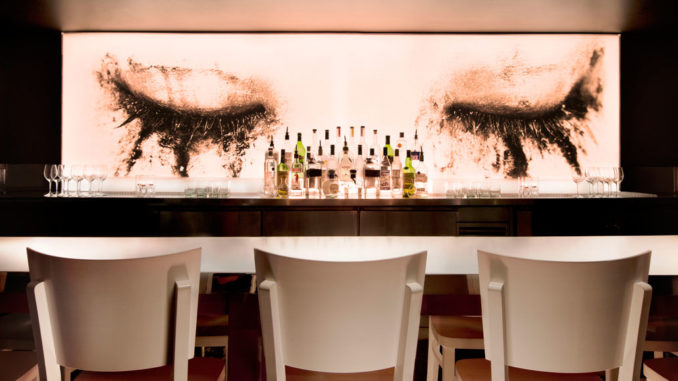 Though South Beach is a city of seemingly limitless access to fresh seafood, it is surprising how few critically-acclaimed sushi restaurants followed the relatively tepid success of Nobu (which opened at the Shore Club ten years ago) and how little locals seem to venture beyond the hybrid Sushi-Thai or Sushi-Chinese standbys that dominate our Asian restaurant scene. All that changed this month when Sam Nazarian's SLS Hotel South Beach launched the rather splashy Bazaar Restaurant under Star Chef Jose Andres and the first gleaming outpost of Los Angeles sushi show-stopper Katsuya in a breathtaking eatery customized by design guru Philippe Starck.
Sushi Chef Katsuya Uechi blends Japanese flavors for American palates and enjoys star status amongst his Los Angeles celebrity clientele. Opening his first LA restaurant in 1997, the chef sources his seafood globally and divides his menu between cooked and raw composed seafood dishes and premium Kobe beef plates. Popular dishes include Crispy Rice with Spicy Tuna, Kobe Tobanyaki and an offering that immediately recalls a Nobu standout – Miso-Marinated Black Cod. Of the celebrated east coast sushi king Nobu, Katsuya diplomatically commented that [Matsuhisa] was "the one who got attention for sushi tastes… he's great to do that. But since then we've changed things little by little."
His new South Beach restaurant offers a tempting mixture of small plates and sushi, robata and the signature composed rolls that have made Katsuya famous. Foodies can request a $75 tasting menu or a simple $25 prix fixe meal. The dining room provides a stunning black and white backdrop for beautifully presented dishes served under the watchful eye of oversized Geisha graphics. Open Sunday through Wednesday from 6pm-midnight and 1am weekends, Katsuya by Starck promises to be the season's top spot to see and be seen!
1701 Collins Avenue
Miami Beach, FL 33139
(305) 455-2995
Price: $$$
Attire: Casual Chic