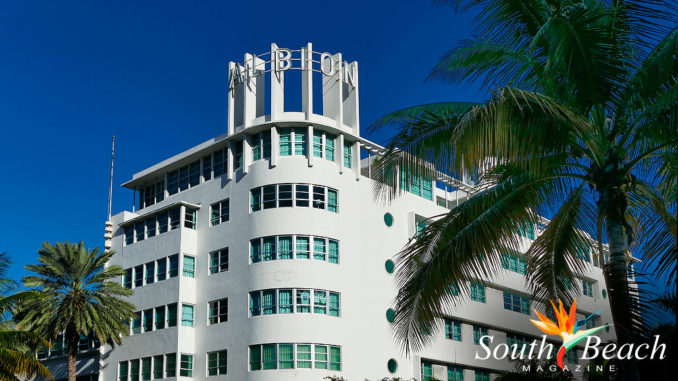 For those travelers who are looking for the South Beach scene, the Albion hotel may not be the place for you. This quiet boutique hotel is more on par with hip intellectuals rather than the see and be seen crowd.
Originally erected in 1939 by internationally renowned architect Igor Polevitzky, the Albion was headquarters for Abbie Hoffman and the Students for a Democratic Society during the 1972 Democratic National Convention, which was held Miami Beach. Since then, the hotel has been totally renovated under the guidance of the by the famed Rubell family (yes, of the Studio 54, and they also run South Beach's Beach House and Greenview).
This fashionable, nautical-style hotel with its superb architecture hosts a mix of business and leisure travelers, and it not unusual to see production crews and photographers hard at work as the hotel serves as an excellent backdrop. The two-story lobby leads into a secluded courtyard and is adorned by a fabulous indoor waterfall. All of the sleek, minimalist furniture in the lobby as well as the guestrooms was custom-designed by architect Carlos Zapata and is an eclectic mix of modern work.
One of the hotel's standout features is its 60-foot rooftop pool. Portholes are cut into the sides of the pool, where courtyard strollers can get an underwater view of swimmers and the occasional synchronized swimming or mermaid show. While there's no restaurant in the hotel, guests can grab snacks and continental breakfast items the poolside Pantry.
Guest rooms are industrial chic with white walls and linens, wood furnishings and standard amenities include freshly-baked cookies, cucumber-based toiletries, soft bathrobes and CD players. High enough to escape the madness of the beach, but close enough to still feel the vibe, the Albion begs for a romantic rendezvous.
1650 James Avenue, Miami Beach, FL 33139
• Close to Lincoln Road
• One block from beach