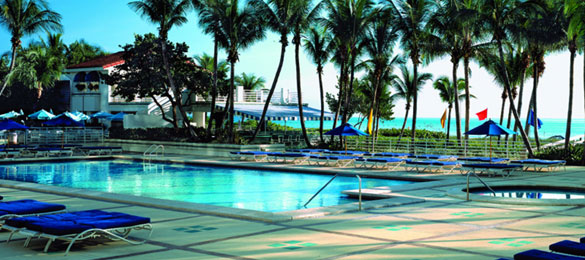 The Miami Beach Resort & Spa is a beachfront property situated in the middle of it all. Located just three miles north of trendy South Beach and a mere four miles south of the posh Bal Harbour Shops, which include the best designer boutiques like Prada, Louis Vuitton, Christian Dior, Cartier, Dolce & Gabbana and Chanel, to name a few.
The hotel's private beach offers many outdoor activities like parasailing, snorkeling, volleyball, jet skiing, scuba diving, a private boat dock and an Olympic-sized pool overlooking the beach with surrounding cabanas. The Miami Beach Resort & Spa also offers a state-of-the-art fitness center, steam rooms, a florist and on-premises hair salon.
The restored art deco interior pays homage to the Old Miami scene and the jet-set era when Frank Sinatra and Jackie Gleason headlined in the Starlight Room, but guests will enjoy all the modern amenities of an up-to-date hotel. The guest rooms are bright with a tropical blue color scheme and come standard with mini-refrigerators, three layers of drapes (including blackout curtains), big closets, bathrooms with high-end toiletries and telephones, high-speed Internet access, cozy pillow-top mattresses and floor-to-ceiling windows that offer views of the city or ocean.
Dining options include several on-site restaurants such as the American-style Hibiscus Court overlooking the garden courtyard where breakfast, lunch and dinner are served daily. Seabreeze is the poolside eatery serving drinks and light fare such as burgers, cold seafood salads and sandwiches.
Or if you are looking for a romantic night of dinner and dancing try the sophisticated atmosphere of Starlight Roof Ballroom. The Miami Beach Resort & Spa caters to an international mix of business travelers as well as vacationers, including families.
Business travelers can use a self-service business center and conduct get-togethers in 40,000 square feet of meeting space and unlike some Miami Beach hotels who discourage children on the property, this hotel provides parents with a slate of activities designed especially for their kids.
4833 Collins Avenue, Miami Beach, FL 33140