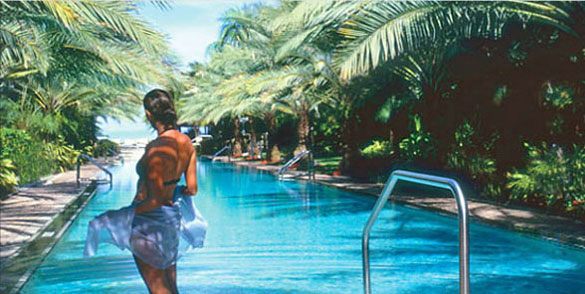 At first glance, the National Hotel could easily be the setting of any 1940s-style gangster film. High ceilings, gilded mirrors, Art Deco furnishings – the establishment has even maintained the original lighting fixtures.
Upon entering the lobby you'll find it quite striking, and you'll also admire the concierge desk, which is an exact replica of the front desk from the 1930s.
At 11 stories, the main structure towers over its neighbors and offers breathtaking views of the beach and ocean. In late 2003, the hotel underwent $3 million renovation, and while all the rooms are plush, the most luxurious accommodations are the 32 poolside ultra modern cabana rooms that come standard with flat-screen TVs, European linens, feather pillows and private terraces overlooking the hotel's signature Infinity pool. And for the high rollers, the National is home to Miami's only three-floor penthouse suite, the Triplex.
The hotel's pool, however, is the crown jewel of the establishment. At 205 feet, it's Miami's longest pool and has been coined the supermodel of hotel pools. A favorite of photographers and film crews, the pool is the perfect place to catch some rays and do a little people watching. Tamara, the National's main restaurant, is also an ideal place to take in the sights.
The elegant eatery, named after famed Art Deco period artist Tamara de Lempicka whose artwork appears throughout the hotel, serves French fusion fare and offers indoor seating under the hotel's famous mosaic or outdoor dining overlooking the hotel's garden and infinity pool.
At the Zee Lounge you can expect live entertainment on weekends, a wine connoisseur club and happy hours during the week. The National remains a Miami Beach mainstay by preserving the Old Hollywood glamour it's famous for while still appealing to the younger, hipper crowd that now flocks to South Beach.
1677 Collins Avenue, Miami Beach, FL 33139
• Oceanfront hotel
• 1 block to Lincoln Road
• 2 block to Ocean Drive
• 3 blocks to Convention Center