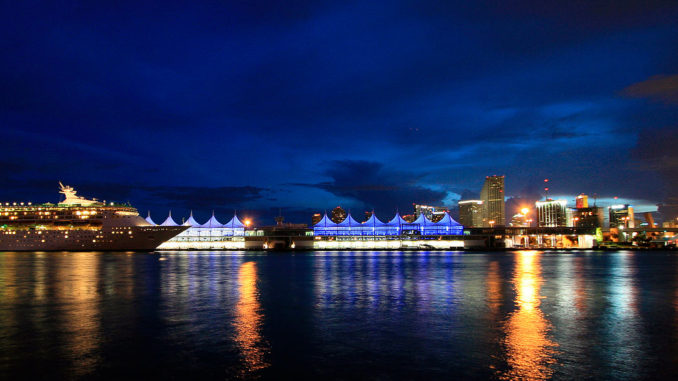 For cruise passengers looking for the best hotels close to the Port of Miami's Cruise terminal these hotels are closest.
Holiday Inn Port of Miami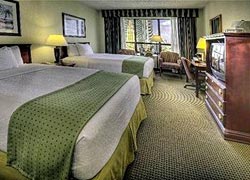 340 Biscayne Boulevard Way, Miami, FL
Family travel to Downtown Miami can be simple and cost conscious at the Holiday Inn Port of Miami just across the street from Bayside Marketplace, and best of all, the Port of Miami is less than a mile away.
With 200 newly renovated guest rooms and suites offering panoramic views over Biscayne Bay, it's easy to feel like the Prince of the City without blowing the holiday budget on fancier accommodations.
The Holiday Inn Port of Miami overlooks the cruise docks and provides easy access to the city's best shopping, dining and entertainment facilities. The American Airlines Arena, home of the Miami Heat and host to an international array of big name concerts is just steps away. The hotel offers a health and fitness center, an on-site guest laundromat to help tidy up before or after a cruise, and a full service business center for executives traveling on a budget.
With a central Downtown location, the Holiday Inn Port of Miami is minutes away from sightseeing destinations like Coconut Grove, Little Havana's Calle Ocho and the Art Deco playground of South Beach. An outdoor pool deck and the continental cuisine at the Bistro Lounge make it easy to spend a quiet afternoon swimming and tanning just steps away from the busy business district.
After hours, enjoy the restaurants, shops and tour boat cruises that launch from Bayside Marketplace, one of Miami's premier tourist attractions just across the street from the hotel. Miami's MetroMover provides free monorail service all around the city giving guests access to the museums, performing arts district and nightclubs nearby. With a convenient stop just in front of the hotel, sightseeing and transfer to public transportation (trains and busses) at the Government Center is just minutes away by elevated train.
The hotel offers double- and single-bedded rooms plus 8 luxury suites. Families can take advantage of connected adjoining rooms to help keep an eye on the little ones just next door. Limited parking is available on site and many private parking facilities and rental car agents are just steps away from the property making it simple to drive in and drive out of the busy metropolitan area. Just 15 minutes away from the Miami International Airport, the Holiday Inn is an ideal location for price conscious travel in the heart of the city.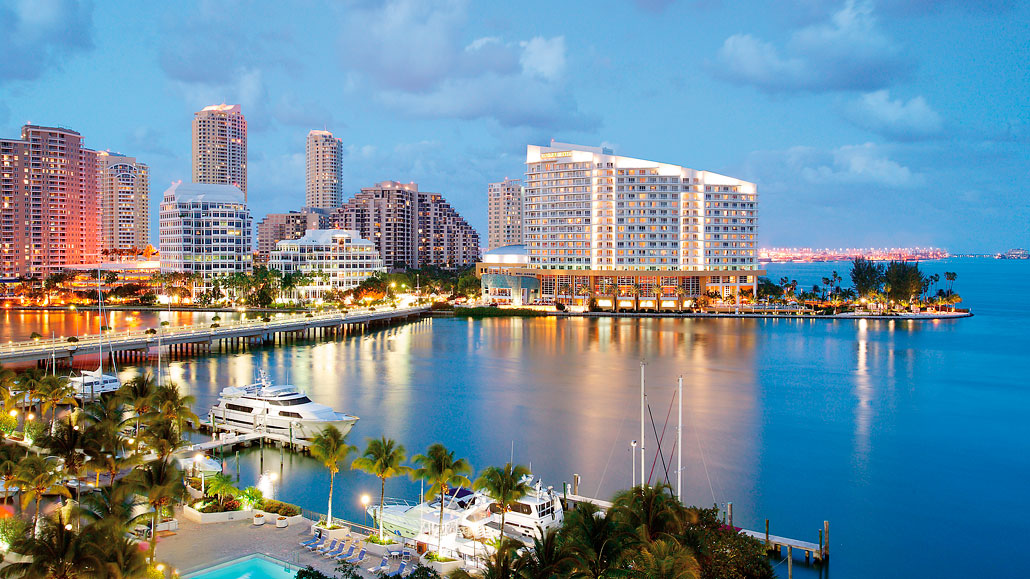 Mandarin Oriental Miami
500 Brickell Key Drive, Miami, FL
As the Miami skyline grows and transforms, the quiet reaches of Brickell Key beckon as an oasis to travelers and wealthy residents who are lucky enough to call the tropical island paradise their home. The Mandarin Oriental Miami offers a sense of quiet Asian serenity and a luxe island vibe with a man made private beach, a 15,000 square foot spa and fitness facility and two of the top-rated restaurants in the city.
Families on holiday can take advantage of two- and three-bedroom suites offering all of the comforts of home. Kids can participate in the Mini MO program of organized kid-frendly activities while their parents relax and unwind by the infinity pool. If your holiday is an escape from the kids, book a luxurious suite and enjoy a couple's massage, a gourmet dinner at Cafe Sambal or Azul and take some time to relax and reconnect in the cozy comfort of a king-sized bed.
Mandarin Oriental is one of the city's most luxurious destinations with a tri-level holistic spa and fitness facility featuring 17 private treatment rooms, six VIP suites and floor-to-ceiling windows with breathtaking views of Biscayne Bay. Serenity is just a splash away at one of two Mandarin Suites where couples can cuddle in personal multi-jet tubs, an oversized shower and two Thai massage tables offering a unique shared relaxation experience. Celebrate an anniversary, a getaway weekend or just remind your partner how much you care at the Five-Star Mandarin Oriental Spa.
Rooms and suites at the hotel offer anywhere from 377 to 2365 square feet of space with Miami skyline and Biscayne Bay views. All rooms have a marble bathroom and a separate glass-enclosed shower and some have private balconies or larger deluxe bayfront verandas. Roomy luxury suites for VIP-style entertaining include large plasma screen TVs, iPod sound docks, en suite spa style bathrooms and spacious living areas.
Dining at the Mandarin Oriental encompasses casual bites poolside, happy hour drinks at the M Bar, gourmet dining at Cafe Sambal and Chef Clay Conley's award winning cuisine at Azul. Blending Mediterranean flavors with Asian flair, the menu at Azul is prepared in an expansive open kitchen which just might distract diners from the extraordinary bay views. Cynthia Betancourt supervises the wine selection with over 700 world-class pours to pair with your dinner. Cafe Sambal offers contemporary Asian fare including a sushi and sake bar where guests can discover an impressive selection of rice wines. Serving breakfast, lunch and dinner Sambal has seating indoors or al fresco.
The Mandarin Oriental Hotel Group operates some of the world's most prestigious hotels and residences in 25 different countries. Mandarin Oriental Miami brings this international class of luxury to the sizzling skyline of Miami providing you the perfect getaway.
Viceroy Miami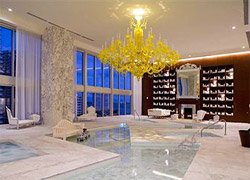 485 Brickell Avenue, Miami, FL
The Brickell Avenue Financial District has long been considered a very traditional destination by Miami standards; a place where banks and international corporations conduct multi-million dollar deals within the quiet confines of staid high rises. When the ultra-sophisticated Viceroy Hotel opened recently, just a mile and a half away from the Port of Miami, the "cool factor" for this quiet stretch of Downtown Miami skyrocketed off the charts.
Suddenly Brickell Avenue became glamorous – a night time destination for jetsetters seeking luxurious dining and the posh Club 50 with it's panoramic views from the 50th floor. Set within a vast 50-acre tract of waterfront land, the Viceroy offers 5-star luxury including a 28,000 square foot spa, a two-acre outdoor tanning terrace and a 300 foot long swimming pool. A second swimming pool and 9,000 square foot tanning area is reserved for quiet contemplation high atop the 50th floor.
Business travelers and families on holiday can enjoy 162 plush rooms and one- or two-bedroom suites with amenities like iPod docking stations, extensive cable and film library selections, in-room coffee bars, organic mini bars and designer linens and robes. "Top Design" celebrity judge Kelly Wearstler helped to craft unique residential rentals on the top floors of the hotel providing a luxurious 1,400 square foot living space done with a modern East Asian sensibility, gourmet kitchens, spa style bathrooms and dazzling views. These chic city apartments utilize private guest elevators and afford a superior level of privacy and pampering to VIP guests.
The Viceroy Miami offers guests a lavish 15th floor pool patio with two acres of lounge space that serves as a focal point for Eos, a gourmet Greek restaurant. Casual poolside snacks are also available at Cafe Icon. The Spa at Icon Brickell was designed by internationally renowned designer Philippe Starck to include a media room for private film screenings, 2,500 square feet of fitness training equipment, plus a 5,000 square foot water lounge with plunge pools overlooking Biscayne Bay. Guests can be pampered in 10 private treatment rooms or bask in redwood saunas and eucalyptus steam baths.
For a vacation that's glamorous, sophisticated and exceedingly whimsical, check into the uniquely composed spaces that comprise the brand new Viceroy Miami. See the unique transformation Brickell Avenue has made from stodgy bankers to upscale hipsters in a single year!
Courtyard by Marriott Miami Downtown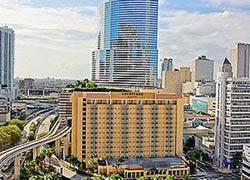 200 SE Second Avenue, Miami, FL
Situated in the heart of Downtown Miami and just a mile from the Port, Marriott's Courtyard Hotel offers easy access to the central shopping and entertainment district of the Magic City. A popular location for locals to spend the night following a late Miami Heat basketball game at the American Airlines Arena, a concert at the Gusman Cultural Center or while attending a convention at the James L. Knight Center, this budget-conscious property is just 8 miles from Miami International Airport.
Newly renovated, the Marriott offers 231 king and double guest rooms and suites with 32″ flat panel TVs, mini-fridges and ample workspace with free WiFi for business travelers. Enjoy a spectacular view of the city while lounging at the rooftop swimming pool and enjoy a work out on the road at the brand new Star Trac fitness complex. Business meetings can be scheduled in over 2,500 square feet of conference area just moments away from the Miami Convention Center next door.
Port of Miami visitors enjoy the Courtyard's easy access to shopping on Miami's Flagler Street where it's easy to find a last minute swimsuit, an extra suitcase or a few presents for loved ones back home. Miami's top Art Museums, Cultural Centers and Performing Arts Arenas are just minutes from the hotel, perfect for a day of sightseeing via the free MetroMover train a half block from the hotel door.
With easy access to major attractions, the Convention Center and the best Downtown Miami has to offer, the Courtyard by Marriott is an ideal hotel for cruise or business travelers seeking luxury for less.
Hyatt Regency Miami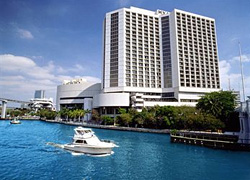 400 NE Second Avenue, Miami, FL
With a reputation for quality accommodations and excellent service, the Hyatt Regency in Downtown Miami is just over a mile from the Port of Miami offering ideal accommodations for cruise passengers. The building housing the hotel also encompasses a covered platform for Miami's free monorail service making it safe and simple to travel around the city and explore the restaurants, bars and nightclubs that make Miami one of the most popular and culturally diverse destinations in the United States. The Miami Convention Center and the James L. Knight Performing Arts Center are also part of the Hyatt complex.
Recently refurbished, the Hyatt's 612 guest rooms and 57 suites include T-Mobile high speed wireless internet access, full deluxe bathrooms, flat screen televisions and ergonomic workspaces. The property is close to golf, tennis and water sports facilities and has a large, outdoor heated swimming pool and exercise facility on site. Business travel planners often book events at the Hyatt Regency to avail their clients of the 100,000 square feet of meeting and convention space including the 444 seat Ashe Auditorium and 12,000 square foot Regency Ballroom.
Cruise passengers who stay at the Hyatt enjoy easy access via Miami's MetroMover to the Bayside Marketplace, Mary Brickell Village and simple transfers to the rail system connecting the City of Miami to Fort Lauderdale, Coral Gables and Coconut Grove. Overlooking Miami's busy riverfront, fine dining, nightclubs and casual family fare is just steps away. The hotel's lobby lounge is a popular meeting place for local office workers from the Brickell Avenue Financial District and provides a comfortable atmosphere for a relaxing cocktail after a busy day exploring the city.
Hyatt Regency Miami offers a non-smoking environment on all but one floor of guest rooms. With in-room safety boxes, a club level with private lounge space and a friendly multilingual staff, the Hyatt offers cruise passengers and business travelers an ideal location for exploring the city, relaxing by the pool or recharging before the next important meeting.