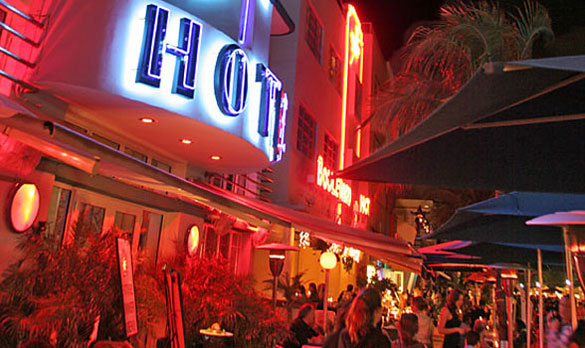 As one of the most recognizably photographed hotels along South Beach's famed Ocean Drive Beach, this renovated 1930s-style Art Deco hotel offers the classic fun-in-the-sun atmosphere.
The hotels boasts 50 intimate guestrooms that are timelessly decorated with a stylish tropical flair. Many offer views of the Atlantic Ocean (if you are interested in having a view you should request it when you make your reservations).
Each room is equipped with the standard amenities as well as hardwood floors, custom-made Art Deco-style furnishings, plasma TVs, DVD players, complimentary bottled water, free daily newspaper and fresh beach towels.
A gratis continental breakfast is served every morning. The ever-popular continental Colony Bistro serves both as a lounge and a sushi bar, and guests will enjoy an active nighttime crowd and live entertainment here.
By far, the Colony Hotel's greatest amenity is its location. Guests are within walking distance of many trendy boutiques, top-notch restaurants, outdoor cafes, famed nightclubs, the best salons and spas as well as other eminent tourist sites like the former Versace mansion.
This hotel is irresistible to travelers looking to escape their day-to-day routines and who long to revel in the alluring sun-soaked South Florida days.
736 Ocean Drive, Miami Beach, FL 33139
• On Ocean Drive
• 10 blocks to Lincoln Road
• Across street from Ocean
• 12 blocks to Convention Center