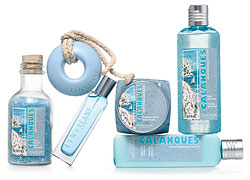 The high-end skin care business can be really rewarding, particularly for brands that foster a sense of evangelism in their customers. So, it's no surprise that L'Occitane inspires such an enthusiastic response from shoppers who flock to the tiny Lincoln Road shop.
Founded in Provence in 1976, the ethos of the product line is global, natural and organic cosmetics and wellness products with strong regional roots in the south of France. Over 30 years later, the world-wide publicly-traded company still sources most of their ingredients from the area including body care, face treatments, herbal fragrances, hair care, natural soaps and deodorants plus home fragrances & candles.
While founder Olivier Baussan still maintains creative control of the line, Reinhold Geiger expanded the business in the mid-90s by taking the humble provincial organization into over 80 countries and nearly 1,500 retailers. Currently popular in France, Japan and the United States, the brand is offered locally at the Miami International Airport, Aventura & Merrick Park Malls and the South Beach boutique. Travelers can stop in to sample the vegan-based line and get personal hair and skincare advice from a number of friendly, well-informed associates.
Rather than applying the high-pressure sales techniques encouraged at cosmetic counters in major department stores, the atmosphere at the Lincoln Road shop is more laid back and DIY (do-it-yourself). Guests can browse the various displays, take advantage of free samples and testers and get consultations upon request. Products are tailored to different skin types and come in a variety of sizes and prices. 540 Lincoln Road, Miami Beach, FL 33139 (305) 531-0935