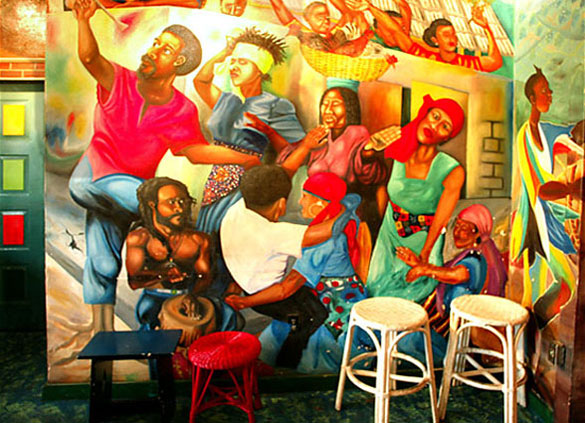 In trend-obsessed Miami, where overpriced "see and be seen" restaurants come and go with the regularity of the tides, and not much attention is paid to the rich culinary heritage of this crossroads of the Americas metropolis.
Precious few establishments—Joe's Stone Crab, for example—have kept alive the mythology of local food, despite the often terminal contagion of  hipness that covers much of the area. Through it all, though, a handful of outstanding examples of "indigenous" Miami cuisine, from Cuban to Brazilian to New York deli, have survived all of the society-page hoopla.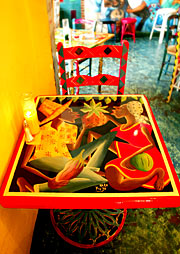 Perhaps the best among them is Tap Tap Haitian, a cherished local institution located on Fifth Street in South Beach. Part restaurant, part art gallery and cultural center, Tap Tap, founded in 1994 by Haitian documentary filmmaker Katherine Kean, features authentic Haitian "home cooking" and a dazzling collection of culturally interpretive art by some of the island's most acclaimed masters, who flew to Miami to leave their unique marks on the town for their friend and fellow artist from a different medium.
In the main dining room, two murals by Wilfrid Daleus loom on opposite walls, One is of a family outside their modest home; the other is of a bustling produce market. In another room, a pair of large portraits by Jude "Papa" Loko-Thegenus humanize two of the most powerful saints in voodoo culture, Ezili Danto and Ezili Freda. In the rear of the restaurant, a "Rara Room" is painted from wall to wall and ceiling to tables and chairs with vivid, joyful images of the Rara festival that takes place in Haiti each spring.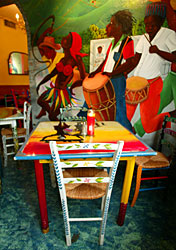 In the hallway between the front and rear dining rooms, two long tile serpents symbolize elemental voodoo spirits danbala wedo and ayida wedo. On a half-dozen walls, big metal sculptures pay homage to other interesting aspects of Haitian culture, such as agriculture and the arts.
For good measure, an angel stares down from the bar, where you can play dominoes with a Haitian cab driver or European tourist and sip the delicious house cocktail, called a Soley and made with aged Barbancourt rum with fresh passion fruit juice. Tap Tap is also renowned for its Mojito—Cuba's contribution to classic cocktails.
On Thursday and Saturday nights, Tap Tap features live Haitian folk-jazz, performed by a trio led by "the Woody Guthrie of Haiti," the singer-songwriter-guitarist Manno Charlemagne—whose popularity swept him to power as mayor of Port-au-Prince during his homeland's political crisis a decade ago.
While it's a neat thing that Tap Tap showcases Haitian art, music and culture, the most significant thing about the place is its consistently excellent rendering of simple and classic food from the small island nation that shares Hispaniola with the Dominican Republic. Night after night, Tap Tap turns out reasonably-priced Haitian fare so authentic it could be served on any family dinner table from Port-au-Prince to Petionville, and even into the countryside, without objection. Based on fresh fruits and vegetables to accompany seafood, chicken, beef or goat, Haitian cuisine highlights the ubiquitous and often subtle influence of the scotch bonnet pepper.
For starters, Tap Tap offers a wonderfully rich pumpkin soup with leeks, cabbage, celery, potato, carrot and the root vegetable malanga. Appetizers include malanga fritters or grilled goat tidbits with a watercress dipping sauce, or avocado filled with herring. Salads include an avocado and tomato salad with onion, olive oil and lime; a beet salad with potato, hard-boiled egg and watercress, or a house salad with mango, watercress, carrots and mixed greens.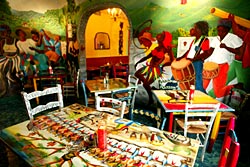 Main dishes include stewed goat, fried pork chunks, stewed beef with okra, conch in Creole sauce, stewed chicken, or the exotic spaghetti with herring. House specialties include a whole steamed fish in lime sauce, or deep-fried without a sauce; shrimp in Creole sauce, or shrimp in coconut sauce. Grilled dishes include fresh catch of the day, goat, chicken, conch or spiny lobster. Popular Haitian desserts include sweet potato pie, coconut pudding, and banana fritters.
Beyond its excellent menu, in terms of its eventual legacy, Tap Tap is a widely-cherished symbol of Haitian culture that generates a lot of pride in the local Haitian community. "I'm very proud of this place and I support it because it's the only place on South Beach that represents my culture," says real estate agent Natascha Magliore, a regular weekly customer. "And it's a very good impression, a very realistic one. The food, the music, the art—it's all very Haitian." Says longtime general manager Gary Sanon-James: "The joy of working here is shedding light on the true nature of my culture. It's not the way Hollywood portrays it. Voodoo has been portrayed very negatively in the media, but there is so much more to it, so much richness and texture and beauty. That's what we try to do here—to show the side of my country that's never really been represented in the media."