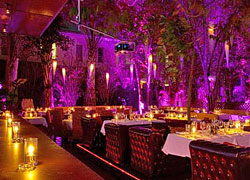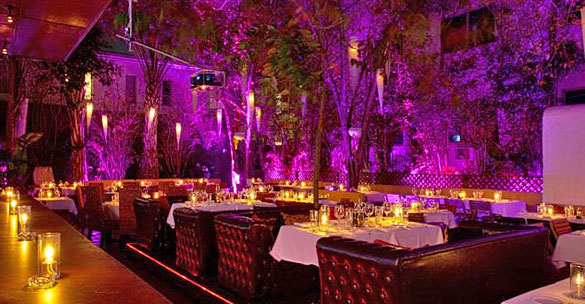 A sexy alfresco supper club in the heart of the South Beach scene, Bâoli Miami provides a romantic atmosphere for dinner that gradually gives way to a lively lounge vibe just in time for dessert. Catering to foodies in search of a luxe, Mediterranean-inspired meal, the quirky nightspot is modeled after the popular Bâoli restaurant in Cannes, France. Influenced no doubt by the demands of it's red-hot address, the Florida outpost boasts a great-looking wait staff, a sultry R&B soundtrack and a hard-working kitchen dedicated to recreating all of the flavors of the Côte d'Azur.
Dinner can be feather light or deeply satisfying depending upon your navigation of the thoughtfully-composed menu. After more than a few cocktails to liven the mood, kick off your meal with a creamy lobster bisque, redolent of sherry and topped with a generous mound of tender claw meat. Seafood selections like ahi tuna tartare or mixed fish ceviche are nearly outdone by foie gras au torchon served with a bittersweet cherry compote over crisp mixed greens. House made pastas and risotto topped with a generous shaving of truffles are delicate on the palate though the bucatini pasta with meatballs tastes as homey as if mama was working the stove.
Though Bâoli Miami is just steps from the Atlantic, seafood entrees jet in from across the globe with Dover Sole, Wild Scottish salmon, Chilean Sea Bass and Mediterranean Branzino taking pride of place on the Florida menu. Carnivores will thrill to the juicy 12 oz filet mignon served on the bone with truffle sauce or the huge veal chop topped with gobs of cheese, arugula and a dice of tomato. Sides of truffled mashed potatoes, garlicky spinach and wild mushroom fricassee may not leave diners feeling lively enough to dance, but as the evening wears on, the decibel level rises high enough to elevate any mood. Baoli Miami deftly brings a dash of the jet set to South Beach!
1906 Collins Avenue
Miami, FL 33139
(305) 674-8822
Price: $$$
Attire: Casual