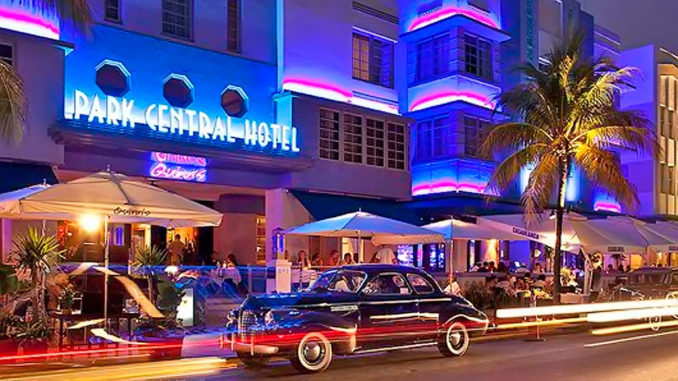 Considered one of Henry Hohauser's finest architectural feats, the 1937 beachfront Park Central hotel features 127 chicly-designed guestrooms and suites. As the tallest Art Deco jewel on Ocean Drive's crown, the hotel is at-once recognizable, and in its glory days welcomed celebrities such as Clark Gable, Carole Lombard and Rita Hayworth.
From the classic vintage car permanently parked outside on Ocean Drive to the black and white period photographs by renowned photographer, Gleason Romer, this 3-Star boutique hotel offers an authentic setting that was made for romantic getaways and traditional family holidays alike.
In early 2004, guestrooms were upgraded with luxury amenities like feather bed mattresses, top-of-the-line comforters and linens and Art Deco lighting. Contemporary facilities were also added including a fitness studio, rooftop open-air sculpture garden and a heated swimming pool.
The hotel offers a 700-square-foot Florida Room for small to mid-sized meetings. The Park Central has two great on-site restaurants serving up cuisine to suit almost every palate. Quinn's is the perfect choice for fresh seafood and delectable meat dishes with a Floribbean flair.
Quinn's Restaurant, situated in the hotel's lobby, serves some of the best seafood in town.
If you are heading out for a night on the town you can schedule a hair and makeup appointment in the hotel's on-premises five-station hair and makeup salon.
Or if lazy days spent relaxing on Miami's white, sandy beaches is what you are in search of the Park Central, located directly across the street from the Atlantic Ocean, has got you covered on that front as well.
640 Ocean Drive, Miami Beach, FL 33139
• On Ocean Drive
• Ocean across street
• 1 block to Lincoln Road