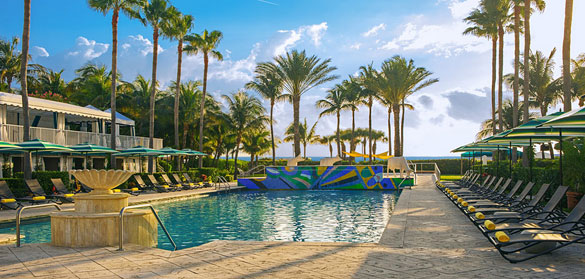 Located in the heart of South Beach, Kimpton's Surfcomber Hotel is a popular seaside destination for visitors and locals who gather on the terrace of The Social Club for light bites and tropical cocktails day and night. With open-air seating, sunny skylights and a vibrant atmosphere, the public spaces of this newly renovated property are a welcome addition to the busy Collins Avenue scene. More hip than hype, this boutique hotel pampers guests with newly updated guestrooms and provides free coffee in the morning and a complimentary wine tasting just after five.
Intended to be as cool as it is friendly and as sexy as it is fun, the property's pop prints and poolside pasture with chic European porch-style furnishings promise a stylish escape with a sense of playfulness and belonging which is the hallmark of the Kimpton Hotels brand. Following the completion of a multi-million dollar, top-to-bottom renovation in 2012, this South Beach hotel's two towers, guestrooms and public spaces have an eclectic look with a down home appeal. With guidance from designers Dayna Lee and W. Ted Berner III and their Powerstrip Studio, this South Beach classic has been reinvented with a whimsical spirit, while preserving the property's original Art Deco geometry.
Surfcomber's backyard bliss vibe comes from a variety of sources, inspired by the property's ultimate backyard of sun, surf and sand. To this, designers added art procured around Miami, wood sculptures made from salvaged trees, and chic porch-style furnishings.  Surfcomber's various indoor and outdoor public spaces evoke the look and feel of a rustic French beach club.
Inside Surfcomber's 186 guest rooms, 70s summer dress prints flirt with pickled natural wood and smart brass fittings, accenting carpets that are pure pop art. Surf-appreciation is also celebrated with sculpture inspired by the work of artists Christo and Jeanne-Claude. Surfcomber was designed with the environment in mind, using solar-powered lighting outdoors, special path pendant lighting to protect the area's sea turtle population, and reclaimed and recycled materials throughout. Enjoy a piece of paradise at this stylish beachfront getaway.
1717 Collins Avenue, Miami Beach, FL 33139
• Oceanfront hotel
• 2 blocks to Lincoln Road
• 2 blocks to Convention Center