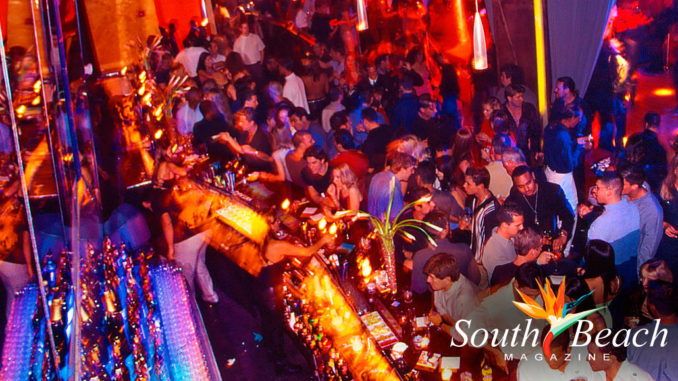 South Beach enjoys a thriving bar scene that is a perfect fit for "Barefoot Casual" travelers; folks who don't want to waste a minute standing in line behind the velvet rope at a trendy nightclub. So, we're happy to share ten of our favorite spots where the doors are always open and the drinks flow as easy as the music on the jukebox…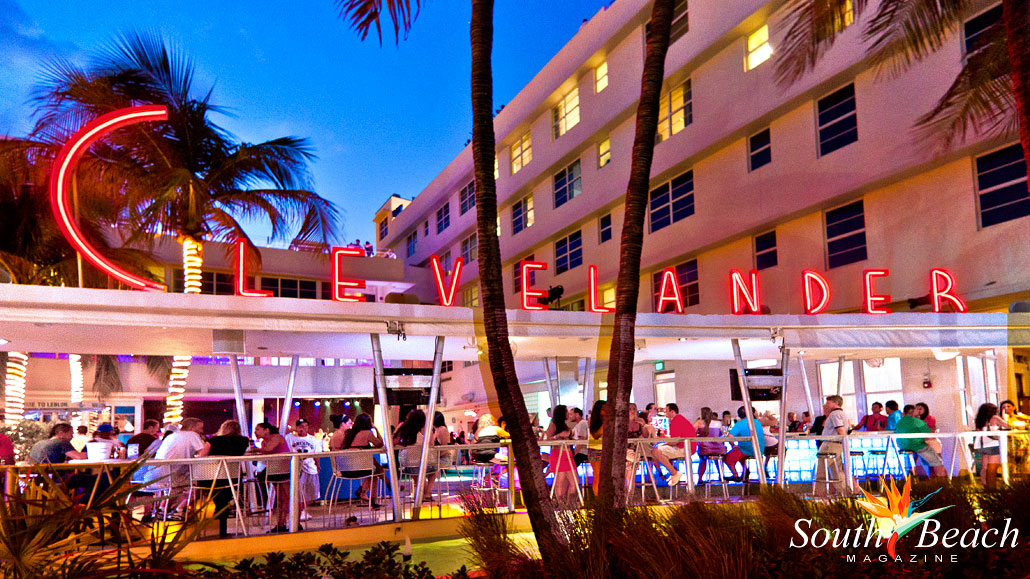 1.) The Clevelander
1020 Ocean Drive, South Beach
Vibe: Spring Break All the Time
The pool bar at the Clevelander Hotel is awash in Art Deco neon and crowded with happy tourists who appreciate the slow buzz of a frozen Rum Runner 365 nights a year. Surely one of the Must-Sees on any South Beach bar crawl, "The Cleve" celebrates Spring Break year round with loutish cover bands, wet tee shirt contests, roving sexy shot girls and an intoxicating ocean breeze that reminds you why you chose Miami in the first place. Belly up to the bar to watch sports, grab a lounger facing the pool to check out the dancing girls or find a secluded umbrella table to work your magic on your date.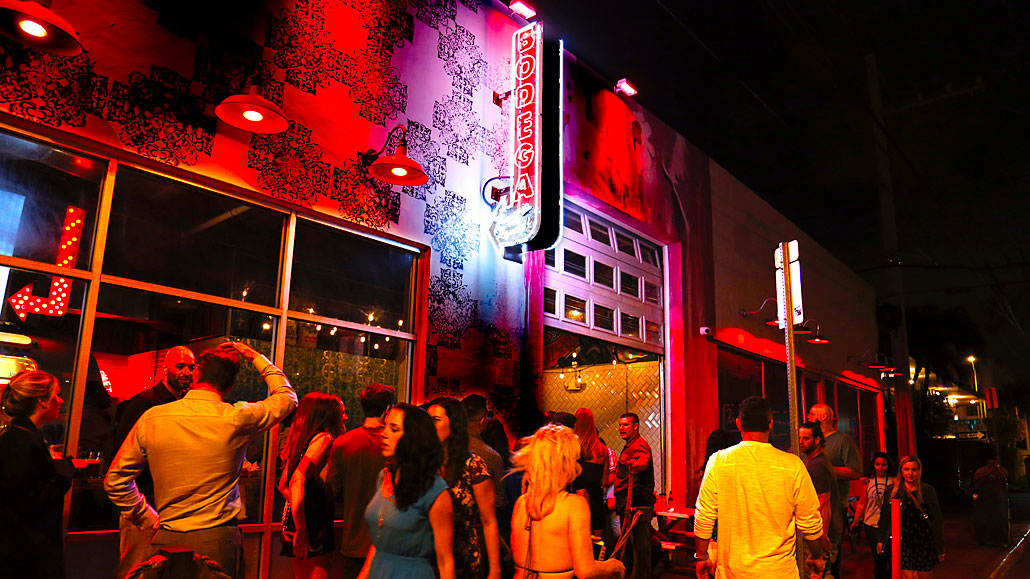 2.)Bodega Taqueria y Tequila
1220 16th Street, South Beach
Vibe: Hipster Speakeasy
Visitors to the residential west side of town are discovering the kitschy hidden hangout built behind the Mexican food truck that is the centerpiece of Bodega Taqueria. Tucked away on a side street across from Dunkin Donuts, this former warehouse has been transformed by the Menin Group into an adult's only Frat Party with loud dance music, a popular pool table and plenty of cool kids smoking out in the alley. Stop in for a taco and grab a cold cerveza from the ice chest before making your way through the secret door that leads to all the fun. There you'll find a full bar and a laid back dress code that's definitely not like any other place on South Beach.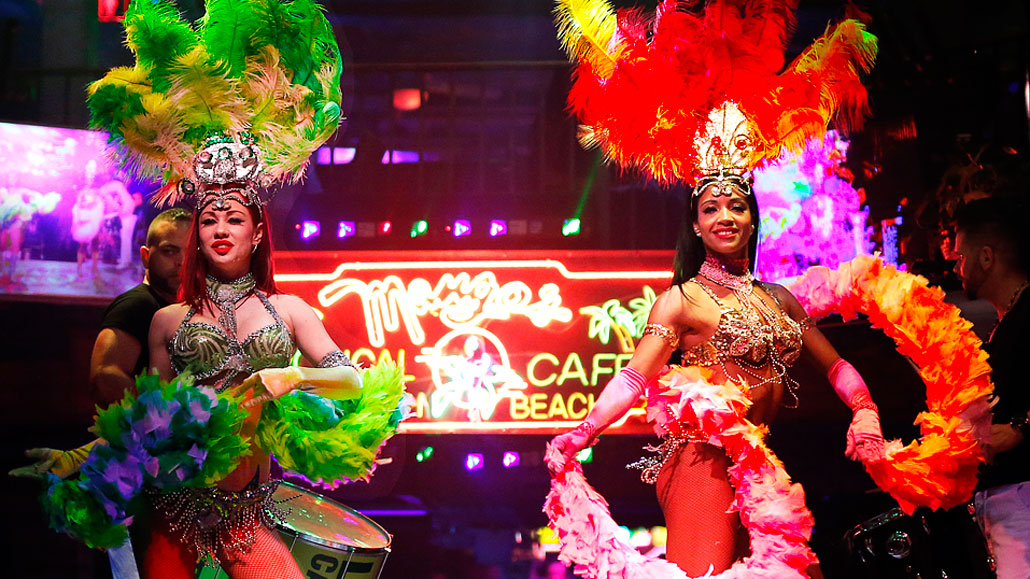 3.) Mango's Tropical Cafe
900 Ocean Drive, South Beach
Vibe: Shake Your Bon Bon
Ocean Drive's most popular nightspot, Mango's Tropical Cafe might quicken your heart rate with potent rum drinks, live Latin music and curvaceous Salsa dancers bouncing happily on the bar tops. This crowded indoor/outdoor hangout features reasonably-priced entertainment that captures the imagination of visitors from all over the world who get caught up in the giddy energy of sexy showgirls and thumping music. If you've never sampled a Mojito, have your first one here. A powerfully potent cocktail that's sweet, minty and refreshing, the Mojito packs quite a punch. Friendly bartenders take a highball glass and add sugar, fresh lime juice and whole fresh mint leaves to get things started. Crushed ice is piled on top of the muddled ingredients along with rum and a splash of soda to create the perfect island-style drink. Be aware of the local legend, "One Mojito, Two Mojito, Three Mojito… Floor!" Approach the mojito with extreme caution!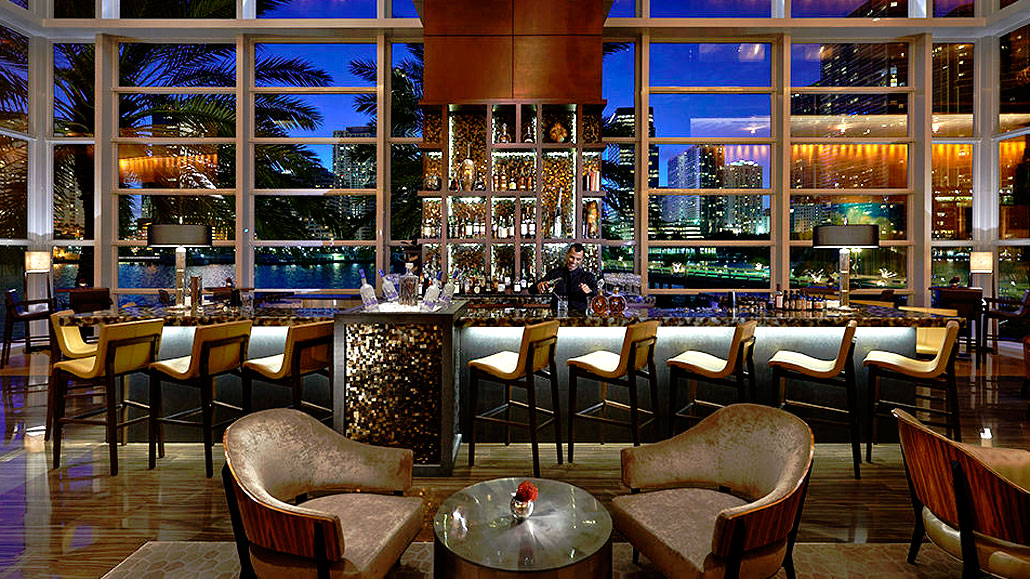 4.) MO Bar & Lounge at the Mandarin Oriental Hotel
500 Brickell Key Drive, Miami, FL
Vibe: Waterfront Sophistication at it's best
This decidedly upscale bar at the beautiful Mandarin Oriental Hotel is also one of our picks for the best waterfront bars in Miami. It's location in Miami's Brickell Financial District ensures that you won't find the Ocean Drive/Spring Break crowd hanging out here, even though Mo Bar's weeknight happy hour menu includes $8 cocktails and $5 snacks. It's a top notch drinking establishment for sophisticated clientele.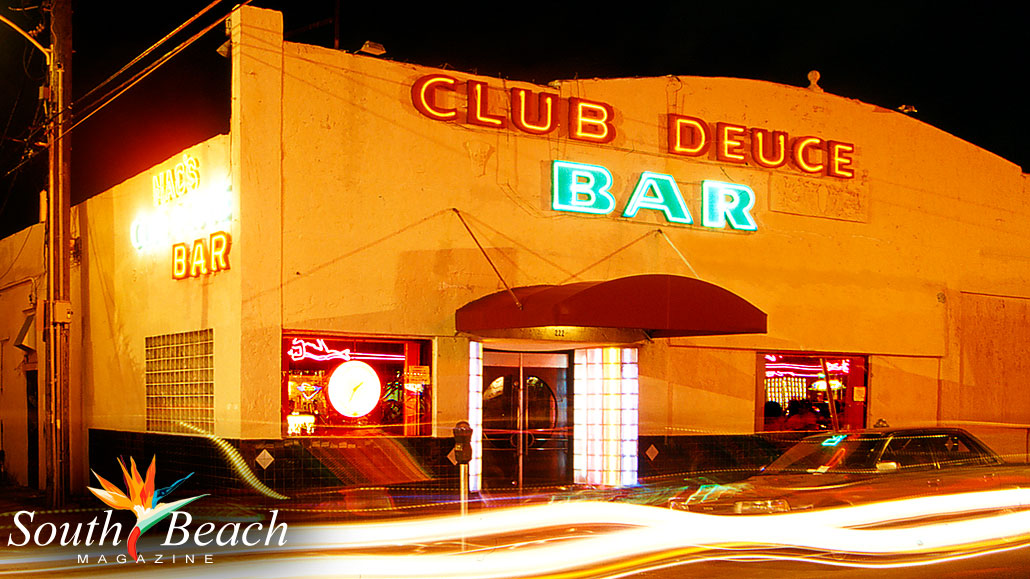 5.) Mac's Club Deuce
222 14th Street, South Beach
Vibe: Down and Dirty
For a real dive bar experience, Mac's Club Deuce is South Beach's most popular dark and dingy escape serving drinks around the clock to a host of regulars straight out of a Fellini Movie. Happy Hour starts at 8am. That's not a typo. While the rest of the city dresses for the workday or starts to stir with thoughts of hotel brunches and chilled mimosas, the Deuce is pouring off-price cocktails to the truly hardcore. It's tough to be a dive in the heart of the Deco District when all about you beams soft, friendly pastel colors and buzzy neon lights. It's tough to maintain a surly growl when families, spring breakers and celebrities frolic through sun drenched streets anxious to have a good time. Who wants to be the grouchy Goth at the heart of Beach Blanket Bingo? The Deuce certainly tries to maintain a level of dark decorum no matter the hour. That's why Tony Bourdain likes it here.
6.) Purdy Lounge
1811 Purdy Avenue, South Beach
Vibe: Surfers & Hipsters
On the fashionable west side of town, Purdy Lounge takes pride of place with local hipsters and a new stream of visitors to the bay side scene. Locals once dubbed this out-of-the-way surfer bar the "Dirty Purdy" but that seems like a distant memory now that the west side of South Beach is booming. With popular theme nights like Chocolate Sundays, Kulcha Shok Surf Nights and Drunken Spelling Bees, the Purdy leveraged its niche as everyone's favorite corner bar. Much busier in recent years following the renaissance of the Standard Hotel and Spa and a number of new restaurants, the bar remains a stalwart anti-velvet rope hangout by the Bay. Dimly lit like a basement rec room, there's no cover, no door drama and no pretentious behavior. Stop in for a drink or a game of pool and meet the locals.
7.) Ted's Hideaway
124 2nd Street, South Beach
Vibe: More Pub Than Club
Ted's Hideaway has a bit of a frat party atmosphere with a retro rock jukebox, cheap beers, sports on TV and a busy pool table. This popular pre-game spot gets mighty crowded with well-dressed club goers because the price of a velvet rope round of drinks can equal the tab for an entire night at Ted's. As the evening wears on, the air fills with cigarette smoke and 80s rock and folks tend to get pretty loud. Consider this the antidote to overpriced drinks and overblown egos. Ted's is SoFi's "Cheers."
8.) Playwright Irish Pub
1265 Washington Avenue, South Beach
Vibe: Dark Like Guinness
The Playwright is a fun place to eat and drink while cheering your favorite team to victory. Flat screen TVs surround the bar and pride of place is given to a giant projection screen that's reserved for the evening's main event. While there are indeed better and more authentic pubs in Boston where Irish populations are more significant, for South Beach the Playwright gets high marks. Its proximity to the velvet rope nightspot Mansion makes it the perfect foil for non-club fun. Drinks are 2 for 1 and appetizers are half price at happy hour weekdays.
9.) Finnegan's Way
1344 Ocean Drive, South Beach
Vibe: Seaside Pub
An Irish pub with an ocean view, Finnegan's Way is a Gaelic themed sports bar with indoor and outdoor seating facing busy Ocean Drive. There is a full kitchen and a weeknight happy hour with specials on appetizers, cocktails and select dinner entrees. Considering the busy Art Deco strip has more than it's fair share of overpriced cafes, Finnegan's offers a decent respite after a hot day at the beach or a hot night dodging pricier tourist traps.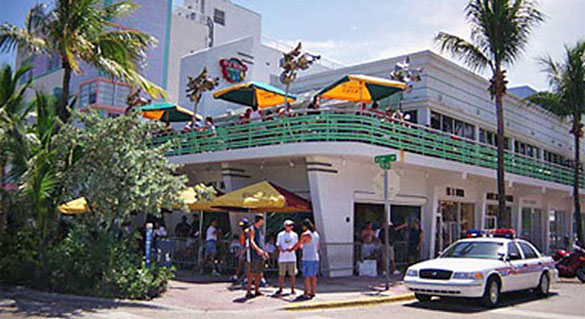 10.) Wet Willies
760 Ocean Drive, South Beach
Vibe: Total Brain Freeze
Hot nights on South Beach call for extra strong refreshment and Wet Willies provides just the kind of mind erasing fun you're looking for tucked inside the two-level bar. Fortify your belly with some tequila-soaked chicken wings before pondering which lethal frozen concoction to modify your mood. Choices include the Attitude Improvement, an orange slushy spiked with grain alcohol, vodka and rum, or the Call a Cab, a drink so strong you need to surrender your car keys. More traditional flavor combinations like fruity daiquiris or pina coladas still pack quite a punch so sip slowly and don't be fooled by the chilly deliciousness. These slurpies are a mental vacation inside a plastic cup!
| Name | Address | Phone |
| --- | --- | --- |
| Shore Club | 1901 Collins Ave | (305) 695-3226 |
| Astor Hotel | 956 Washington Ave | (305) 531-4056 |
| Aura | 613 Lincoln Rd. | (305) 695-1100 |
| Bella Cuba | 1659 Washington Ave | (305) 672-7466 |
| Bistro One | 1 Lincoln Rd. | (786) 276-4000 |
| Clevelander | 1020 Ocean Dr. | (305) 531-3485 |
| Club Deuce | 222 14th St. | (305) 531-6200 |
| Delano Hotel Rose Bar | 1685 Collins Ave | (305) 672-2000 |
| Doraku | 1104 Lincoln Rd. | (305) 695-8383 |
| Fat Tuesday | 918 Ocean Dr. | (305) 534-1328 |
| Feel Good South Beach | 222 Espanola Way | (305) 534-1009 |
| Finnegan's 2 | 942 Lincoln Rd. | (305) 538-7997 |
| Finnegan's Way | 1344 Ocean Dr. | (305) 672-7747 |
| Fridays Restaurant | 500 Ocean Dr. | (305) 673-8443 |
| Hofbrau Beerhall Miami | 943 Lincoln Rd. | (305) 538-8066 |
| Larios on the Beach | 820 Ocean Dr. | (305) 532-9577 |
| Lucky Strike | 1691 Michigan Ave | (305) 532-0309 |
| Mango's Tropical Cafe | 900 Ocean Dr. | (305) 673-4422 |
| Mokai Lounge | 235 23rd St. | (305) 531-4166 |
| Monty's on the Beach | 300 Alton Rd. | (305) 531-9030 |
| National Hotel | 1677 Collins Ave | (305) 423-7211 |
| Nikki Beach | 1 Ocean Dr. | (305) 538-1231 |
| Nobu | 1901 Collins Ave | (305) 695-3232 |
| Oriente at Cafe Cardozo | 1300 Ocean Dr. | (305) 695-2822 |
| Playwright Irish Pub | 1265 Washington Ave | (305) 534-0667 |
| Public House | 423 Washington Ave | (305) 673-8109 |
| Purdy Lounge | 1811 Purdy Ave | (305) 531-4622 |
| SegaFredo | 1040 Lincoln Rd. | (305) 673-0047 |
| Shoji Sushi | 100 Collins Ave | (305) 532-4245 |
| Shula's Steak House | 5225 Collins Ave | (305) 341-6565 |
| Smith & Wollensky | 1 Washington Ave | (305) 673-2800 |
| Spiga Ristorante Italiano | 1228 Collins Ave | (305) 534-0079 |
| Spire Bar at The Hotel | 801 Collins Ave | (305) 531-2222 |
| Sushi Samba Dromo | 600 Lincoln Rd. | (305) 673-5337 |
| Tap Tap Haitian Restaurant | 819 5th St. | (305) 672-2898 |
| Ted's Hideaway | 124 2nd St. | (305) 532-9869 |
| Tequila Chicas | 1501 Ocean Dr. | (305) 531-7010 |
| Texas de Brazil | 300 Alton Road #200 | (305) 695-7702 |
| The Abbey Brewing Co. | 1115 16th St. | (305) 538-8110 |
| Townhouse | 150 20th St. | (305) 534-3800 |
| Veranda Bar | 3025 Collins Ave | (305) 534-0505 |
| Wet Willie's | 760 Ocean Dr. | (305) 532-5650 |