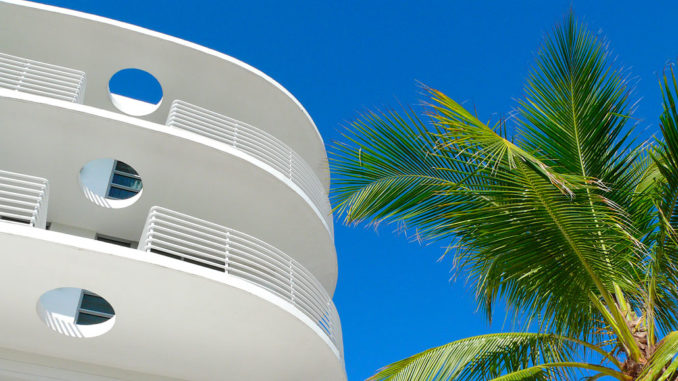 Hip boutique hotels on Ocean Drive rarely provide families with enough space to stretch out and enjoy their visit quite like the hotel rooms and suites at the Congress Hotel South Beach. A clever renovation that combines four landmark Art Deco properties between 10th and 11th Streets in the heart of the historical district, the Congress offers all of the style and all of the amenities modern travelers seek when visiting South Beach.
Furnished in a streamlined comfort by Luminaire, the 69 guest suites start at 300 square feet and extend up to 550 square feet including a second lounge space set apart from the bedroom. Not satisfied with simply updating the smaller spaces of traditional Art Deco properties, the Congress offers custom millwork, stainless steel kitchen appliances, plus soaking tubs and rainfall showers in their newly restored granite bathrooms. Rooms are uniquely designated Deco, Tropical, Contemporary, and Retro in decor and each has a modern sensibility including flat panel TVs, wireless high speed internet access and large closet spaces.
A dazzling rooftop pool deck overlooks all of Ocean Drive and the Atlantic Ocean. Have the friendly attendant set you up with a cozy lounge chair and a cocktail or escape into a shaded massage cabana and relax in style. Should you decide to leave the property, you'll discover that Ocean Drive is party central. All of the best restaurants, nightclubs and shopping are just steps away from the hotel. Explore the Wolfsonian Collection at 10th Street and Washington Avenue or check out the popular Irish pubs and look for celebrities in the VIP lounge at Mansion nightclub just two streets away.
In the hotel lobby, enjoy a quiet cocktail at the Atlantic Bar and Grill or the international cuisine at Cafe Medi where seafood and prime steaks are given a Mediterranean spin. Kitchen facilities en suite make it easy for guests to keep cocktails and snacks on hand or to start the day with breakfast in bed. What matters most at the Congress is a personal commitment to your comfort whether you require a little extra help with your vacation or want a fully independent stay. The Congress makes it easy to feel like you have a home away from home on fabulous South Beach.
Congress Hotel South Beach
1052 Ocean Drive
Miami Beach, FL