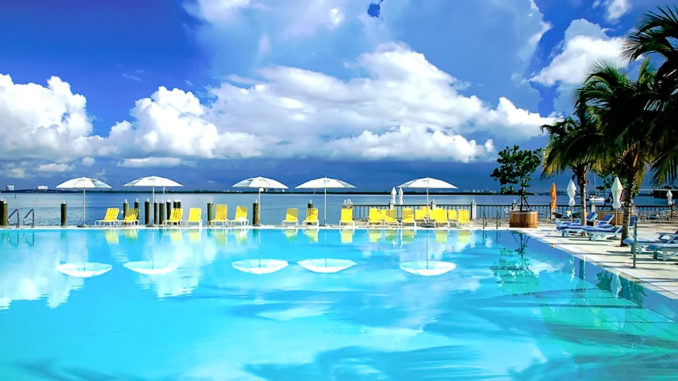 The latest installment in Andre Balazs' collection of Standard hotels (the others include Downtown L.A., Hollywood, New York) has landed on Miami Beach. Taking up residence in the old Lido Spa Hotel, Balazs has transformed the Morris Lapidus designed structure into a modern day interpretation of the bathhouse.
In an attempt to redefine bathhouse culture his creation includes waterfall hot tubs, a mud lounge and outdoor yoga lawns (not at all intimidating as the word "bathhouse" may lead you to believe.) In a nod to the old Lido, Balazs left the white-marble walls, terrazzo floors and stainless-steel elevators in the lobby, but added his own touch with a row of Hans Wegner rocking chairs along one wall.
The rooms (take your choice: Missionary, Dry, Lush, Wet or Full Spread) are tastefully modern and extremely comfortable with blonde wooden beds, Egyptian cotton sheets, flat screen TVs, a DVD library, private outdoor living rooms, spa showers, mini-bars with organic snacks and spa toiletries. One can even opt for in-room holistic spa services.
Lounge by one of the three pools, the infinity pool where music will play underwater, an arctic plunge pool, or the hot pool – or take advantage of the therapeutic healing qualities and go back and fourth between all three.
Dine at the airy in-house restaurant, watched over by Eric Ripert of New York's Le Bernardin, with a menu chock full of the freshest fish seasoned with herbs from the Standard's own gardens.
If you are looking for a spa-like getaway, The Standard is the place for you. Located a bit off of the beach on scenic Biscayne Bay, the locale is just far enough away from the South Beach craziness to relax, and yet only five easy minutes in a taxi to the hottest night spots in South Florida. It's as heavenly as it sounds.
40 Island Avenue, Miami Beach, FL 33139
• Relaxing spa hotel
• Overlooks Biscayne Bay
• 6 blocks to Lincoln Road
• 5-min. taxi to Ocean Drive
• 5-min. taxi to Convention Center