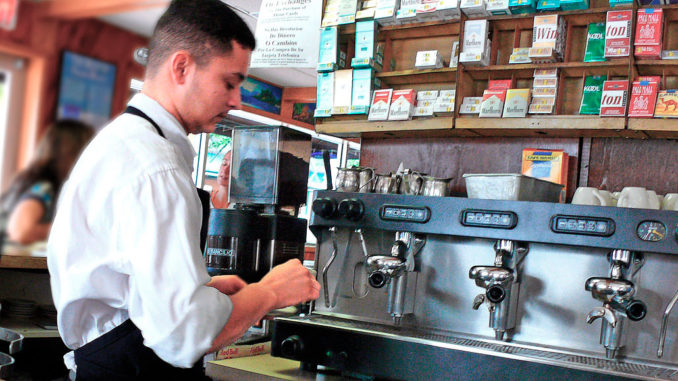 On almost every street in Miami, you'll find tiny half-opened windows surrounded by clouds of intoxicating freshly-brewed coffee, and for less than the cost of a bus ride, you can grab a tiny thimble of "Cuban Cafecito." Each turbo-charged gulp of pure adrenalin is laced with enough sugar to power a pre-school, and if you really want to "See Miami Like A Native," stand, sip, swallow then swish the strong aftertaste away with a quick cup of ice water (usually provided in a thermal jug just to the side of the cafe window). In seconds you'll be ready to run a marathon!
Not for the faint of heart, our Cuban coffee addiction fuel's Miami's reputation as the Road Rage Capital of the USA (more on that later). But, today we explore how caffeine can actually IMPROVE your holiday from the inside out and the outside in!
Beyond the obvious effects of a 24 hour coffee bender, we recently visited the glamorous Four Seasons Hotel (1435 Brickell Avenue) to experience for ourselves the ultimate coffee lover's beauty treatment! After reading a popular woman's magazine article about the benefits of applying caffeine directly to the skin, we were determined to find someone a bit more professional than our sister (who offered to pour the contents of a used coffee filter over our head one grouchy morning), to treat us with some brand new caffeine-based beauty products.
Turns out caffeine, when applied directly to your skin, causes a moderate constriction of blood vessels and decreases the flow of blood. If you have recently purchased an expensive anti-cellulite cream to ready your problem areas for swimsuit season, chances are the main ingredient is actually caffeine. The stuff that gets your heart racing gets fat cells moving too!
Some girls are comfortable with a do-it-yourself approach. For those both bold and beautiful, line your bathroom floor with newspaper and grab that still-warm coffee filter from the pot tomorrow morning. Making sure the coffee grounds are warm to the touch, vigorously rub them onto your upper legs using your hands or a loofah mitt. Ideally, you should follow this application with a wrap of common kitchen plastic film to let the coffee work it's magic for a few minutes. Unwrap, rinse thoroughly and continue this treatment about twice a week to achieve the best results. With luck, your significant other will not walk in during this process and think you have lost your mind!
For the more pampered approach, stop by RikRak Salon at the Four Seasons to let the experts apply an "Espresso Yourself Natural Tanning Facial." This high-octane approach to beauty includes an espresso bean and brown sugar scrub to smooth away your skin's dull exterior. Next, a gentle facial massage and natural espresso and sugar cane mask leaves your face both flawless and gently sun tanned looking too! As this all takes place in Miami, a complimentary cup of coffee is included in your treatment.
You'll emerge relaxed, refreshed and ready to face the world, glowing both inside and out!
RikRak Salon at the Four Seasons Hotel
1428 Brickell Avenue
305.371.5577
www.rikrak.com