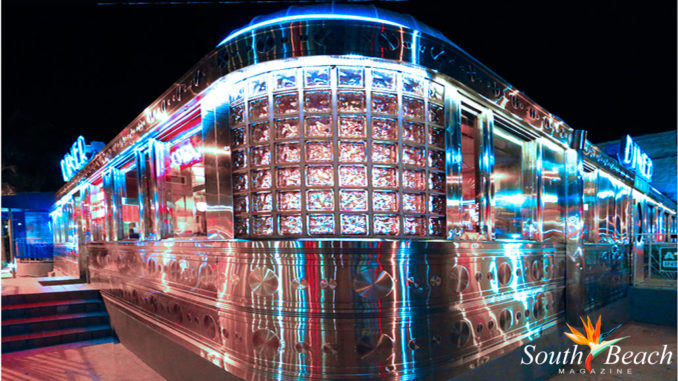 One of the most popular South Florida restaurants reviewed on Guy Fieri's "Diners, Drive-ins and Dives," the 11th Street Diner is a particularly distinctive South Beach landmark. Serving 24 hours a day from the sparkling confines of a classic 1948 aluminum-sided retro dining car, the diner welcomes a curious array of club kids, international tourists and hungry locals day and night!
Built by the Paramount Dining Car Company of Haledon, New Jersey, the original diner started out in Wilkes-Barre, Pennsylvania for its first 44 years before being carefully shipped to the vacant lot at 11 Street and Washington Avenue in the heart of South Beach's Art Deco nightclub district. Originally opened in 1992, the diner now incorporates a full liquor lounge and a small alfresco patio where breakfast is available all day. Popular menu items also include juicy burgers, Thanksgiving-style turkey dinners, healthy salads and decadent desserts.
Weekends at the 11th Street Diner are particularly popular because the special brunch menu offers hearty classics like eggs benedict, sausage biscuits & gravy and fresh fruit-topped Belgian waffles until 3pm. Lunchtime treats like authentic Carolina style pulled pork BBQ sandwiches, toasted Croque Monsieur and over-stuffed roast beef French dip hoagies provide the deep satisfaction that only a true diner's comfort food menu can offer. With friendly servers, quirky customers and round the clock feel-good food, it's no wonder this diner is one of the most popular hang outs on South Beach!
1065 Washington Avenue, Miami Beach, FL 33139
(305) 534-6373
Price: $$
Attire: Casual